Comics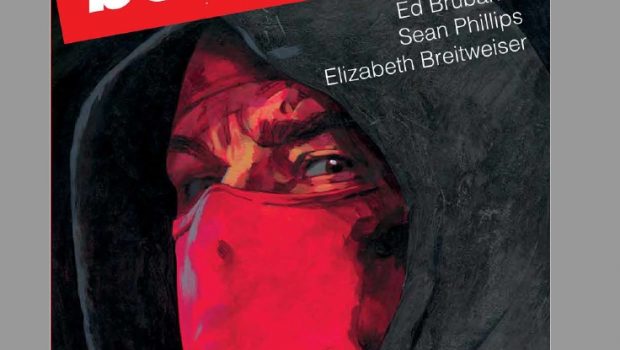 Published on January 22nd, 2017 | by Chris O'Connor
Kill or be Killed TP Comic Book Review
Summary: If Kick-Ass was more real and gritty... with a possible psychological issue.
Vigilantes are a bread and butter theme in comics… whether they be super hero vigilantes like Superman or Batman or more run of the mill every day humans (yes I'm counting Batman as more than human simply because of his gadgets and conditioning)… but they are generally still somewhat over the top and exaggerated. Kick-Ass is probably the best contemporary example… an every day human… who then happens to not really feel pain. Imagine a vigilante who can feel pain and doesn't use any fancy moves but rather uses the most basic tool possible to dispense justice… guns.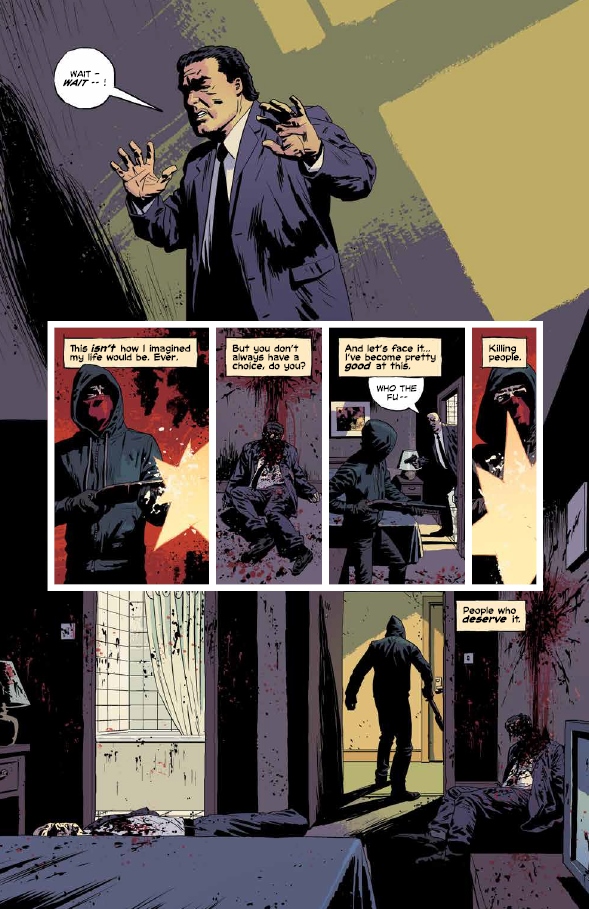 Writing
Even with the notion of using a simple person to perform the role of vigilante, Ed Brubaker goes a few steps beyond. Not only is our vigilante to be a mere mortal… but they don't actually aspire to right the wrongs of society… far from it, they are in fact suicidal. It is only because of a failed suicide attempt and the sudden appearance of an apparent demon that they start down the long road of independent dispenser of justice. This suggestion that the motivator could be paranormal… or possibly simply psychoses.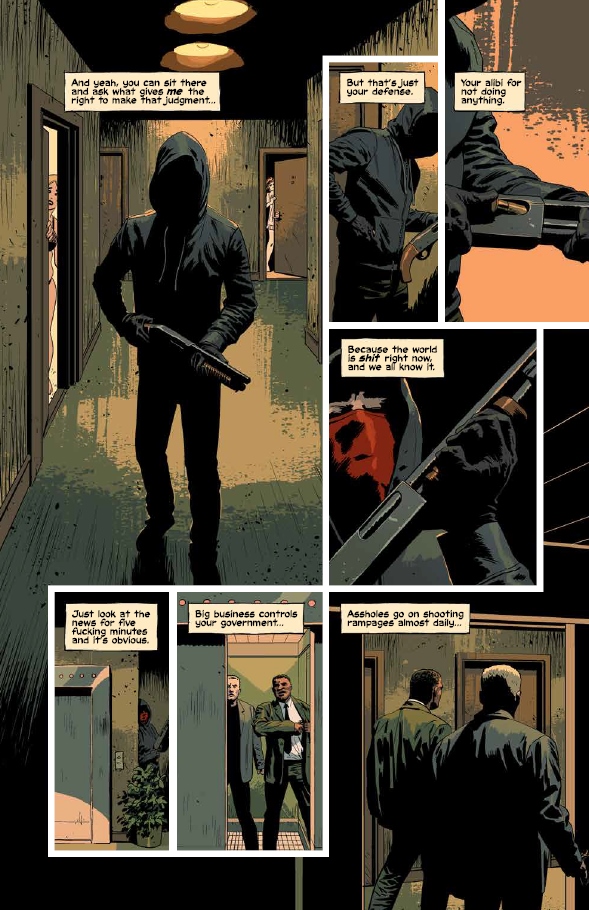 Artwork
The artwork is simply gorgeous! There is not a spot of unintentional white on the page… all the panels are filled to the brim with detail. The style again seems to draw from the almost hyper-real photographic reference style and it really works wonders here. Even the slightest movements and gestures come to life, the eye brow raises the stealthy drawing of a gun. But also the landscapes and cityscapes are full of life… all the background characters appear to have lives of their own and are not just existing as filler. These are subtle notes than can be glossed over and in many comics it doesn't really detract… but Kill or be Killed shows how much those little touches can add to the believability  of this world.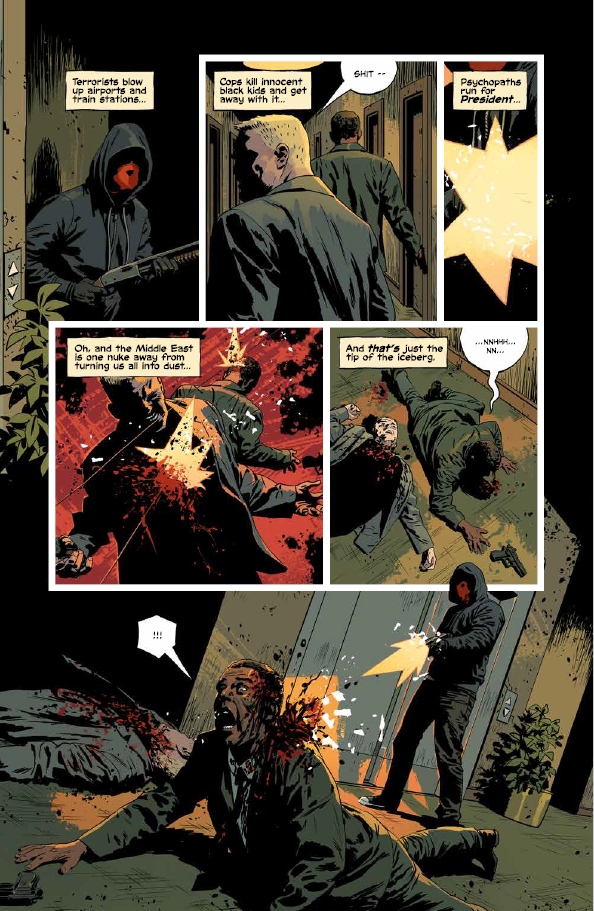 Final Thoughts
It's refreshing to see a different take on the vigilante theme, even more so to see a take that doesn't involve a protagonist who dreams of being a vigilante but rather who is lead into that world via an offer he can't refuse. The detail in which the development of the character into a trained vigilante is also fascinating to read… the idea that this particular would be executioner of evil doers is in fact quite smart and puts in the research to try and do things the best way possible. It reads like the diary of someone who has gone through this experience. It has a far more real feel to it that any other similar themed story. It's the Punisher's approach to justice, but with a real world "I really don't want to get caught doing this" mentality. The end result is I really want to read more of this story… I want to know how the character develops… do we find out if the demon is real or is it just a mental condition? I really highly recommend this book!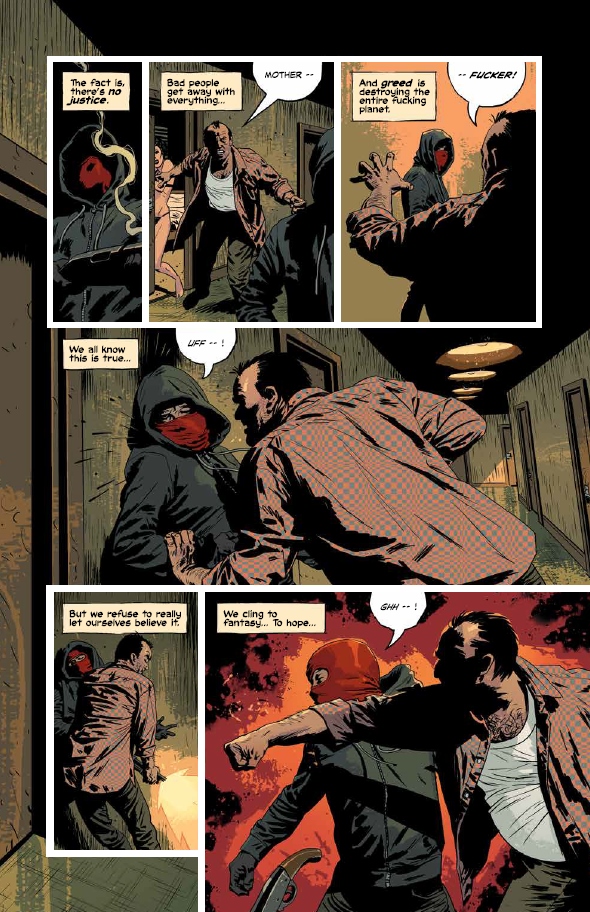 Publisher: Image Comics
Writer: Ed Brubaker
Artist: Sean Philips, Elizabeth Brietweiser
Cover Artist: Sean Philips
Genre: Crime, Action, Adventure
Format: 132 pages, FC, TP
Release Date: 18th January 2017