Games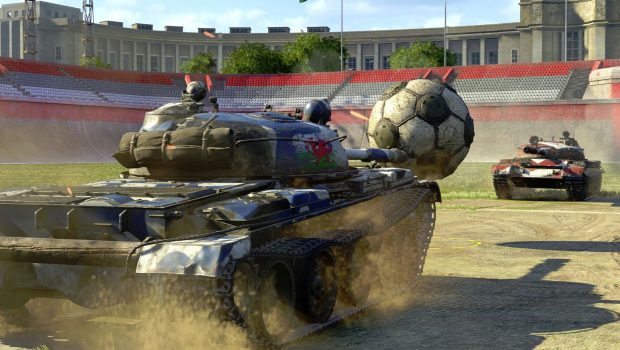 Published on June 1st, 2016 | by admin
Kick-off Summer Football with World of Tanks
Get ready to polish your boots, throw on your kit, and hit the field in Tank Football 2016

June 1, 2016 — Keep your ears peeled for the ref's whistle because the special in-game event Tank Football 2016 will be taking to the field from June 10 to July 10. In this event, 3-vs-3 teams compete to score the most goals in a seven minute match. With no feet, players must use their tank's gun to blast the ball around the pitch and into the opponent's net. During the Tank Football 2016, all players will be credited the unique T-62a Sport (T-62a S) with a free Garage slot. To join the event, all you have to do is select your T-62a S and click the Battle! button.
Tank Football 2016 puts its own twist on the beautiful game. During matches, your tank will be incapable of damaging or destroying another vehicle. However, you can shoot the tracks of your opponent's tank and ram their vehicle to immobilize them. With the enemy out of action, this is the perfect time to break out your tekkers with a special football consumable—Turbocharger—temporarily speeding up your vehicle to reach that final third.
There are three stadiums available to play in: Himmelsdorf Arena, Stade Eiffel, and Old Tankford. Tank Football 2016 will also let you tackle new battle missions; Combat single-handedly or form up to three teammates. You can even deck your tank out with a range of customization emblems and flags of the countries taking part in this summer's major European football event.
At the end of the event, the T-62a S, Garage slot and flags of the countries taking part in the football event will be removed from players. However, any medals and emblems earned will remain with you as a memento of the event.
Meanwhile, It's time for the big kick-off! Grab your boots, get to the pitch, and face off against other aspiring footy talents in the first ever Asia and Korea Champions' Football Cup Tournament. Register now! Win your exclusive in-game medals; Personal Reserve rewards galore, and rare premium tanks – including the coveted Type 59 and M 41 90 GF home with your team.