Comics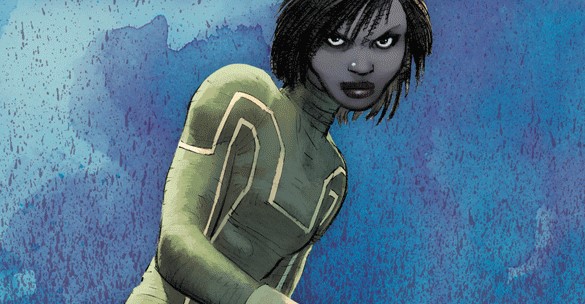 Published on September 12th, 2018 | by Dan Lix
Kick-Ass: The New Girl, Vol 1. TP Review
Summary: Great story, excellent artwork.
Kick-Ass once again dons the familiar green and yellow costume in this series reboot, from the original creators Mark Millar and John Romita Jr.
Meet Patience Lee, a former Staff Sergeant of the 160th SOAR (Special Operations Aviation Regiment), otherwise known as Night Stalkers. Returning home from her tour in Afghanistan, she discovers that her husband has left her to fend for herself with her kids, along with a massive heap of crippling debt. With her plans to attend college torpedoed, she's forced to seek out other options. But this single mother is anything but helpless. Patience is soon clad in spandex and taking to the streets to kick some ass and rob some low life criminal scum.
The Story
There is a very real struggle here. A single mother fresh back from the war with a skill set that doesn't help her land a job other than as a waitress. The father of her children is the ultimate deadbeat—not only did he leave her alone with the kids and a mound of debt, but it becomes quickly apparent that he doesn't intend to offer up a dime of child support. It's easy to feel a sense of despair on Patience's behalf, especially when her options seem so limited. Her brother-in-law offers up a solution, but it's hinted that he's involved in something shady and she doesn't want to be drawn back into that life. It's easy to see why she'd be looking for ways to turn her skills into cash. Because of this, when she first dons her green and yellow spandex and makes it her goal to start robbing criminals, it doesn't feel like too much of a stretch.
The progression from soldier to superhero isn't as clear cut as one might think, and the writing brings this across quite well. Patience's journey is one in which she gets by with a mixture of preparation and luck, but each time she learns from her mistakes and grows as a person. Her connection to her family is a key aspect of the story. She's not a superhero for personal glory or greed—she's doing what she does in order to get by, and these ideas are clear and consistent. The narrative is sprinkled with flashbacks to her time in Afghanistan, and these moments become important in showing this former Night Stalker's tenacity and drive.
The villains in the story are equally well written and feel like worthy adversaries for Patience. There are times where it feels as though she may have bitten off more than she can chew, which feels very consistent with previous Kick-Ass installments.
The Art
The art style is decidedly dark and gritty, which fits the tone of the book to a tee. The chapter covers are extremely atmospheric and invoke all kinds of emotion (particularly trepidation, in some). The level of detail in certain panels are especially amazing. The glint from the ear piercings from one of the primarily villains was particularly impressive in one panel, as was another where a character was visible in the mirrored reflection of another character's sunglasses. This book features excellent shading, which results in excellent lighting, weather, and overall mood.
Just like Patience, the artist doesn't pull any punches with the artwork. The blood and gore is very visceral, very real, and very graphic. It certainly isn't for the faint of heart.
One of the most impressive aspects of the art was how well the artist conveyed Patience's raw emotion. The way her eyes and features were drawn gives Patience a chilling sense of intensity, that only helps fortify the notion of just how bad-ass she really is.
Final Thoughts
Kick-Ass: The New Girl delivers a great story with amazing artwork. It's great to see another strong black female super hero, especially one as driven and fierce as Patience Lee. She's a single mother who cares about her family, but she is also a certified, card carrying bad-ass. She is definitely a worthy successor to the Kick-Ass mantle, and this book is an excellent addition to the Kick-Ass universe.
---
Writing: 5/5
Story: 5/5
Art: 5/5
Overall: 5/5