Comics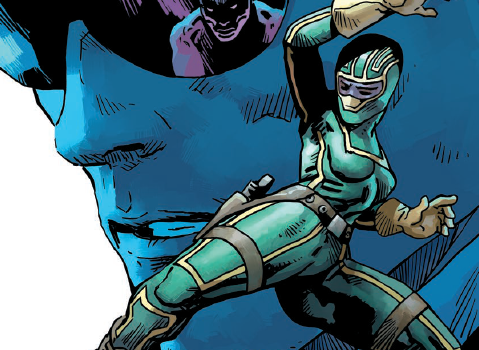 Published on November 7th, 2018 | by Dan Lix
Kick-Ass #9 Review
Summary: Excellent writing and clever artwork make this book hard to put down.
Patience is back for another round, and this time she's taking the fight to Hector Santos. The problem is, he's gone into hiding and no one knows where to find him. Complicating matters further is that he's connected to the cartels and her men are concerned about picking a fight with a group that's already killed several of their own. Fortunately, money talks and Patience has enough of it for quite a long chat. From writer Steve Niles, and artist Marcelo Frusin, Kick-Ass #9 is here and Patience is preparing for war.
Story
This time around, the story focuses almost entirely on Patience's gang. No flashbacks to her past, no glimpses into her challenges as a single mother juggling crime fighting with a part time job. There's a sense of urgency in finding Hector Santos and ending this threat fast, especially when things start out with him dropping a corpse of one of her guys off on her doorstep. At the same time, this lack of insight into her personal life also feels like a shift in her priorities.
Is she losing herself in her identity as Kick-Ass, and becoming so caught up in everything else that she's setting everything else aside? Her men are shaken when they see the corpse, and their loyalty is obviously wavering. When Patience asks for their help in taking down Santos, it looks like they're ready to walk. She knows she's losing them, and so she does what any good boss would do; she offers them more money.
This is money that she was previously funneling back into the community. Paying her men more means less left over for the people who need it. It feels like she's taken another step down that dark road, and it leaves one to wonder just what else she'll be capable of before this is all over. And what other compromises or sacrifices she'll make.
Art
The first shot of the issue has Patience standing in front of a map of the city, with territories marked off. She looks so small standing in front of it, yet one foot is placed forward as if in preparation. It feels imposing, but also like she's ready to tackle whatever comes next. This is her war room, and she's in charge.
When her henchmen walk into the room, they're standing in shadow. Patience stands with her back to them, and she's partially in shadow as well. It feels like a scene we've seen before, in the inner sanctum of the villain. It's just another clue that Patience is turning into the very thing she's been fighting against.
One panel in particular, when she says she's ready to face whatever the cartels bring, features a nice bit of juxtaposition. She's standing in front of the map with a hand raised up and fingers curled. The part of the map her hand is beside almost gives the impression that she's holding a gun, if you squint.
Like always, the shading and use of color in this issue is amazing. The scenes go from eerie dark to high octane action, and the art really does an excellent job at supporting the story.
Overall
Once I started reading this issue, I couldn't put it down. This issue is less about Patience's home life and more of a focus on her growing feud with the city's criminal organizations. Though she left Afghanistan behind, Patience is gearing up for another war, this time on her home turf. I'm excited to read more, and can't believe I have to wait another month!
Story: 5/5
Art: 5/5