Comics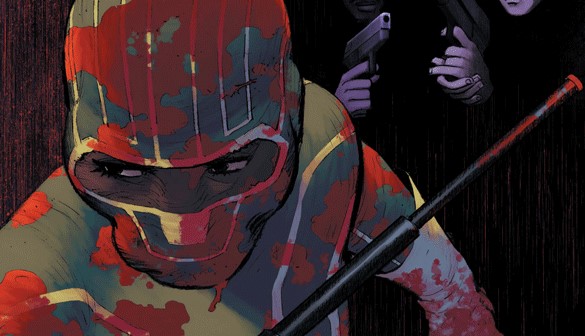 Published on July 18th, 2018 | by Dana Folkard
KICK-ASS #6 REVIEW
Summary: The final issue is here.
SPOILER WARNING!
The final issue is here! The violent and bloody climax we've all been waiting for, and it comes in a fiery blaze of glory; a brutal bloodbath showdown of epic proportions. It's wonderful and I guarantee that you'll like it!
We begin this issue with old mate Hoops discussing business with a fellow ganglord. Their meeting is cut short however, as Hoops has another pressing engagement to attend: the meet, greet and defeat of Kick-Ass, a.k.a. Patience Lee. Meanwhile, Patience is in a bad situation after being captured by the clever and cunning Mr. Solo. She is surrounded by all of her enemies and her daughter being held hostage, so things are looking pretty bleak for our leading lady. As we well know, Patience doesn't give up without a fight, and thanks to her military training she begins looking around, so that she may find the best escape route ASAP. The opportunity presents itself in a rather unexpected and funny way, and we see our opportunistic gal quite literally kicking-ass once again. Patience has everything to fight for and we see that unfold in an epic and spectacular way. Go Patience!
Whoa! Now that was an intense and sensational finale to this arc. Naturally we get to finally see Patience come face-to-face with Hoops, but it's the build up and aftermath that I loved the most about this issue. Always a quick thinker, I love how Patience troubleshoots her way out of most situations in such little time. Seeing the process of her plan is always a treat, as her mind races and scans the surrounding environment for an easy exit, whilst taking out as many thugs as possible. One of the biggest differences in this situation is the fact that her daughter is there and unfortunately watching on. I also want to mention that in true Mark Millar fashion, there are quite a few fun and unexpected developments that unfold in this issue. Each of them clever, well-rounded and opening up for compelling future exploits in the Kick-Ass world. I'm definitely looking forward to seeing what the future of Kick-Ass will be. Curious to know more about what transpires? You'll just have to read it because I'm not going to tell you!
The art by John Romita Jr is of course gruesome and bloody, embracing all of the chaotic mayhem in a shocking and vile way. It's wonderful! I've been a fan of his art for many years and always find that my favourite moments are when he captures high-impact action and violence. Without a doubt, it's scenes like these that will always make me recoil and smile at the same time. I also love how Patience moves during these action sequences, looking lithe, limber and majestic and moving in a fluid graceful way. This always contrasts nicely to the hulking and gormless thugs that she faces against, making for a visually fun experience. The colouring by Peter Steigerwald is subtle and understated, effectively reinforcing the tonal shifts of the story. I particularly liked the intense pops of colour that we see during the action scenes.
Overall, I thought that this was a wonderful end to this arc, capturing all the things we love about a Kick-Ass story. Brutal, intense, clever and unexpected, this issue delivers and in no way disappoints.
I'm giving this issue 5 out of 5 stars!
---
COMIC DETAILS
CREATIVE TEAM: Mark Millar, John Romita Jr, Peter Steigerwald and John Workman
PUBLISHER: Image Comics
GENRE: Action/Superhero
PUBLICATION DATE: July 18, 2018
REVIEWER: Dana Folkard