Comics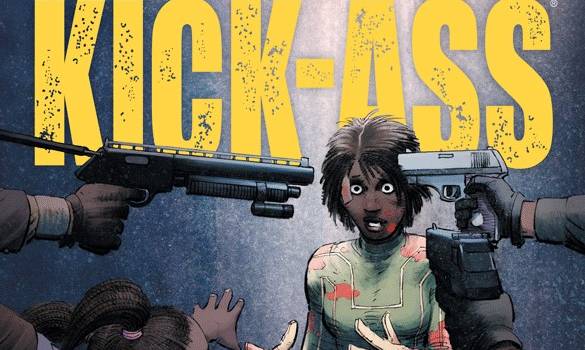 Published on June 13th, 2018 | by Dana Folkard
KICK-ASS #5 REVIEW
Summary: The shit hits the fan!
SPOILER WARNING!
Patience is in a spot of bother as the bad guys have finally figured out who is behind the mask. With her secret identity revealed, Patience must now think fast as her family life is in the line of fire!
This issue begins with an introduction of Mister Solo, a "logic consultant" who is paid to solve people's problems no matter how unsavoury they may be. Hoops contacts him, wishing to enlist him to help with their Kick-Ass problem. A meeting is organised, a contract drawn up and after a few details are revealed, Solo quickly reveals the identity of the masked vigilante…oh dear, this guy is good. Meanwhile, we see Patience waiting with her sister at the intensive care unit of the hospital, as her brother-in-law fights for his life. She is plagued by guilt over the fact that she was the one who put him there. Once home, she begins to formulate a plan so as to make amends for the damage she has caused, with one last raid to take care of her problems. Her target is Hoops' home, where she plans to escape with one million dollars. Yowza! The time to strike is now but who will make the first move?
Oh Mister Solo, you are one wonderfully creepy fella. I like this guy and the new dynamic a character like this brings to the story. He is smart, cunning and force to be reckoned with, bringing with him a crafty and somewhat sleazy sensibility that I absolutely love when it comes to bad guys. His arrival also heralds a dramatic change in the story – a change that we knew was inevitable – as we see Patience's luck run out. Patience has finally been caught, with her identity and the location of her home and family being revealed. This is the nightmare situation that she feared, and she is utterly powerless to stop it. I'm optimistic though, as Patience is a problem solver and will no doubt come up with a crafty plan to wrangle her way out of this situation…I hope. It's looking pretty bleak for Patience right now and I can't wait to see how things progress from this point onward.
Whilst a lot happens in this issue, the overall pace is much slower, with a reflective and regretful tone dominating throughout. John Romita Jr's art perfectly captures this slower pace, taking time to emphasise the emotional toil that all of this is having on Patience. I particularly like the scenes we see unfold at Patience's home, with her tucking her daughter into bed and the flashbacks to her time in Afghanistan. These quieter scenes help to heighten the changes we are seeing in her outlook and responses to the mistakes she had made. This for me is good ol' fashioned visual storytelling. I found the colouring by Peter Steigerwald to be really effective during the flashback scenes in Afghanistan, with a grainy and textured effect achieved from the rustic-looking palette.
Overall, I found this issue to be a nice contrast to the previous high-impact one. We witness the aftermath of the inferno and how it has directly affected Patience and her family. This then carries over to hit hard, with the consequences of her actions as Kick-Ass finally catching up to her. I'm keen as mustard to see the concluding chapter of this arc and what will transpire for Patience, Mister Solo and Hoops.
I'm giving this issue 5 out of 5 stars!
---
COMIC DETAILS
CREATIVE TEAM: Mark Millar, John Romita Jr, Peter Steigerwald and John Workman
PUBLISHER: Image Comics
GENRE: Action/Superhero
PUBLICATION DATE: June 13, 2018
REVIEWER: Dana Folkard