Comics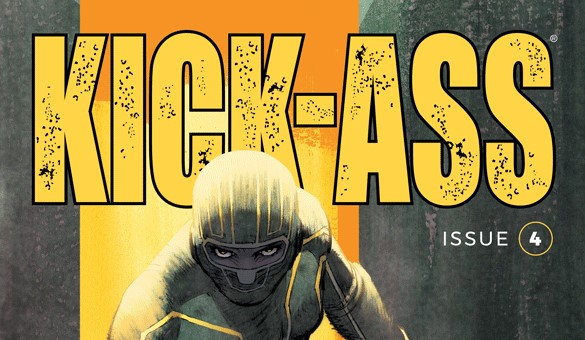 Published on May 16th, 2018 | by Dana Folkard
KICK-ASS #4 REVIEW
Explosive!
Summary: Trapped and surrounded by gangsters, Patience seeks a way out and onto freedom.
SPOILER WARNING!
Patience is trapped and surrounded by gangsters, with Violencia planning a bloodbath extravaganza to celebrate her crashing their party. Desperate to escape and find a way back to her family, Patience must think fast to fight her way out of this situation and onto freedom.
This issue kicks off where the previous one finished, with Patience near unconscious and surrounded by Violencia and his thugs. Things are looking pretty bleak for her and the cop they plan to kill for sport, as threats begin to turn physical. With her mind ticking away, Patience begins to take note of her surroundings and the paraphernalia that you find inside of a hardware store and how these objects might be useful. Patience then has a light-bulb moment and hastily concocts an escape plan using a simple cigarette lighter and a whole bunch of hydrogen filled balloons…BIG BA-DA BOOM! The story then turns into a mad dash, as Patience and the injured cop desperately try to escape with Violencia hot on their tails as her tries to hunt them down.
Well, this was certainly an action-packed and fast-paced issue. We see Patience in a spot of bother, with things getting pretty intense as she has the crap beaten out of her and only narrowly escapes. I love how this woman thinks, and I enjoy how we see her inner monologue trying hard to keep calm and search for a way out of this situation.  She's sharp and cunning and uses her smarts to be crafty so that she may outsmart and dupe the enemy. I also like that she doesn't shy away from taking risks, which makes for some chaotic fun that sometimes feels like it may not go her way. We also see the tone at the end of the issue shift as this whole experience has clearly rattled Patience. A more sensitive and fragile Patience is awakened upon seeing her kids, and she struck with an overwhelming sense of mother's guilt. I'm curious to see how this will affect her Kick-Ass career in the future, as juggling a career, being a superhero and a responsible mum is no easy feat.
John Romita Jr's art is quite literally explosive in this issue. There is a lot of action and I just love how his art captures these high impact encounters. There is a sweeping sense of movement during these scenes that flow in a fluid and effortless way. There is one scene in particular that really caught my attention, where we see the critical moment when Patience enacts her escape plan. I found this series of panels to be really cool, and I loved the interesting layout that was used to help capture all the reactions that happened in such a fleeting moment. The colouring by Peter Steigerwald is quite eye-catching in this issue and I particularly liked the intense colours that were used during the explosion and raging inferno. I also thought the colour palette that was used for the car chase sequence was great, especially how Steigerwald made the headlights on the car glow.
Overall, I thought that this was a bloody intense issue! Things are going mental for Patience, as her cleverly formulated plan begins to come crashing down around her. I'm amped to see how things will progress for both Patience and Hoops. Who will be the first to strike?
I'm giving this issue 5 out of 5 stars!
---
COMIC DETAILS
CREATIVE TEAM: Mark Millar, John Romita Jr, Peter Steigerwald and John Workman
PUBLISHER: Image Comics
GENRE: Action/Superhero
PUBLICATION DATE: May 16, 2018
REVIEWER: Dana Folkard