Comics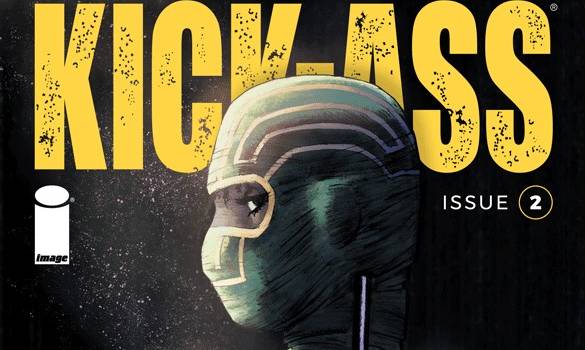 Published on March 20th, 2018 | by Dana Folkard
KICK-ASS #2 REVIEW
Summary: Patience embraces her superhero persona.
After successfully completing her first raid, Patience settles down with a bag full of cash and a sense of ease as her debts are paid, her children taken care of and some money donated to charity. The only problem is that money doesn't last forever and with each new raid, her list of enemies grows.
This issue begins with Patience holding up the local seedy nightclub, with all manager and all the security gagged and hogtied. With a heavy bag of cash and a skip in her step, she casually makes her way out of the club, back to her car and home to her kids. With the bills paid and no news about her late night adventure, it looks like things are finally beginning to work out for Patience. However, after a few months of going to college and working the late-night shift as a waitress, things begin to take their toll, both physically and financially, and Patience sees her debts beginning to creep up again. With this in mind, she starts to toy with the idea of doing another raid to help ease the burden. It's tempting and with the exhaustion of work niggling at her, she decides to take the plunge and don the green and yellow spandex once again – YAY! Her target is the mid-night bike man who collects drug money from the local ice cream shop. After doing nightly reconnaissance trips for the past week, her presence has been noticed by a young teen, and after talking to the boy, she discovers that he and his mother are being abused at home. Wishing not to get involved and only focus on the raid, Patience tells herself to forget the kid. However, serving justice to local scumbags has become a bit of a specialty of hers. So why not do both?
Of course, things had to change for Patience. Her initial intentions of only wanting to target the criminal scum to steal their dirty cash has changed. She gives a shit about people and ultimately wants to help them. I mean, how could she possibly lurk in the shadows and watch bad things unfold without getting involved? I really empathise with Patience, finding her shitty circumstances to be a strong motivating factor in what makes her so relatable. For me personally, I relate to her as a mum. It is clear that her main priority is her children, and anything outside of that will always come second. I love that she does what needs to be done so as to take care of her kids and because she's a bit of a badass mumma, kicking-ass comes naturally to her! Hell to the yes, this is what I like to read!
I also really enjoyed the growing feeling of anticipation that builds in this issue. I actually couldn't help but feel a little uneasy about the robbery of Hoops nightclub, as there will no doubt be some hectic consequences from her actions. I went through most of this issue thinking that something bad was lurking around the corner or waiting for her at home. I can't help but feel that it'll only be a matter of time before her good luck runs out, and I'm curious to see how this will unfold for her in future issues.
The art by John Romita Jr is of course excellent. Always, my favourite parts will be the high-impact action scenes, where we see Patience quite literally kicking-ass. Bloody, graphic and ultra-violent, these scenes have a knack of being quite confronting but also incredibly enjoyable to see. I also love the sense of movement that we see during these action scenes, with a seamless feeling of flow and fluidity. More please! The colouring by Peter Steigerwald matches the dark and gritty tone of this issue, making everything feel moody and atmospheric. I also really like the sense of light that has been achieved, with a lot of the scenes unfolding under the cover of darkness.
Overall, I found this to be an exciting and engaging issue. Not only do we see Patience embark on some hectic and intense raids but we also see her have a change of heart and embrace her superhero persona. I loved this issue and can't wait for the third one to come out.
I'm giving this issue 5 out of 5 stars!
---
COMIC DETAILS
CREATIVE TEAM: Mark Millar, John Romita Jr, Peter Steigerwald and John Workman
PUBLISHER: Image Comics
PUBLICATION DATE: March 21, 2018
REVIEWER: Dana Folkard