Comics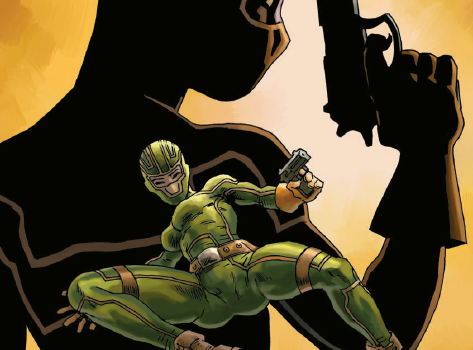 Published on April 20th, 2019 | by Dan Lix
Kick-Ass #13 Review
Summary: With complications piling up and a new player in town, this new Kick-Ass arc already starts Patience off in a heap of trouble.
Kick-ass #13 is back with the beginning of a fresh new arc. Written by Steve Niles, illustrated by Marcelo Frusin and colored by Sunny Gho, this issue plunges us right into the action with Patience fighting a running battle with a new set of crooks. Santos and Violencia are out of the picture but now there's a new player in town. Not only that, but her brother-in-law, Maurice, is now awake and can expose her identity as Kick-ass. It's not easy being a vigilante superhero slash crime boss.
The Story
When she's not out on the streets kicking ass, Patience is still juggling work and home life with the demands of being a crime boss. So far she's managed to avoid the temptations of her status. Though she's sitting on more than enough cash to solve all her problems, she still scrapes by on a soldier's salary.
With Maurice regaining consciousness—the one person who knows her secret identity—all of this is bound to change. Complicating matters further, her childrens' deadbeat father decides to write himself back into her life. Patience handles each new development with about as much restraint and composure as one can realistically expect from someone in her situation (punches are definitely thrown).
I think that's what makes this series so compelling. Patience feels very real. She tries to be the very best person that she can be, but just as in real life she's being pulled at in all directions. Watching her as she manages to keep her shit together makes her very relatable for a superhero turned crime boss.
The Art
The art style of Kick-Ass is as vibrant and as packed with action as ever. Whether she's swinging from a fire escape while trading gunfire with baddies or punching out a deadbeat dad, the art conveys real impact and motion. The coloring and shading is of particular note, as the lighting in this series really comes together and helps establish just the right mood for each scene.
Overall
This is another excellent addition to the Kick-Ass series. This comic is a fun quick read. I meant to take my time and savor it, but the narrative had me quickly flipping pages. Before I knew it I was at the end. There's already an impressive line-up of potential nemeses for Patience! I'm looking forward to seeing how she deals with each one in turn.
Story 5/5
Art 5/5