Comics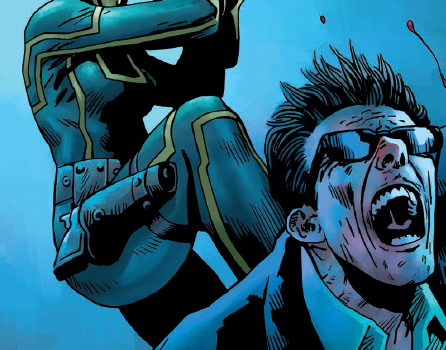 Published on January 9th, 2019 | by Dan Lix
Kick-Ass #11 Review
Summary: The action shifts back into high gear as Patience continues to pursue her nemesis.
Things are really heating up in Kick-Ass #11. By Steve Niles and Marcelo Frusin, the story of Patience Lee kicks back into high gear. She's back on Santos's trail, and this issue begins with her interrogating his goons to find out where he's hiding. While she's unable to pin down a location on her real target, she does manage to find out where his #2, Wallace, is located.
Story
Tension builds right out of the gates on this issue, with Patience shoving a gun in the face of one of Santos's thugs. While he doesn't give her what she wants to know, he still gives her a solid lead and that kicks off into a confrontation with Wallace. Wallace is your basic suit wearing villain type, complete with a proclivity towards wearing sunglasses indoors at at night.
Patience quickly realizes that he's also military trained and fast (which left me with Albert Wesker vibes, especially with the sinister aura he projects), and that she might be outmatched. Hurtling towards this arc's conclusion, Patience is running into more serious obstacles. She's done carving up the lowly minions—now she's treading into boss fight territory.
Her balancing act with her home life continues. As she gears up for a night time mission, she has to leave the kids with her sister overnight. Her sister suspects something's up, but she thinks that Patience's secret is more of an innocent one (like she's started dating someone on the sly). She also tells Patience that she's optimistic about Maurice waking up—the one man who knows her secret, and could jeopardize everything for her if he does regain consciousness.
Art
The art in this series is, as always, amazing. The terrific use of shadows helps support the story and adds dramatic tension. The characters are expressive, and it's never ambiguous what they're feeling. Wallace's features twist into a mask of rage as he's battling Patience. Her eyes widen with intensity and desperation when she's stuck in a situation where she's suddenly out of her depth.
Sunny Gho's use of colors really help support each of the scenes as well. Sneaking scenes use darker and more subdued hues. Action scenes use harsher and more aggressive shifts. And during the scenes with Patience's home life, colors veer again towards warmer tones.
One scene in particular that I enjoyed was where Patience was looking at herself in the mirror. In the foreground, her arm and shoulder are bruised. She's cleaning herself up after her latest encounter. The image in the mirror looks somehow more pristine. You can't see the injuries on her. At the same time, the color feels more drained. It almost feels as though she's looking at a version of herself in the past before she got caught up in all of this.
Overall
This issue is filled with action, tension, and one final "oh shit" moment that had me eagerly anticipating the next one in the series. The stage is set for one hell of an explosive conclusion. A month isn't that long of a wait, is it? …is it?
Story: 5/5
Art: 5/5