Hardware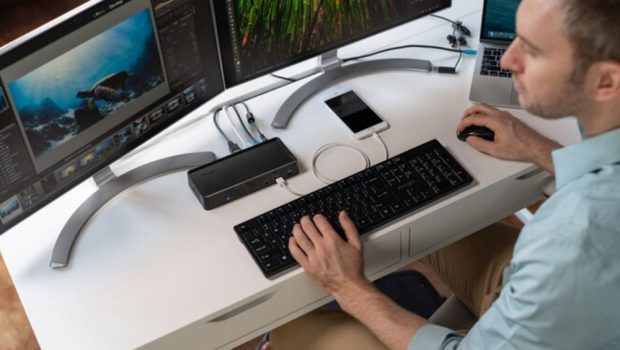 Published on July 6th, 2019 | by James Wright
Kensington SD4700P USB-C & USB 3.0 Dock Review
Modern laptops and more particularly 2-in-1's sometimes have limited ports on these devices such as a two USB-C and 1 USB 3.0 ports like our Lenovo S940. With our Lenovo, connecting a wireless USB 3.0 dongle and an external USB Drive is a juggling act and connecting an external HDMI display is entirely out of the question.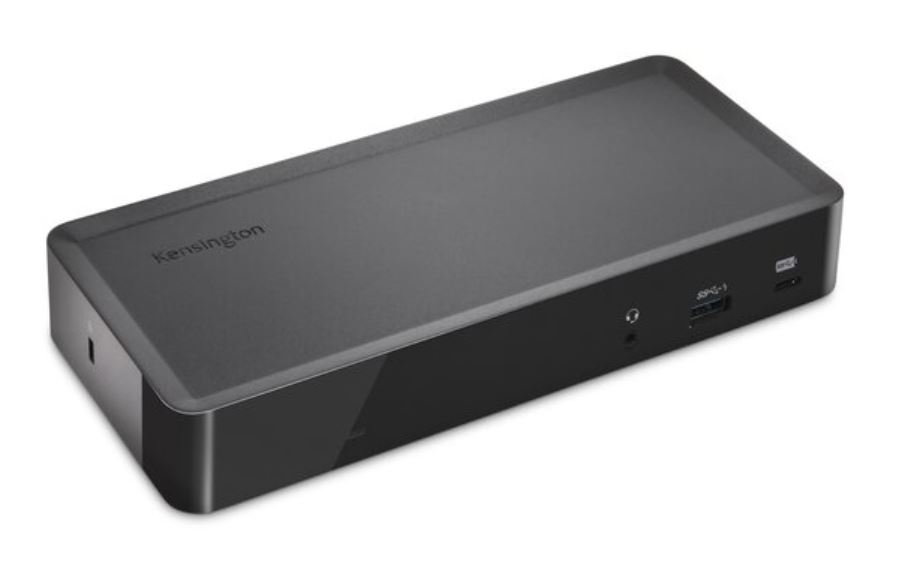 This is where the Kensington SD4700P USB-C & USB 3.0 Dock comes to the rescue that considerably increases the scope of what our 2-in-1 can do from a HDMI (v1.3) and DisplayPort (v1.1) inputs, five USB 3.0 ports and even the ability to charge larger devices such as a laptop thanks to its 135W power supply adapter that offers up to 60 watts of power.
A savvy technology investment for evolving and mixed computer environments
– Kensington
Highlights
Best for: USB-C or USB 3.0 Laptops & Ultrabooks and Monitors that support up to 2K
Connection technology: USB-C or USB 3.0 (DisplayLink)
USB-C Power Delivery: Supports USB-C PD 3.0 (60W of laptop charging)
Compatibility: macOS 10.13 Only, Windows 7, Windows 10
No of monitors supported: 2
Video ports: 1 x HDMI v1.3 and 1 x DisplayPort v1.1 ++ (Passive cables/adapters for HDMI or DVI conversion)
Maximum resolution supported: Single monitor – 2560 x 1600 @ 60Hz and Dual monitors – 2048 x 1152 @ 30Hz
Plug & Play: DisplayLink driver installation required. Download software from kensington.com or via Windows update.
System requirements: USB-C host device must support Power Delivery. Power Delivery is not supported on USB 3.0 host devices.
Features
Universal Docking Station
A savvy technology investment for evolving and mixed computer environments, the SD4700P connects to any laptop equipped with USB-C or USB 3.0, and supports both Windows and Mac operating systems.
Simple Set-up
Deploying a universal dock has never been easier. The SD4700P offers quick connections to transfer audio, video, data and power (supported USB-C devices only). Supporting clean and clutter-free workspaces, while also accommodating roaming computer environments and flexible workspaces, the SD4700P was designed with simplicity in mind.
DisplayPort++/HDMI
Providing support for flexible video connections, the SD4700P will support up to 2560×1600 for a single monitor or 2048×1152 for dual monitors.
6 USB Ports
Extending the productivity capabilities of today's thin laptops, the SD4700P provides one USB-C port, and five USB 3.0 ports, one of which is a 2.1A fast-charging port to power up a tablet or smartphone.
135W Power Supply Adapter
Providing ample power for the dock and up to 60W of power for devices connected via Power Delivey (PD) USB-C, the SD4700P is a powerful dock.
Combo 3.5mm Headphone & Microphone Jack
Connect your favorite headset with ease.
Gigabit Ethernet Port
Provides a reliable 1Gb wired networking connection between computers for faster downloads from the corporate intranet or internet.
Kensington Security Slot
Allows you to easily implement a cable lock from the No. 1 brand in physical device security to protect your technology investment from potential thieves.
Zero Footprint Mounting
The dock can be mounted to the back of any VESA-compatible external display (mounting plate (K33959WW) sold separately), allowing you to keep your desktop less cluttered.
Free Kensington DockWorks™ Software
Enables the best connection, performance, and security from your Kensington dock.

At its core, the Kensington SD4700P is a dock that easily allows you to connect it to a PC or Mac via the USB-C (preferred) or USB-A port that enhances the inputs and outputs available to your computer. Installation is almost non-existent and once you have unpacked the device, you simply connect the included power cable into the mains and download the software for your PC and presto, you're ready to go! What I like about the installation is that it makes the dock part of your PC, so when you connect a monitor or audio device, it feels integrated.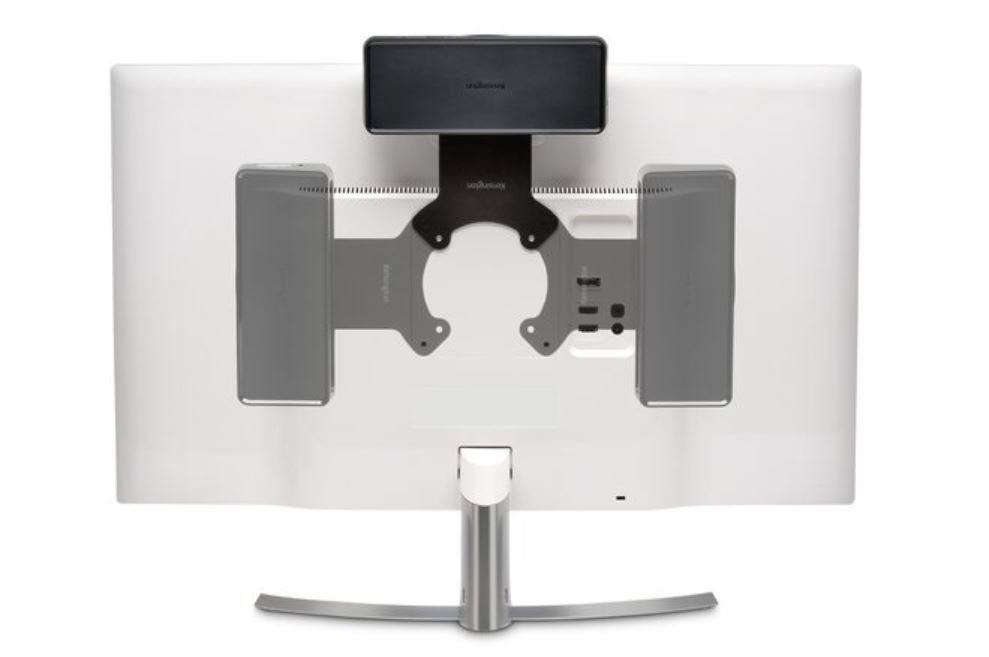 The front of this dock has a blue LED (when powered), a 3.5mm audio jack, 1 USB-A 3.0 port and a USB 3.1 (Gen) port. The security slot is located on the left of the device and when you flip the dock around to the back, it has four USB-A 3.0 ports, Gigabit Ethernet, HDMI 1.3, DisplayPort 1.1 plus a USB-C port. Needless to say, it boasts a plethora of useful ports that in turn increases the functionality of your PC. Relatively speaking, it's quite a small device at 196.85mm x 88.9mm x 38.1mm with a weight of just 0.27kg. It's also great that Kensington include a 1metre USB-C cable to connect it to the dock and your PC.

So while the device is extremely light, the power supply is a little on the heavy side but you don't need your device's one which does make things easier if you're travelling. The device can also be attached to the back of your monitor if its a VESA compatible screen and you lock it to your desk via the Kensington Security Lock. In terms of display(s), it supports dual 2K displays @ 60Hz or one screen at 2560×1600 @ 60Hz. Needless to say, the quality of the resolution was excellent and thankfully our PC had enough grunt to ensure dual screens. While 4K would be nice, it's not a game changer.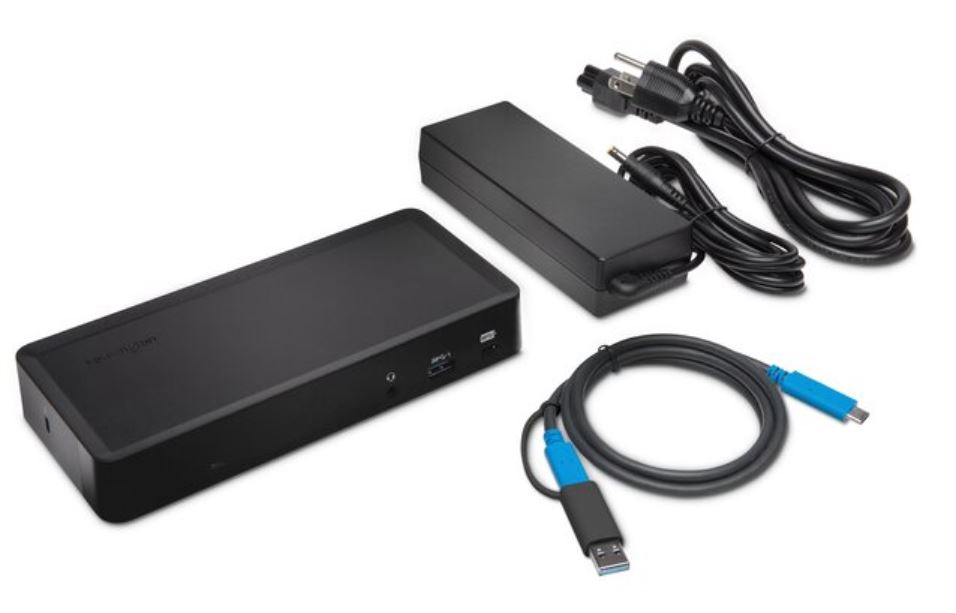 Final Thoughts?
The Kensington SD4700P USB-C & USB 3.0 Dock is a great accessory for those looking to increase the scope of their PC, especially those with limited inputs and outputs. I love the fact that I can charge my PC and smartphone, including the ability of connecting a keyboard and mouse plus connecting it to our network. It even comes with a 3-year warranty and more importantly, setup is very easy… so if you're looking for a dock with all these features, the Kensington SD4700P USB-C & USB 3.0 Dock definitely delivers!