Games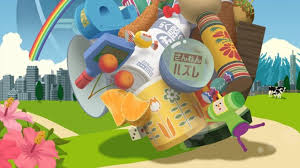 Published on December 10th, 2018 | by Admin
KATAMARI DAMACY REROLL OUT NOW FOR NINTENDO SWITCH AND PC
A Nintendo Switch® free demo will also be available from today, allowing players to roll across the first level of the game.
BANDAI NAMCO Entertainment Europe is pleased to release a launch trailer for Katamari Damacy REROLL to coincide with the game's release on the Nintendo Switch® eShop and PC Digital.
Click here to watch the launch trailer: https://youtu.be/YPtodKz_lH8
Faithful to the strange yet irresistible gameplay of the Katamari franchise, Katamari Damacy REROLL puts players in control of a highly adhesive ball (the Katamari), capable of collecting paper-clips, books, cars, buildings, mountains – even continents – as it grows larger and larger.
Katamari Damacy REROLL will feature remastered graphics and cut scenes as well as new motion controls unique for the Nintendo Switch version. Using two Joy-Cons in TV mode or table-top mode, players can move The Prince around with ease by simply turning their wrists. Players can also play in two-player mode on the Nintendo Switch with one Joy-Con each.
For more information about Katamari Damacy REROLL or other titles from BANDAI NAMCO Entertainment Europe please visit: https://www.bandainamcoent.eu, follow us on Facebook at https://www.facebook.com/BandaiNamcoEU , or join the conversation at https://www.twitter.com/BandaiNamcoEU