Comics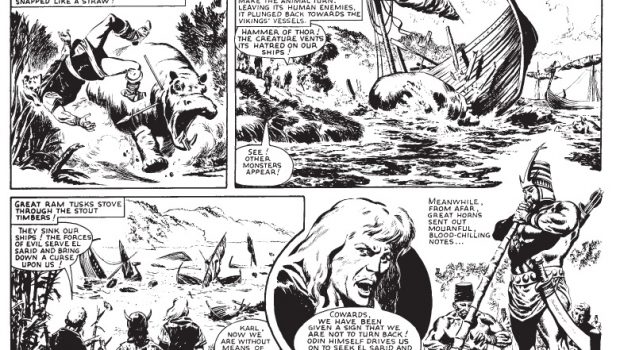 Published on January 20th, 2022 | by Tim Chuma
Karl the Viking Book One Review (2022)
Summary: A solid adventure story book of a type that is not done that much these days. Very detailed pen and ink work and you do not want to rush through it.
First serialised in the magazine Lion in the early 1960s this volume brings together the first six stories from that series. Karl was originally born in a Saxon village but was taken by one of the raiding Vikings as a promise to the man he killed to look after his son and eventually ends up being the leader of the Vikings after his own trials.
Each of the episodes is its own contained story but there are one or two recurring bad guys who come back for second go at Karl when they did not get the chance to do so or are thought to have perished the first time. The Vikings travel a lot further than you expect them to even going all the way over to South America and Egypt in separate stories.
The artwork is incredibly detailed and you do not want to rush through these so it took me a lot longer than I thought to read through it in full. It is easy enough to pick up and put down or just read one episode at a time until you get through it.
The story is very pulp adventure type story and not really done as much these days. I did like the story about the berserker mushrooms blowing in on the wind which does at least have some historical references. Almost everything in more contemporary viking stories is made up and at least the weapons and costumes seem more based in the real world in this one. Karl does not have a horned helmet for one.
I would recommend this one if you are a fan of detailed pen and ink artwork and fantasy adventure stories that do not involve mythical monsters.
Book details:
Writer: Ted Cowan
Artist: Don Lawrence
Publisher: Rebellion
Published: January 19, 2022
Length: 240 pages
ISBN13: 9781786184627