Games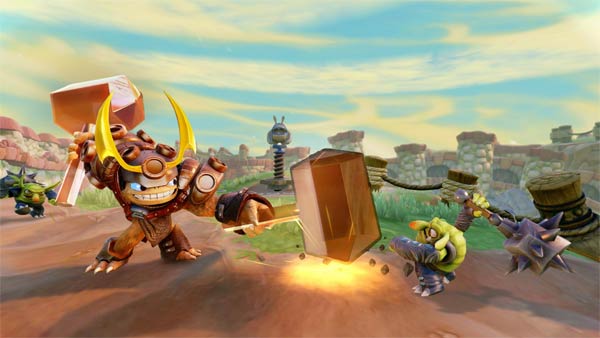 Published on October 27th, 2014 | by admin
KAOS WILL BE NOOOOOO MATCH FOR EON'S ELITE ON NOVEMBER 2
Elite Spyro and Elite Chop Chop, the Most Powerful Skylanders in History, Land on Store Shelves Just in Time to Join Portal Masters in Their Quest to Capture Evil and Unleash Good in Skylanders® Trap Team 
SYDNEY, Australia. – Oct. 27, 2014 – Calling all Portal Masters!  Kaos is still on the loose.  But have no fear, Activision Publishing, Inc., a wholly owned subsidiary of Activision Blizzard, Inc. (NASDAQ: ATVI), is unleashing the first two members of Eon's Elite, Spyro and Chop Chop, exclusively at EB Games on November 2. The new Eon's Elite characters will be three times more powerful than other characters — the biggest in-game boosts ever incorporated into a Skylanders toy to date — which is sure to help fans capture and play as Kaos, the biggest baddie in all of Skylands this spring. Eon's Elite characters are playable in the newest Skylanders game, Skylanders Trap Team.
Fans looking to pack a major villain fighting punch also will have the chance to pre-order Elite Trigger Happy, the third member of the limited edition toy line, from November 2. Elite Trigger Happy will arrive at EB Games stores on November 28.
Elite Spyro, Elite Chop Chop and Elite Trigger Happy are three of the eight must-have collectible versions of fan-favourite Skylanders characters. The heroes in the Eon's Elite roster hail from the original Skylanders® Spyro's Adventure and have been carefully selected by Master Eon for displaying undaunted courage and commitment to defending all of Skylands. Eon's Elite features a never-before-seen decoration with a distinct, metallic finish and a golden base that sets them apart from other Skylanders toys. Each of these special edition toys are offered in premium foil packaging and also features a display case with a 3D lenticular background.
Eon's Elite characters will be available in limited quantities at EB Games stores in Australia and New Zealand this spring while supplies last, RRP $29.95.