Events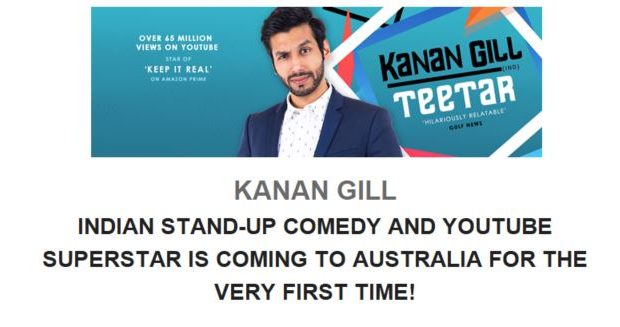 Published on February 8th, 2019 | by Admin
Kanan Gill  | Indian Stand-Up Comedian Announces Debut Australian Shows This April
Indian stand-up comedy and YouTube superstar Kanan Gill is coming to Australia for the very first time with his solo show Teetar! In this personal, observational and deeply stupid follow-up to his wildly successful 2017 hour, Kanan juggles thoughts and ideas about everything from Julius Caesar's death to bands and building societies. You'll also learn what Teetar means.
After starting a career in software engineering, Kanan Gill has found incredible fame in a totally unrelated field. After making his start in stand-up Kanan joined forces with fellow comedian Biswa Kalyan Rath to launch their hugely popular YouTube series reviewing Bollywood films. The hilarious Pretentious Movie Reviews swiftly picked up tens of millions of views on YouTube, and every clip they upload still regularly collects views well into the millions. Kanan has since ventured into Bollywood himself, with a role in Noor starring Sonakshi Sinha.
'Hilariously relatable… more than an hour of almost non-stop belly laughs' – Gulf News (Dubai)
'Absurd and dark… insightful, disciplined, affably absurd, resonating, and a great storyteller' – Medium (IND)
'A bucketload of laughs' – Insider (IND)
'Regaling audiences witth stories that suddenly transform into side-splitting jokes' – Rediff.com (IND)
A comic superstar both on stage and online, Kanan has over has over 670,000 subscribers and 65 million views on his YouTube channel, 340,000 followers on Instagram and 818,000 followers on Twitter.
Don't miss the superstar Indian comedian on his first ever Australian tour – tickets will not last long!
Perth Comedy Festival
Wednesday 24 April | 7:15pm
Comedy Lounge | Perth, WA (All Ages)
perthcomedyfestival.com | Ph: 13 28 49
This event is recommended for patrons aged 16+
Sydney Comedy Festival
Friday 26 April | 9:15pm
Factory Theatre | Sydney, NSW (All Ages)
sydneycomedyfest.com.au | Ph: 13 28 49
This event is recommended for patrons aged 16+
Melbourne International Comedy Festival:
Visit comedyfestival.com.au for more information*
Friday 19 April – Saturday 20 April | 7:00pm
Sunday 21 April | 6:00pm
Arts Centre | Melbourne, VIC (All Ages )
comedyfestival.com.au | Ph: 03 9245 3788
This event is recommended for patrons aged 16+
* Not Frontier Touring shows