Hardware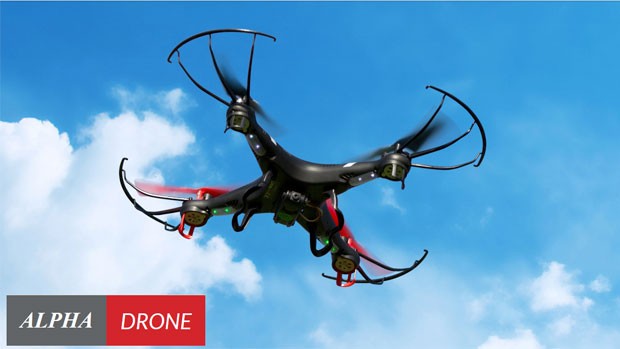 Published on October 18th, 2015 | by James Wright
Kaiser Baas Alpha Drone Quadcopter Review
Summary: The Kaiser Baas Alpha Drone Quadcopter is a fun toy that gives users an affordable entry level drone that packs a punch
Drones have definitely come a long way since their introduction and Kaiser Baas have recently released their Alpha Drone that is a HD 720p Quadcopter that boasts high definition videos/photos plus the ability to perform aerial acrobatics thanks to its in-built 6-axis gyroscopic control. Another reason why the Alpha Drone can perform these aerial stunts so effortlessly is because the unit itself is very light and weighs in at just 109 grams and measures at 33.1cm (width) and 33.1cm (length). It's small but it packs a punch!
However its lightness can also be a hindrance because if it's too windy outside, the drone will be subject to the elements that makes it harder to control. Furthermore and unlike cheaper drones, the Alpha Drone boasts a range of 60 metres and includes everything you need (except 6 AA batteries) to get your drone flying, even spare parts should you have a crash.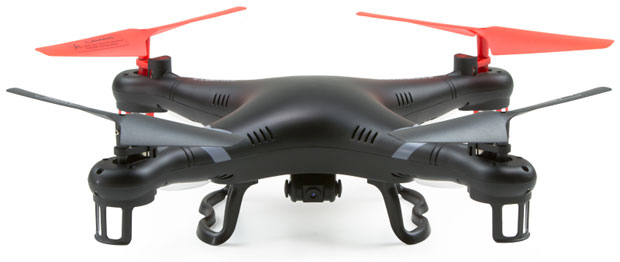 Unboxing the product was a treat and Kaisar Baas ensure that the drone is well protected in transit. Assembling the drone is relatively easy but I had some issues in attaching the rotor blade guards which did require some force but these are also optional. I was trying to be careful as not to break the plastic connectors but if you are patient, this should not be an issue. Once the guards were on, you then need to attach the 2 landing feet and you're almost ready to go.
The next step is to charge the 550maH battery which simply connects to a USB port via the PC or through the mains and takes about one hour . Once charged, you simply insert the battery and then connect the camera to the drone itself. It also comes with a 2GB SD card and allows for cards of up to 8GB if needed. The last part is to insert 6 AA batteries into the remote control and you're ready to start flying. Flying time for us was around 8 minutes which was dependent on what we were doing with the drone. You can purchase additional batteries from Kaiser Baas as well so you don't need to keep on charging all the time. Thankfully I had a park just right across the street.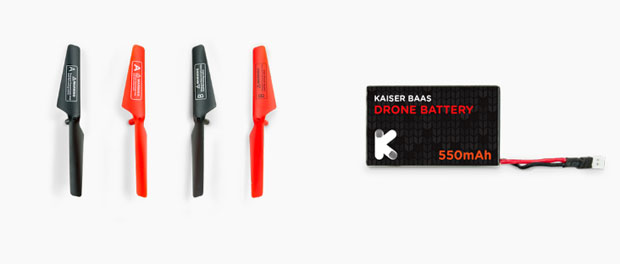 There is also an information page from CASA about where and where not to fly your drone which includes not flying it no closer then 30 metres to boats, buildings, people or animals and you need to be at least 5.5km to any airport. The remote control is quite sturdy and generally, the two thumb sticks are used to control the drone, however it also boasts other features like performing a 360 flip, taking photos/videos and fine tuning the device for better control accuracy.
Furthermore, it does take some time to master the control mechanics and you may need to fine-tune the drone to get it to fly smoothly. In terms of controls, the left stick is used to ascend/descend and rotate left/right while the right stick is used to pitch left/right and roll forward/back. The remote control also has an LCD which displays useful statistics like signal strength, battery and motor power level.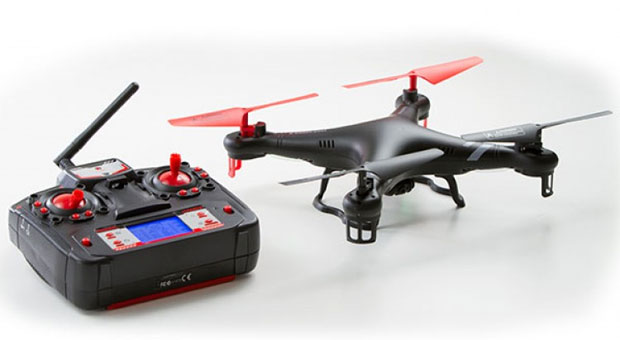 If you do get stuck, the 30-page manual from Kaiser Baas is not only quite easy to follow but does address any issues that you may have. The unit also comes with spare rotor blades should you encounter any flight issues which generally means crashes. So after testing this unit for the last couple of weeks, it did take me a day or two to master the controls at the start and even though I'm familiar with gaming controllers, the Alpha Drone remote is a little different as you are controlling a real-world product which means you need to watch out for obstacles and take into consideration the wind.
Wind did play an issue on some days and for the most part, a slight breeze is totally acceptable in controlling the Alpha Drone but when it does get windy, you can definitely expect an air crash investigation once it crashes. Needless to say, read the manual and take it easy before you jump straight into free flight because it does help make the experience more enjoyable with your bases covered.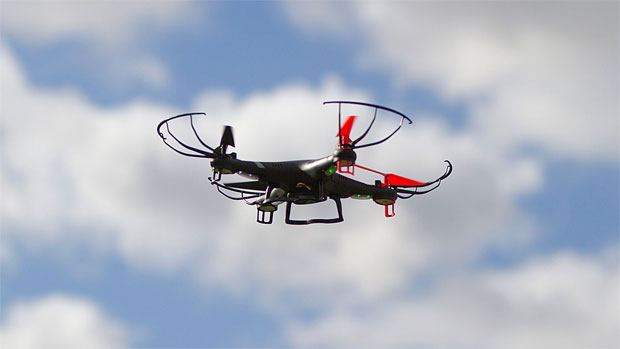 Taking photos with the drone was quite easy and you simply push the button on the remote control but getting the drone to line-up with what you want to be taken is a challenge, hence the reason there are no photos with this review. Let's just say my flight skills are still not up to par with photography. In terms of photo and video quality, considering the small size of the camera, it's quite acceptable but don't expect GoPro quality.
Nonetheless, it's still quite cool, especially seeing the footage back on your PC! Also when you are practicing with the drone, I do strongly recommend a park or oval opposed to a car park because given the lightweight nature of the drone, accidents can occur and I would rather crash it on grass opposed to concrete. Another cool part of the Alpha Drone are the coloured LED lights on the bottom which only serves as aesthetics but does look cool.
Final Thoughts?
Drones have certainly come a long way in the last few years and I must admit that Kaiser Baas have released a good middle range drone that comes packed with many features. Unlike drones that use smartphones or tablets to control the device, I do find remote controls far superior as it gives you more accuracy and enjoyment.
Sure there are cheaper drones available but they don't have the same features or the distance as the Alpha Drone and with Christmas just around the corner, this may be the perfect present for someone who wants to fly with a drone. All in all, the Alpha Drone is a fun toy which really gets you out of the house… and yeah, the drone will work indoors but undeniably an outdoor product and retails for around $199AUD (October 2015).
Key Features
Gyroscopic Stabilisation
In-built 6-axis gyroscopic control gives the Alpha superior stabilisation, even against wind and tricky manoeuvres.
Transmitter
Use the Alpha Drone Transmitter and its display screen to trim and tweak the controls. Trigger the photo, video and 3D Eversion functions at the touch of a button. With a range of over 60m, even if the Alpha flies out of range, there's no need to worry about lost footage as the on-board camera records locally to a Micro SD card (included) and won't stop if the Alpha travels too far from the Transmitter.
720P Camera
The on-board camera records footage in HD 720p at 30 frames per second and shoots pictures at 2MP. Switch easily between modes with the buttons on the Alpha Drone Transmitter.
Specifications
-Range: 60m
-Camera: HD 720p 30fps
-Flight Time: Aproxmately 7mins
-Stabilisation: 6-Axis Gyro control
-Controller: 2.4Ghz 4 Channel; 6 x AA batteries (224g)
-Storage: 2gb MicroSD Card Included (SDHC Class 10 recommended)
-Playback: USB Micro SD card reader (included)
-Dimensions: 33.1mm x 33.1mm (109g)