Interviews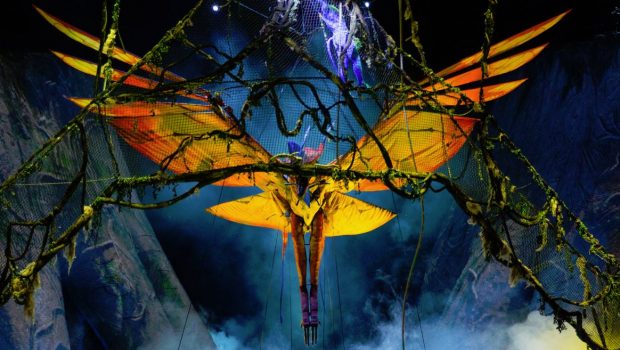 Published on October 26th, 2017 | by admin
Kailah Cabanas interview (Puppeteer on TORUK – The First Flight)
How did you become involved with Cirque du Soleil?

I auditioned for Cirque du Soleil through online submissions. I had a friend of mine who sent me a link on Facebook saying that Cirque du Soleil was looking for puppeteers who had experience operating large scale puppets in a team of two or more operators. Something which I had experience in, so I thought "This is almost too good to be true. I've got nothing to lose, may as well go for it!" I had to send many video submissions doing all sorts of random things. The persistence paid off because a few weeks later, I was told that I would be a puppeteer on Cirque du Soleil's show TORUK – The First Flight. I was ecstatic!
Tell us a little about TORUK – The First Flight?

TORUK – The First Flight is a prequel to James Cameron's movie AVATAR. Our show is set hundreds of years before the arrival of humans on Pandora. It's quite different to other Cirque du Soleil shows because there is a strong storyline (we even have a Na'vi storyteller) and it encompasses visual projections onto the stage to bring the bioluminescent world of Pandora to life. It's nothing like I've ever seen before! As an audience, you are drawn into the visuals and story of our characters and the journey they go on to save their world. For the first time in Cirque du Soleil's history we have a story teller that speak English, and a full team of puppeteers! You may recognise a few animals in our show from the movie, but you will also see some new creatures operated by our awesome team of 6 puppeteers.
What preparation did you do for production?

Before leaving Sydney, I had a lot of support from my family and friends at home who I trained with to become physically ready. We also watched the movie AVATAR a few times to study how the Na'vi move. I also studied how the animals on Pandora move, and the sounds they make, and I would try to mimic the sounds. This came in handy because the puppeteers on TORUK make all the animal sounds in the show live with a microphone taped to our heads.
Then, we had several months of creation in Montreal Canada at Cirque du Soleil's headquarters where we built the show from the ground up. This creative phase was filled with explorations. They had asked me before hand "Are you ok with heights?" but I had no idea what they had in mind. At the time, I was actually terrified with heights but not wanting this opportunity to go by I just said confidently "Yes. I am fine. I am fine with heights." Now, every night, I'm part of an aerial number at the beginning of each show. Who would have thought! That's the great thing with Cirque du Soleil, they will get you to do things you never thought possible. As long as you are open minded and dedicated to learning new things, the possibilities are endless.
Can you walk us through your role in TORUK – The First Flight?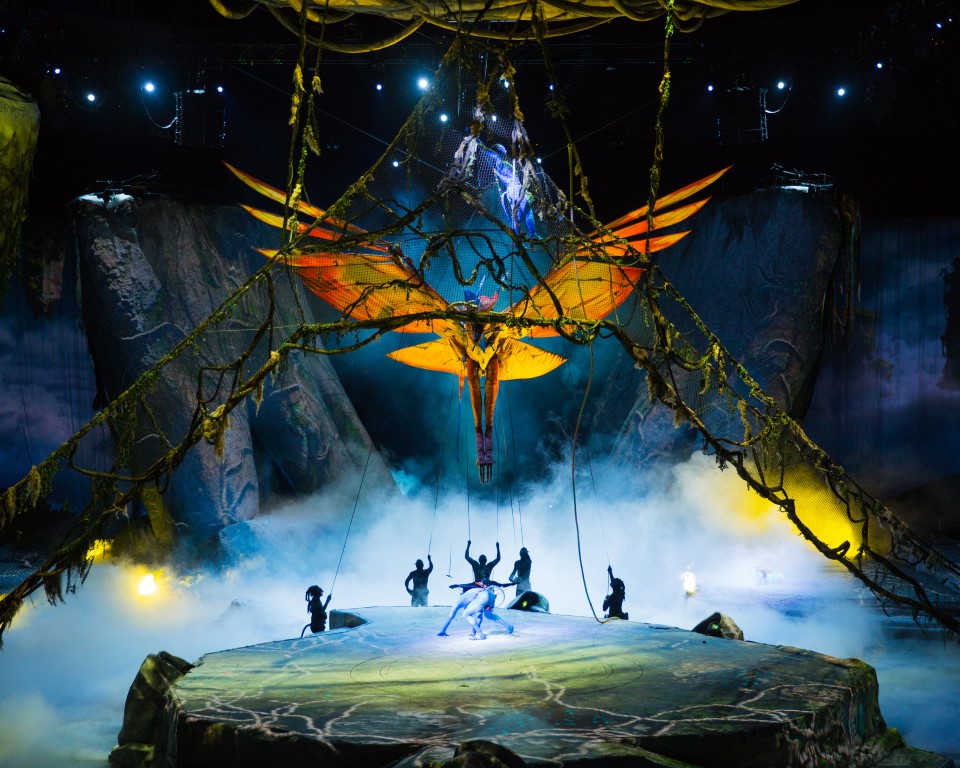 At the beginning of the show I play a Na'vi, the blue characters that you which you will recognise from the movie. I actually perform in a sequence called Circular Drum, where I get suspended in the air a play the drums up side down which I still think to this day is one of the most fun things I've done in my life! Then I have a quick change into my puppeteer costume which is all black to help us blend into the puppets that we operate. I'm one of the 6 puppeteers on TORUK, operating all the animals that you see in the movie Avatar. We embody the "Spirits of Eywa" and we give life to the puppets we operate along with connecting everything that is in the world of Pandora. Some puppets only require one operator like the Viperwolves, while other puppets such as the Toruk, requires all 6 of us to bring it to life.
As a puppeteer, what's been your biggest challenge in this performance?

I would have to say the touring schedule had been the biggest adjustment. The show is very physically demanding and the puppeteers don't stop moving for two hours straight. And we often have two shows a day! It's great because we love being active, but after 10 shows in one week, that can be challenging. I definitely learned how to take care of myself. We're fortunate to have a great team provided by Cirque du Soleil that help us maintain our well-being through catering, physiotherapists, massage therapists, coaches and so forth. At the end of the week, we pack up our suitcases and move to the next city. It makes it all worthwhile to see people's reaction at the end of the show and they've got a big smile on their face and they're cheering… that reminds us of why we do what we do.
Most rewarding?

The most rewarding is seeing the audience's reaction to the show. I remember after the show one evening where there was a meet and great session… I was in my Na'vi costume and makeup and a little girl came up to me and gave me a big hug. She said that was the best things she'd ever seen. It still makes my heart warm when I think of it. It's moments like that, that reminds us that our art can effect and change people. It was a moment that I will never forget.
Without spoiling the show, what's your favourite scene or element?

Hmm… probably the opening sequence where the audience is introduced into the world of Pandora and you see the Na'vi in their day to day life, interacting with each other! We have a lot of fun on stage doing this as there is a lot of freedom and improvisation in that scene. But I'm bias as a puppeteer so I would say that I also love the moment when Toruk makes it's debut on stage and flies out over the world of Pandora.
So where does Toruk the First Flight fit with the original Avatar film?

Our show is set 3000 years before the movie AVATAR so you don't need to have seen the movie to enjoy it. We follow the journey of three Na'vi teenager who set out on this epic quest to save their world from a natural catastrophe. They go through ups and downs and encounter many tribes before facing the Toruk, the most feared creature on Pandora.
How do you think the Australian audience will react to TORUK – The First Flight?

I think they'll have a blast! You don't have to be a super fan of the movie to enjoy TORUK – The First Flight. It is truly a show like no other, and is very different from anything else I've ever seen. It draws audiences in through the use of magnificent projections, acrobatics and puppetry. All elements come together to bring you into the world of Pandora, it's a visual feast! We've had people from all ages around the world come and enjoy it. I'm really looking forward to bringing the show to Australia: to be able to perform at home will be incredible!
Besides TORUK – The First Flight, what's been another highlight of your career and why?

I would have to say performing as an actor/puppeteer on War Horse Australia.
It really solidified my love of performance but through a new medium which was puppetry. Never have I had such an emotional attachment to an inanimate object! Operating this life size horse puppet within a team of 3 operators allowed us to communicate as one through breath and horse sounds and that was incredible! The reactions that we received from audiences across Australia was overwhelmingly positive. It was an experience I will never forget, with people I will always remember.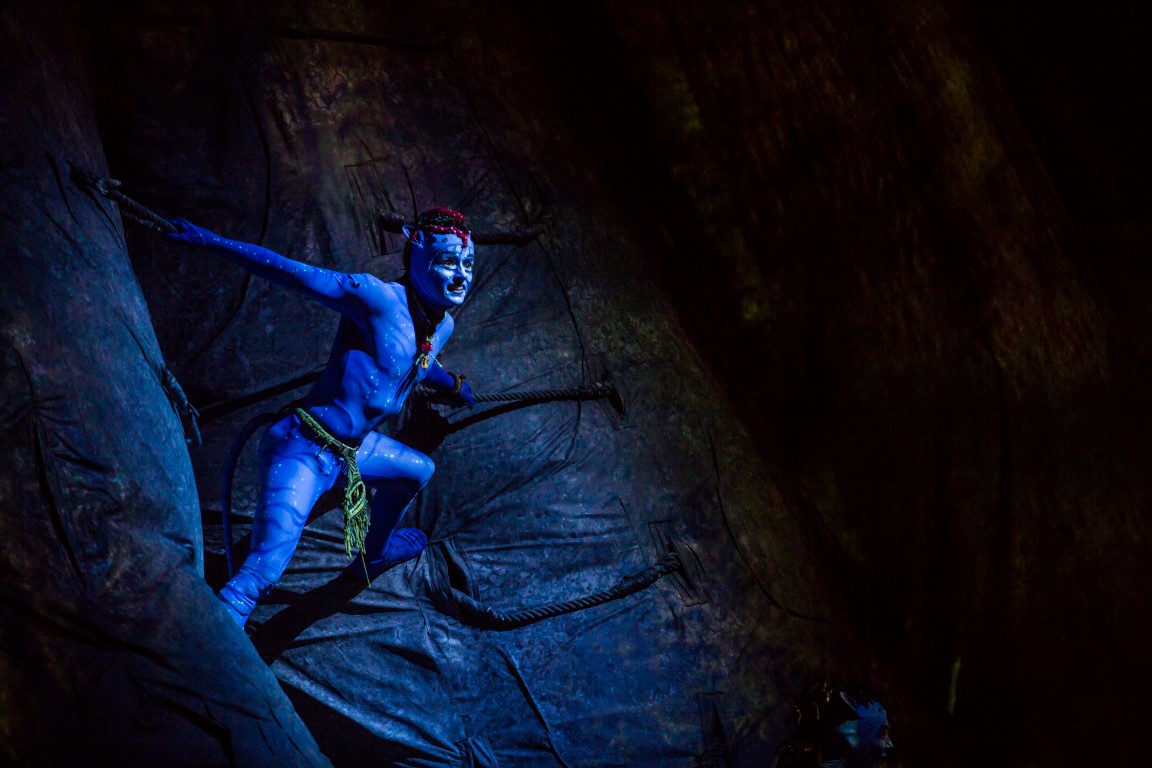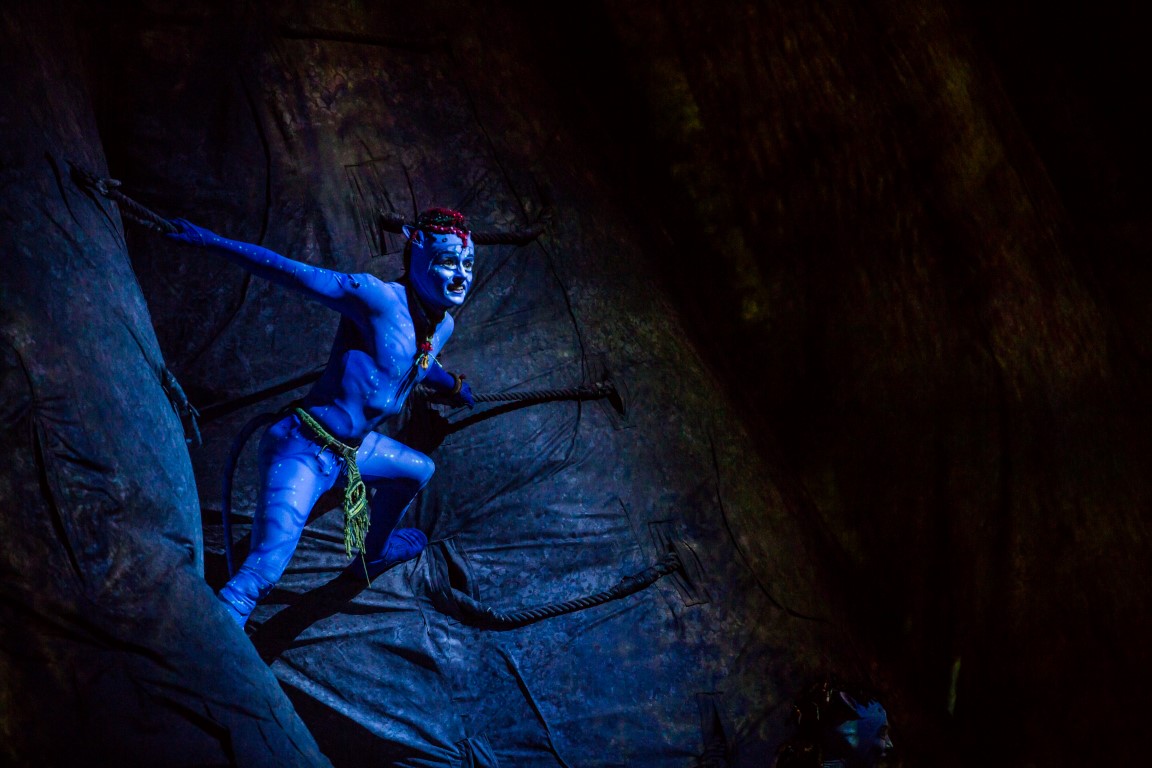 Tell us what the rest of 2017 holds for you Kailah?

Well, we will be brining TORUK – The First Flight in five cities in Australia so it will bring us to early December. Then, after 2 and a half years of touring, I will finish my journey with TORUK – The First Flight in Australia, and I couldn't think of a better place to do so! It's been an incredible adventure and I was fortunate enough to share this experience with some incredible people who are now great friends of mine. I have travelled and seen many different countries with the show, and now excited to return home to Sydney as I get ready for my wedding next year!
Thanks again for your time and all the best for the Australian tour of Cirque du Soleil Toruk the First Flight!
Tickets for TORUK – The First Flight
Rod Laver Arena Melbourne, VIC
Nov 2-12, 2017
https://www.cirquedusoleil.com/australia/melbourne/toruk/buy-tickets