Games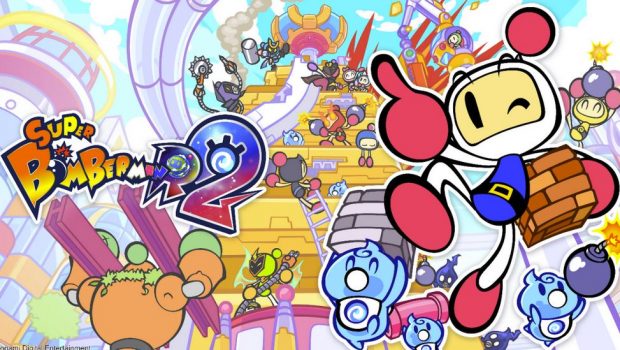 Published on April 11th, 2023 | by Adrian Gunning
KABOOM: SUPER BOMBERMAN R 2 WILL AVAILABLE WORLDWIDE ON 14th SEPTEMBER!
Konami Digital Entertainment B.V. announced SUPER BOMBERMAN R 2 (SBR2), the bomb-bastic party game with the most amount of gameplay content in the series, will be available worldwide on 14th September. Join the Bomberman Brothers in an all-new single-player adventure to save the galaxy from the treacherous Dark Moon and be the life of the party with SBR2's new Battle Mode!
BATTLE MODES:
Castle: Fight in 1 vs 15 asymmetrical matches online in this new attack vs. defend battle mode! A defending player is tasked with creating a map and placing defensive traps to slow down the offense. Different terrain options, wall placements, defensive gimmicks and the help of new character types called "Ellons" are at the defending player's disposal. The attacking side must blow through the defender's gimmicks to reach all the treasure chests and win!
Battle 64: Be the last player standing in this battle royal classic. This chaotic mode features 64 players, but only one can come out victorious.
Grand Prix: Compete for crystals and knock out other players. Team battles are a blast in this game mode.
Standard: The beloved classic battle mode from SUPER BOMBERMAN R 1 and SUPER BOMBERMAN ONLINE returns.
Play, create, and share new battle stages!
The "Stage Editor" is a powerful new tool for players to craft their own stages and share them online for others to play in the new "Castle" Battle Mode. The amount of new and distinct SBR2 stages to find and defeat will be limitless!
The story of the 8 Bomberman Brothers and their new friends the Ellons!
The Black Moon starship ravages across the galaxy destroying the cities on the planets it visits. As the threat looms across the universe once again, can the 8 Bomber Brothers and their new friends, the Ellons, save the universe and keep the peace?
SBR2 will include crossplay and will launch on the PlayStation®5, PlayStation®4, Xbox Series X, Xbox One and Nintendo Switch™ for $79.95 RRP.
Additional details about SBR2 and other information about are available at The Official Bomberman site, Official Bomberman Facebook, Official Konami Facebook and Official Konami Twitter.