Blu-ray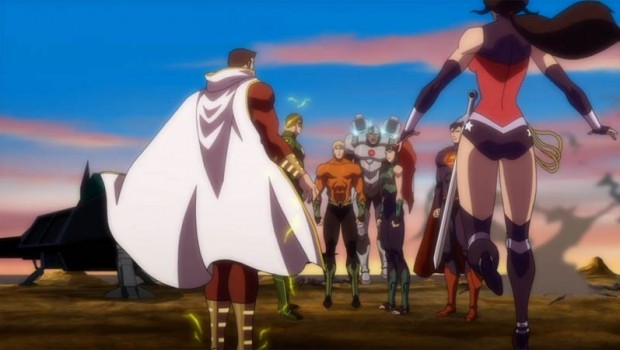 Published on January 26th, 2015 | by admin
Justice League Throne of Atlantis Blu-ray Review
Summary: Justice Throne of Atlantis is extremely well presented on Blu-ray with perfect animation, crystal clear audio that when matched story really draws you
Justice League Throne of Atlantis
Director – Jay Oliva & Ethan Spaulding
Film Genre – Action
Label – Warner Home Video
Audio – English (DTS-HD 5.1)
Aspect Ratio – 1.78:1
Region Coding – B (Blu-Ray)
TV Standard – PAL
Rating – M
Year of Release – 2014
Primary Format – Movies/TV – Blu-Ray
Justice League Throne of Atlantis is the latest DC Comics Original Movie to land on Blu-ray, Digital and DVD that is the successor to Justice League War and brings Aquaman (Matt Lanter) to the forefront of the New 52 Comicbook inspired range of films from Warner.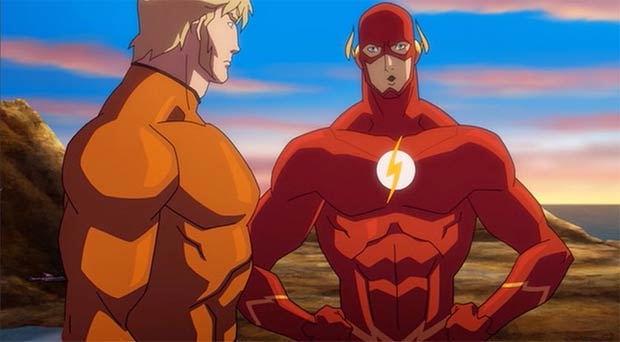 The film is also based on the excellent comicbook series by writer extraordinare Geoff Johns who relaunched Aquaman for not just the New-52 but also as a powerhouse superhero that as a result, has made this character more popular than ever.
Apart from being an Aquaman story, we also see the introduction of his supporting cast that include Mera (Sumalee Montano) and his arch-nemesis Manta (Harry Lennix) who wants revenge on Aquaman for "killing" his father.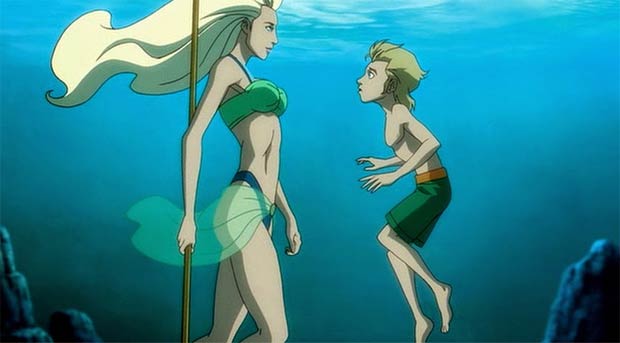 Given that, Throne of Atlantis is split into two stories, one being the origin of Aquaman and the second, the Atlantean war against humanity which sees the coastal cities of Gotham City and Metropolis in grave danger.
The catalyst of the war however is Orm (Sam Witwer), the Ocean Master that thanks to Manta's master plan, it forces the Justice League to once again band together in order to thwart this deadly threat when powerful underwater missiles have been stolen from a military submarine with its clues pointing directly to not just Atlantis but also that of Aquaman.
The team of the Justice League include Batman (Jason O'Mara), Green Lantern (Nathan Fillion), The Flash (Christopher Gorham), Wonder Woman (Rosario Dawson), Superman (Jerry O'Connell), Cyborg (Shemar Moore) and Shazam (Sean Astin) that face the combined threat of Atlantis together.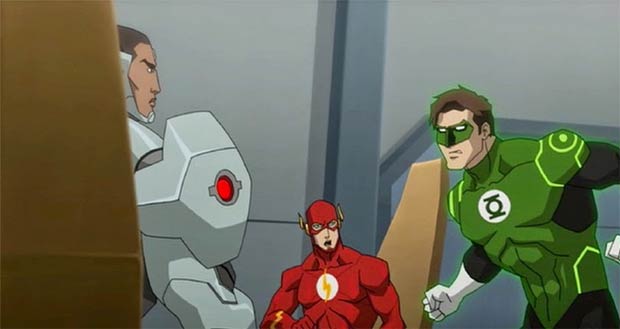 Besides the Justice League, this story also include Steve Trevor (George Newbern) and Lois Lane (Juliet Landau), the supporting case of Wonder Woman and Superman who all add to the epic nature of this blockbuster comicbook movie.
With that said and at times to the detriment of the story, the number of characters in Throne of Atlantis is quite large and most of the characters do get to shine in the film but keep in mind that this is an Aquaman story, so some take a backstory like Green Lantern. This is a shame because Nathan Fillion creates the perfect Green Lantern.
It should also be noted that Throne of Atlantis features some amazing action scenes that really showcase Aquaman as a character brilliantly with some very cool Justice League scenes thrown into the mix. Add in intrigue plus drama and Throne of Atlantis is a well written story from start to finish that only skips a beat on a few occasions.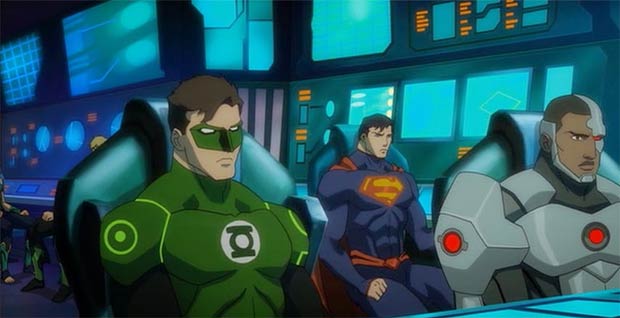 There's also some great characterisation in the film, especially between the uneasy alliance between Aquaman and the Justice League as the story also parallels certain events from the New-52 comicbook universe such as the relationship between Superman and Wonder Woman which is quite cool.
Even though this is a standalone story, Throne of Atlantis does make some mention of the previous story which saw the Justice League against Darkseid and of course the creation of Cyborg that resulted from his invasion of Earth. It's a great link to the previous story.
In terms of voice acting, it is quite exceptional as is the high quality animation with its unique style. The audio quality of this release is decent and really booms through surround sound with well balanced audio with a thumping soundtrack that is made for superheroes. Given the high quality video and audio, this is definitely one of the better comic inspired films from Warner.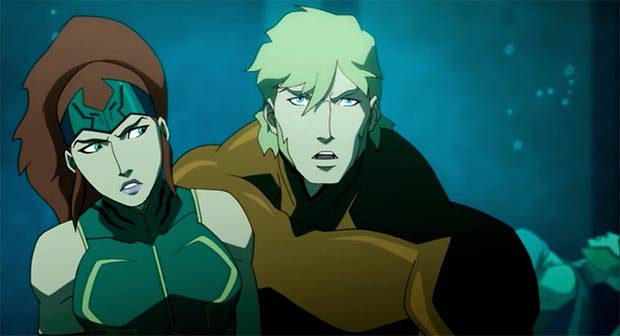 To compliment this, Warner have even included some great special features that include a great documentary about Aquaman's villains and interviews with key people about not just the characters of his mythology but also other DC characters.
Special Features
Scoring Atlantis: The Sound of the Deep – Every great film needs a great musical score. Filled with emotion, music takes us on a dynamic journey as we adventure with the hero. Throne of Atlantis takes us on that quest through the eyes of Arthur Curry.
Robin and Nightwing Bonus Sequence – Producer James Tucker provides video commentary for this exciting bonus sequence where Robin and Nightwing join forces.
Throne of Atlantis: 2014 New York Comic Con Panel – The entire, lively one-hour panel discussion between actor Matt Lanter, producer James Tucker, screenwriter Heath Corson, character designer Phil Bourassa and dialogue director Andrea Romano.
Villains of the Deep – From Ocean Master to Black Manta to King Shark, each villain operates from his own deep sense of conviction, presenting an incredible challenge for the hero in Arthur Curry, aka Aquaman. This documentary goes into the biographical details of the villains.
 A Sneak Peak at Batman vs. Robin – An advance look at the next DC Universe Original Movie with the creators and cast.
Bonus cartoons from the DC Comics Vault
Final Thoughts?
In conclusion, Justice League Throne of Atlantis is an action packed film that I could happily recommend to all lovers of comics, especially the world DC. It's extremely well presented on Blu-ray with perfect animation, crystal clear audio that when matched this mega-story really draws you into the world of the New-52, especially Aquaman, the King of Atlantis!