Comics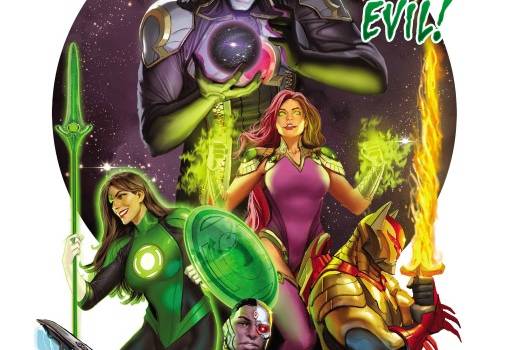 Published on September 27th, 2018 | by Andrew Bistak
Justice League Odyssey #1 Review
Summary: Justice League Odyssey introduces us to a new cosmic odyssey in the DCU
After the delayed launch of Justice League Odyssey, it's finally here as writer Joshua Williamson and artist Stjepan Sejic deliver readers a good start to their 'cosmic odyssey' about a league in space. For the uninitiated, this comic is a spin-off from Justice League: New Justice and commences with Green Lantern Jessica Cruz patrolling the new Ghost Sector.
After the home planet of Brainiac was destroyed, it unleashed the hundreds of planets that they had imprisoned and as a result, the Guardians are now monitoring this new sector for threats. One refugee from this disaster is a powerless Green Lantern who has learned that the old gods are returning and although she tries to warn the Guardians of the Universe, she is killed before she even leaves the Ghost Sector
Back in the present, Jessica encounters Brainiac's ship which is being controlled by Cyborg with Starfire tagging along for the ride. Unexpectedly, another stowaway is on the ship with Azrael who informs them that he heard a voice telling him to go to the stars which is why he is here. We also learn that both Cyborg and Starfire have also felt a strong urge to enter the Ghost Sector and before this mystery can be solved, a monstrous alien entity attacks this new league and with the help of Jessica, they manage to flee and crash on an uncharted planet within the Ghost Sector.
Although they survive the crash, they encounter one of the multiverse's most powerful villains, the legendary New God himself, Darkseid of Apokolips who eloquently informs Cyborg, Starfire and Azrael that he called them to the Ghost Sector in order to help launch a new age for the multiverse as the issue ends.
Thoughts?
Justice League Odyssey is off to an interesting start and never in a million years would have I expected to see Cyborg, Azrael, Starfire, Green Lantern Jessica Cruz and Darkseid on the same team. Sure, there were a couple of teething issues in the story in relation to a few slow moments but all in all, it's an interesting direction for the Justice League. The issue is also spectacularly illustrated by Stjepan Sejic whose unique style perfectly suits this otherworldly title and more importantly, he draws these characters perfectly and I love the new look of Darkseid as well.
So if you're looking for something different, check out Justice League Odyssey which is on sale now.
Gallery