Comics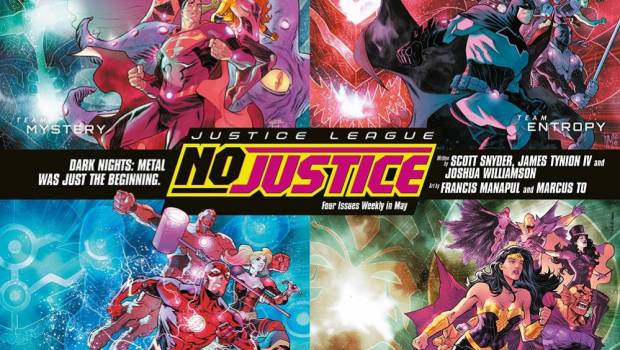 Published on May 30th, 2018 | by Andrew Bistak
Justice League No Justice #4 Review
Summary: Justice League No Justice #4 is one too many characters but still a fun read
The issue opens with the Green Lantern corps valiantly attempting to stop the leaking energy of a dying multiverse through the legendary Source Wall courtesy of the story from Dark Nights Metal. To make matters worse, Oliver Queen (aka Green Arrow) has just called in to Hal Jordan (Earth's greatest Green Lantern) and politely informs him that the Omega Titans have arrived on Earth as the proverbial literally hits the fan.
As the cosmic trees of wonder, wisdom, entropy and mystery continue to grow on Earth thanks to Vril Dox (aka Brainiac 2.0), he hopes to recover his father's knowledge, destroy Amanda Waller for killing him and obliterating Earth in the process. However he is cut short by Hal Jordan and friends with Waller believing that by destroying the trees, not to mention a string of innocent casualties, she is about to detonate the largest thermonuclear device in U.S. history.
Needless to say, there is a stale mate as the Justice League attempts to remove the devices by Brainiac in order to stop them from maturing and as a result, avert the interest of the Omega Titans. As allies and enemies work together to stop the mad plan of Brainiac and his son, they are victorious which paves the way to Justice League #1, Justice League Odyssey #1 and Justice League Dark #1.
With this the final issue, it was a little convoluted at times and with such a large cast, many characters like Dr Fate or Starfire took a back sit, even though they have a huge power source behind them. The dialogue was a little cheesy at times and sometimes the elements just didn't mesh. However it was still a fun read, especially seeing the mega Justice League at work.
Final Thoughts?
The final issue of Justice League No Justice was a mixed bag and with so many characters, it did feel a little disjointed at times and the ending was a little anti-climatic. Nonetheless, it's an introduction to a whole new team of Justice Leagues and I'm eager to see how these three different creative teams take this premise and run with it.
Check it out if you're a Justice League fan!
Gallery