Blu-ray
Published on July 16th, 2015 | by James Wright
Justice League: Gods and Monsters Blu-Ray
Summary: Justice League: Gods and Monsters is definitely for the older DC Comics fan due to the adult themes.
Bruce Timm returns to the world of DC Comics with his latest animated feature entitled Justice League Gods and Monsters that is an Elseworld tale (e.g. alternate universe). Rather than making the Justice League as equals of mankind, this new version put themselves above those of humanity and only answers to no one but themselves. It's an interesting premise, especially considering the original of the Justice League as heroes opposed to controllers.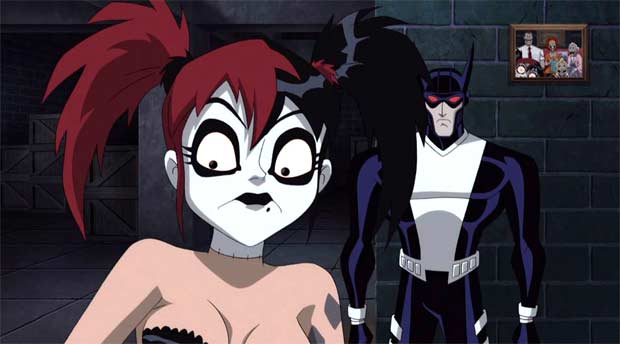 Furthermore and although the Justice League in this current film from Warner Bros somewhat resembles the Justice League, they are from it as Superman was raised by another family and is the son of Zod, Wonder Woman is a powerful New God and Batman is a vampire. These subtle changes have made the Justice League a much more militant group but they still place themselves as saviours of the planet who are more violent and with limited morals.
The catalyst of the story revolves around a string of scientific accidents due to terrorist attacks that led back to the Justice League themselves, however upon further investigation, it appears that another power is in play and this is Ray Palmer who was the original Atom. Given the rating, Justice League: Gods and Monsters is definitely focused towards the older fans as the story is quite violent that is heavily ladden with adult themes.
The story also has many twists and turns along the way and due to the different origin of the Justice League, it really creates a unique and alternate view on this classic team. The story is also complimented with some great voice actors that include Michael C. Hall (Dexter) as Batman, Benjamin Bratt (Law & Order, 24) as Superman, Tamara Taylor (Bones) as Wonder Woman, Paget Brewster (Criminal Minds) as Lois Lane, Jason Isaacs (Harry Potter films, Dig) as Lex Luthor and C. Thomas Howell (E.T., Southland) as the enigmatic Dr. Will Magnus. It should also be noted that there's plenty of other cameos from the DC Universe which is cool to see these new twists on classic characters.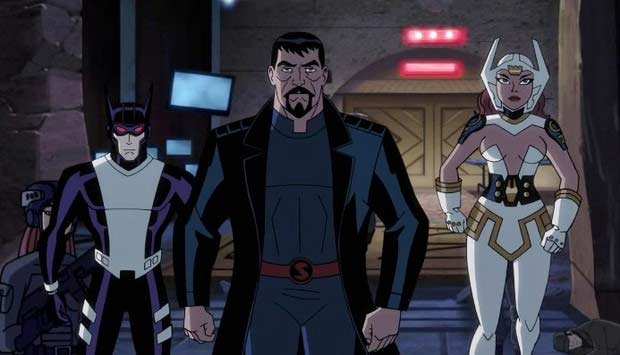 The story is directed by Sam Liu (Batman: Year One) with the story of Justice League: Gods & Monsters created by Bruce Timm (Batman: The Dark Knight Returns) and Co-Producer Alan Burnett (The Batman) who produce this entertaining story about a Justice League who put themselves above man by ruling with force that works on quite a few levels. However at the end of the day, this incarnation of the league must decide whether they want to be gods or monsters and that lies the dilemma!
Final Thoughts?
Beautifully presented on Blu-ray with exceptional video and audio quality with a wealth of special features, Justice League: Gods and Monsters is definitely for the older DC Comics fan due to the adult themes.
Special Features
ALTERNATE REALITIES: Infinite Possibilities – Justice League: Gods & Monsters falls into a category of storytelling where our well-known characters and the worlds they inhabit are re-imagined. This documentary explores the various attempts by writers to have a little fun and tinker with the characters, resulting in exceptional storytelling that posed thought-provoking questions to audiences.
 CALCULATED RISKS: The Making of Gods and Monsters – Justice League: Gods & Monsters was an idea that pushed the boundaries. It began with that challenging question writers face: "What haven't we seen before?" Bruce Timm and Alan Burnett audaciously answered that challenge, resulting in a fresh and exciting film that forces us to think differently about the DC Universe.
The New Gods – Encore presentation of 2010 documentary about Jack Kirby's New Gods.
A Sneak Peak at DC Universe's Next Animated Movie – An advance look at the next DC Universe Original Movie.
Bonus cartoons from the DC Comics Vault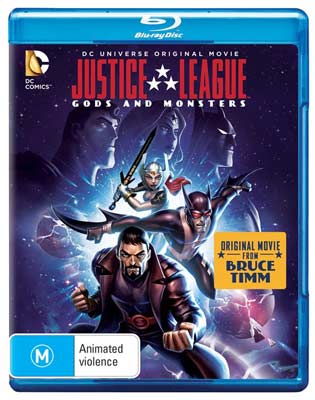 Blu-ray Details
Film Genre – Action
Label – Roadshow
Audio – English (DTS-HD 5.1)
Aspect Ratio – 1.78:1
Region Coding – B (Blu-Ray)
TV Standard – PAL
Rating – M
Year of Release – 2015
Primary Format – Movies/TV – Blu-Ray