Comics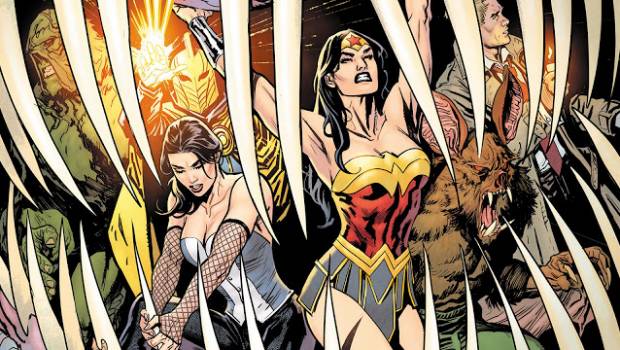 Published on September 22nd, 2020 | by Andrew Bistak
Justice League Dark #26 Review
Summary: Justice League Dark #26 has the league taking the battle directly to the Upside Man!
The Justice League Dark take the fight to the Upside Man in his realm, "The Other Place" with some of Earths mightiest magicians led by Wonder Woman that includes Zatanna, Swamp Thing, John Constantine, Bobo, Man-Bat and Doctor Fate.
However before we re-visit this world, John Constantine and Bobo visit Madame Xanadu for some inspiration so to speak as she hands our English Mage, his fate in cards. Speaking of Fate, Bobo gives the inspiration needed to Khalid to join the fight and before we know it, the team is taking the battle to the Upside Man.
Unfortunately there is a price to pay as one of their own is cut down by the Upside Man and given that this trickster has died many times before, it's safe to say that this is a ruse. While the comic was a little on the slower side, it was well paced and returned readers to the creature who wants to devour magic on Earth, the Upside Man.
Final Thoughts?
Well written by Ram V, he still channels the voice of James Tynion IV who ends up telling a decent story, even with the clichés thrown into the mix. Supporting his writing is the amazing art of Amancay Nahulapn who helps bring the magical world of the DCU to life. The unfortunate aspect of this comic is that we more than likely know how it will end and here's hoping that Ram V will soon be able to forge a new direction.