Comics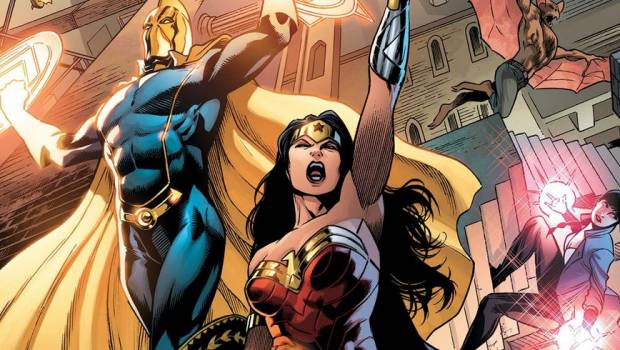 Published on August 22nd, 2018 | by Andrew Bistak
Justice League Dark #2 Review (2018) … SPOILER ALERT
Summary: Justice League Dark #2 delivers us answers, yet turns one of their own against them
In 2016, we saw the return (finally) of the classic Doctor Fate (aka Kent Nelson) in Rebirth #1 that led this character to appear in Blue Beetle, Dark Knights Metal (2017-2018) and DC New Talent Showcase #1 (2017).  I also have an infinity to this character, particularly to Kent and his wife Inza Nelson who I believe are the definitive version of this character and not a Peter Parker-clone wielding one of the most powerful magical artifacts in the multiverse. So like Clark Kent is Superman or Bruce Wayne Batman, Kent Nelson is Doctor Fate.
So when I found out that this version of Doctor Fate would be part of Justice League Dark, the fanboy in me jumped with glee… however when this issue came out, I was torn and although I enjoyed the issue, I was disappointed because my man was totally possessed again by the puppet master known as Nabu and that writer James Tynion IV had taken some artistic liberty with the origin of this character (e.g. the Lords of Order are more explorers and scientists opposed to omnipotent beings).
However I slightly digress and will get to my annoyances a little later in this review. From the events of Dark Knights Metal and Justice League No Justice, the world of magic has gone haywire and as a result Wonder Woman has put together her own league to find the answers and save the planet. We also get a snapshot into Diana's early encounter with the supernatural before the issue returns us to her team fighting the undead from the previous issue with Wonder Woman discovering that Zatanna knows more about this problem.
So once the battle is over, Diana questions Zatanna who stated that humankind has stole magic and that the owners are coming back and more concerning is that one of "us" will bring about the end of the world. So while Diana interrogates Zatanna for answers, she is made to see reason thanks to the Swamp Thing as Zatanna believes that Doctor Fate holds the answers to their predicament.
As they travel to Salem in order to enter the Tower of Fate, they are met by the good doctor himself who informs them that they face chaos and tries to divert their attention, whereas Zatanna believes that if they speak with Nabu, the Lord of Order who powers the Doctor, he/it will give them the answers the seek. As Doctor Fate agrees to give them an audience with Nabu, he transports Diana and Zatanna to another part of the tower as he leaves Bobo and Man-Bat behind much to their disgust.
Before Fate grants them an audience with Nabu, he explains that the walls of reality have weakened and that the true owners of magic have awakened and have set their gaze on Earth as the Doctor gives them and the reader a brief history lesson. To make matters worse, the previous bearer of the mantle of Fate, Khalid Nassour has been imprisoned in a vase, however is freed by Man-Bat as he warns these two mortals that Kent hasn't been in control of the helm or the tower in weeks and that Nabu is bringing the Otherkind into the world. Of course, this isn't the first time that we've seen a corrupted Nabu which is a shame but hey… it might be from the events of Dark Knights Metal.
Fate then explains to Diana and Zatanna that it's time to rid the world of magic and that he has opened a doorway for the otherkind to take it back to bring order into the world. So as Diana and Zatanna attempt to fight Nabu, he easily dispatches them and banishes them to a place of darkness as they face the hideous Upside Down Man.
So like I said initially, I enjoyed this issue, however seeing Doctor Fate as a villain again courtesy of Nabu and not seeing Kent in charge did leave me annoyed. The plot development, characterisation, dialogue and interaction was great (e.g. Swamp Thing and Constantine), even seeing the villainous Nabu, however what concerns me is that this may once again be the end of Kent Nelson, however I'm willing for James Tynion IV to prove me wrong and it all could be the influence of the Tree of Wonder. Lastly the pencils of Alvaro Martinez Beuno is amazing who not only captures the characters well but really brings them to life in some truly spectacular ways.
Final Thoughts?
Another enjoyable issue, although Kent Nelson fans may be annoyed, especially if this story arc returns the helmet to Khalid Nassour.
Gallery