Comics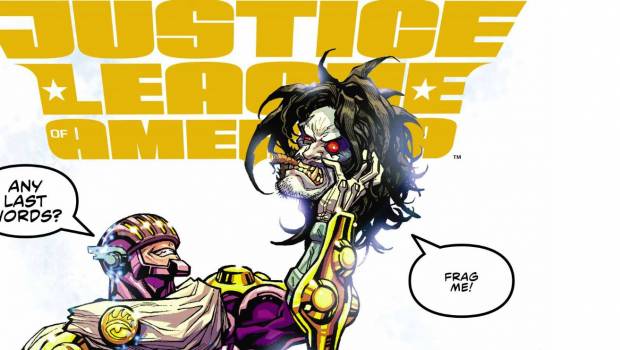 Published on December 13th, 2017 | by Andrew Bistak
Justice League of America #20 Review (Surgical Strike)
Summary: Justice League of America #20 is another fun story by master scribe Steve Orlando!
Any last words? – Prometheus / Frag me! – Lobo
As we return to the league, Killer Frost, Black Canary, the Atom and Lobo are about to go 'big bang' in the Sanctuary thanks to a bomb left by Prometheus. However a quick thinking Canary manages to talk the Atom into saving the day by allowing Lobo to take the brunt of the explosion in truly gruesome fashion… of course Lobo has innate healing abilities and will eventually regenerate. Once Ryan (aka the Atom) has saved the day, the team talks strategy and how to defeat Prometheus.
Meanwhile Prometheus is still trashing talking with Vixen as his over the top monologue continues to taunt our heroine in front of a very large crowd. This is also his downfall because while talks, a member of the crowd tazers this villain (quite unexpected) which gives Vixen the time needed to hold off Prometheus until the rest of the league arrive. As the fight commences, there's a great panel of Vixen laying in the final punch on a whimpering Prometheus.
… Anyone can be part of it. – Vixen
So as Prometheus and his 'sidekick' Afterthought are taken away to Belle Reve Prison, the league return to lick their wounds and try to figure out a way to rebuild their team, even with all the internal turmoil, including the Ray resigning. Killer Frost also discloses that she 'fed' in the Microverse when she thought Ryan would never return. Thankfully this league is more family and although Killer Frost stays a member, Vixen blames herself for not noticing the signs on their previous adventure.
How are we supposed to move forward from this? – Killer Frost
Elsewhere in the City of Vanity, the Ray is doing his own crime-fighting as he takes down the Three Devils, however there is a very familiar figure watching over him that I won't spoil here but it's definitely well worth the wait. All in all, another great issue by Steven Orlando with some fantastic and dynamic panels by artist Hugo Petrus and the only drawback in this issue was that I was hoping to see more of the story about the Might Beyond the Mirror… but never fear, this arc commences next issue!
Gallery