Comics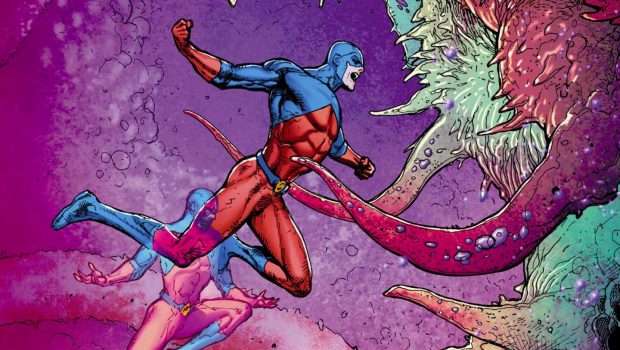 Published on September 27th, 2017 | by Andrew Bistak
Justice League of America #15 Review (Look who's back — Ray Palmer!)
Summary: Justice League of America #15... Ray's back but the Justice League of America is missing!
Oops … Ryan Choi the current wielder of the Atom has just doomed everyone as he brought Dr Aut to Ray Palmer but before we can get to that, the reader is given a history of how the Ray ended up in the Microverse in order to save it. We also learn a little more about the mysterious being known as Moz-Ga as they are joined by Preon to hopefully find a solution. Along the way, Ray finds love with Preon and also 'loses' her before he and Aut discover that the destruction of the Microverse was not a natural disaster but rather created by someone or something.
Although the Justice League of America was not part of this issue, writer Steve Orlando provides an interesting insight into the Silver Age Atom, Ray Palmer. It was a little text heavy but did provide a link to the current story, however I would have preferred a little more League action. Nonetheless, it was a beautifully illustrated issue by Felipe Watanabe and I loved all the craziness of the Microverse as the artist unleashed his inner 'atomic' muse. Lastly, Orlando provides some great dialogue and I'm guessing that things will really hit the fan in the next issue.
Final Thoughts?
Justice League of America #15 continues the Ray Palmer Atom story and once it is all over, I really hope that Ray is here for good and becomes an interactive mentor of Ryan Choi within the Justice League of America. It's definitely an issue for Ray Palmer fans and it's fun read about the 'missing' Silver Age Atom.
Check it out!
Gallery