Comics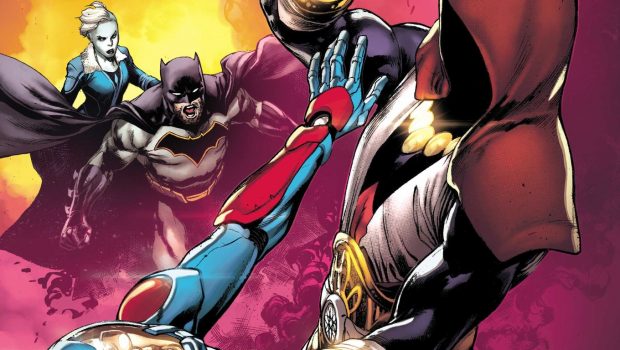 Published on August 30th, 2017 | by Andrew Bistak
Justice League of America #13 Review
Summary: Justice League of America #13 continues the hunt for Ray Palmer as the League go deeper into the microverse!
Deep inside the microverse, the 'new' Atom (Ryan Choi) believes that he and the Justice League of America have come face to face with his missing mentor Professor Ray Palmer, only for this mysterious individual to be revealed as Preon. Preon explains that Ray was working with a scientist called Aron Aut in order to save the microverse from destroying itself. Just like a classic mystery, the League follows a bread trail to the one of the last known whereabouts of Ray Palmer in a majestic yet alien city.
So while the League encounter an unruly mob, they are saved by Aron Aut but unfortunately the microverse starts rewriting itself and the first "casualty" is Lobo. in a spectacular panel by the artist. So as the microverse starts falling apart, Ryan loses his determination, only to receive a Classic Orlando pep talk by Killer Frost who seals her chat with a kiss as Ryan shrinks even smaller in order to go deeper into this mystery. It's these little character moments where the writer shines and I love how he gives lesser known characters some much needed 'page' time.
With that said, Steve Orlando creates an engaging issue with lots of excellent characterisation and although this issue centres around Ryan, he still manages to give all the characters a piece to play with it. Furthermore, Orlando gives the reader an interesting mystery as he expands the mythology of the microverse and more importantly, the DCU. His partner in crime is the amazing Ivan Reis who creates some very impressive dynamic panels that almost jump out of the comic. His art not only celebrates the characters but he helps make the story quite 'blockbuster' in its appearance with some great, not to mention clever world building in the microverse.
Final Thoughts?
This is classic Justice League in the 21st century and with just a few issues in, I really can't wait to see where it will all end as the 'Crisis' in the Microverse continues.
Recommended!