Games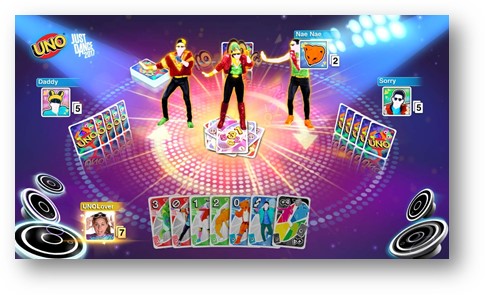 Published on November 24th, 2016 | by admin
Just Dance® and Rayman® add-on content now available for UNO® video game
Ubisoft® has announced that new add-on content for the UNO® video game is now available, adding a bit of fun to the iconic card game with Just Dance® and infusing a dose of adventure with Rayman®. The content is now available from PlayStation®Store on PlayStation®4 computer entertainment system and from the Xbox Store on Xbox One. The content will also be available on Windows PC later this quarter.
With the Just Dance–themed cards, players will experience groovy effects in a cool play space filled with upbeat and pulsating rhythms. Themed cards affect all other players instead of just one opponent. Players can find ways to capitalize on these new themed cards and really mess with everyone's groove, whether it's slowing down the speed of a round by penalizing action cards or taking advantage of someone else's lead. With this new add-on content, players will experience UNO in a fresh and funny environment filled with dazzling visuals and vibrant, exciting background effects.
Four brand-new and original Rayman-themed cards let players hide their lead from others; swat cards back at their opponents or mix up player's hands if they are feeling particularly daring. This new environment is accompanied by adapted music from the original Rayman game, including laid-back and whimsical styles. Players will experience UNO like never before in the wacky and colorful world of Rayman.
For more information about UNO, please visit ubisoft.com/en-AU/game/uno/
Download the Just Dance DLC on PS4 here and XB1 here
Download the Rayman DLC on PS4 here and XB1 here