PS4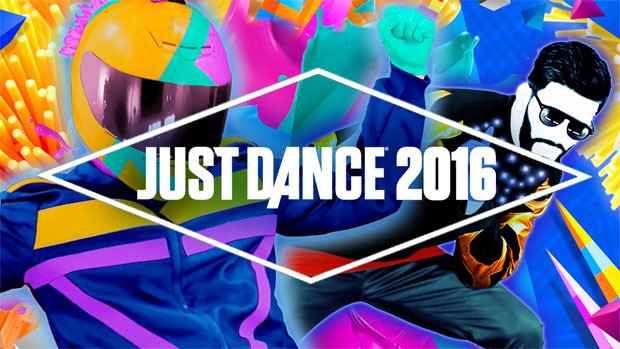 Published on November 9th, 2015 | by James Wright
Just Dance 2016 PS4 Review
Summary: Just Dance 2016 is a really fun party game for the PlayStation 4 and with the new streaming service, it gives some added longevity!
Available on all next-gen consoles, including the XBox 360, PlayStation 3 and Wii, Impulse Gamer had the opportunity to check out the latest dance game for the PlayStation 4 with Ubisoft's highly popular dancing game, Just Dance 2016. Best of all, it features some amazing songs such as Uptown Funk by Mark Ronson/Bruno Mars plus one of the most amusing songs ever to grace the franchise… Rossini's William Tell Overture. This song must be seen and played to be believed because of how outrageous the dance moves are!
So if you don't know what this game is by now, it's a dance game which requires players to mimic the dance moves on their television and then recreate them (hopefully in real-time) in the comfort of their own lounge rooms. The better you dance, the higher your scores will be and what's really cool about Just Dance 2016 on the PlayStation 4 is that you can play with up to 6 people and for additional controllers, all you need is your smartphone and a special app for it. Alternatively you can use the PlayStation Move Controllers or the PlayStation Camera.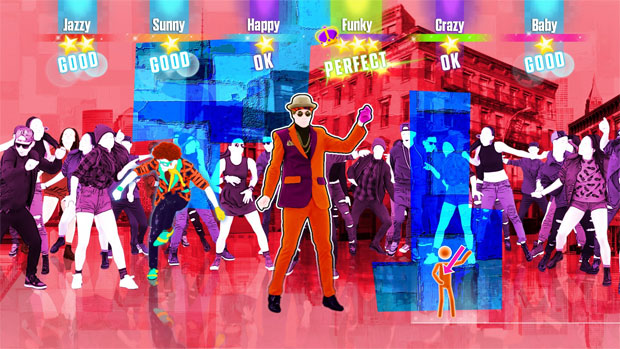 In terms of songs, Just Dance 2016 is bristling with music greatness, however like Guitar Hero Live's "world's first playable music video network" which gives players access to online music streaming for their guitars, this game also has a similar feature with Just Dance Unlimited. Just Dance Unlimited is basically a streaming service that gives players over 150 songs at launch with additional tracks being added all the time. This service is perfect for increasing the longevity of this title.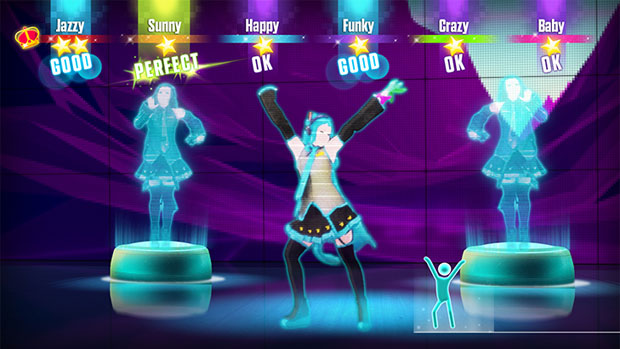 So while you're dancing, you're actually working out and this game can give the player some personalised music workouts which also monitors your calories burnt and other fun statistics. However at its core, Just Dance 2016 is all about dancing as you attempt to mimic the onscreen moves which is not only fun but also a challenge.
However when you're listening to songs from Lady Gaga, Meghan Trainor or The Black Eyed Peas, it's a real blast getting your "jive on" and the more people you have involved the better. Sure, you can play solo but this is a party game and Just Dance 2016 really succeeds at this.
For me, some of my favourite songs and "attempts" at dancing included Ray Charles' Hit the Road Jack and of course Mark Ronson's Uptown Funk. All in all, there are 44 songs included on this release but additional is available via its streaming service and I'm sure new DLC will also be available.
Just Dance 2016 Tracklist
"Heartbeat Song" by Kelly Clarkson
"Teacher" by Nick Jonas
"Chiwawa" by Wanko Ni Mero Mero
"Copacabana" by Frankie Bostello
"This Is How We Do" by Katy Perry
"Drop The Mambo" by Diva Carmina
"Hit The Road Jack" by Charles Percy
"These Boots Are Made For Walkin'" by The Girly Team
"Irish Meadow Dance" by O'Callaghan's Orchestra
"Junto a Ti" From Disney's "Violetta"
"Kaboom Pow" by Nikki Yanofsky
"Kool Kontact" by Glorious Black Belts
"You're The One That I Want" From The Movie Grease
"The Choice Is Yours" by Darius Dante Van Dijk
"Under the Sea" From Disney's "The Little Mermaid"
"When The Rain Begins To Fall" by Sky Trucking
"You Never Can Tell" by A. Caveman & The Backseats
"Uptown Funk" by Mark Ronson Ft. Bruno Mars
"All About That Bass" by Meghan Trainor
"Animals" by Martin Garrix
"Hey Mama" by David Guetta Ft. Nicki Minaj, Bebe Rexha & Afrojack
"Blame" by Calvin Harris Ft. John Newman
"Born This Way" by Lady Gaga
"Want To Want Me" by Jason Derulo
"Gibberish" by MAX
"Hangover (BaBaBa)" by Buraka Som Sistema
"I Gotta Feeling" by The Black Eyed Peas
"Ievan Polkka" by Hatsune Miku
"Let's Groove" by Equinox Stars
"William Tell Overture" by Rossini
"Balkan Blast Remix" by Angry Birds
 Rabiosa" by Shakira Ft. El Cata
"Stuck On A Feeling" by Prince Royce
 "Boys (Summertime Love)" by The Lemon Cubes
 "Fun" by Pitbull Ft. Chris Brown
 "Circus" by Britney Spears
 "Fancy" by Iggy Azalea Ft. Charli XCX
"Same Old Love" by Selena Gomez
 "Cool For The Summer" by Demi Lovato
"Lights" by Ellie Goulding
"No Control" by One Direction
 "I'm An Albatraoz" by AronChupa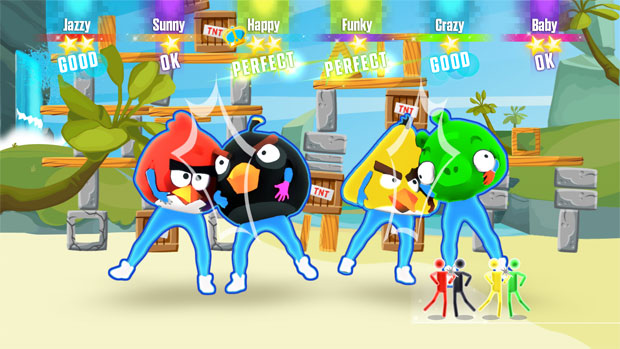 If you have a camera for your PlayStation 4, you can share your dancing videos with others and even submit these to an online community where other people can rank your coordination! Watching other videos from the Just Dance community is quite hilarious and if you've got some time to kill, it's easy to get lost with these videos because there's quite a few talented people out there, not to mention some very funny people as well.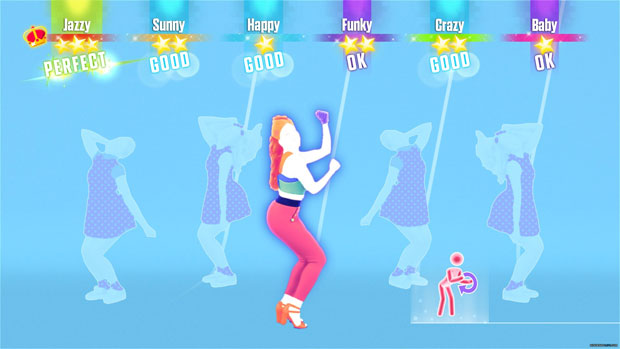 When it comes to controls, using a smartphone is definitely the future of the franchise which not only creates some excellent accuracy but installing these apps on either an iPhone, Android or Windows phone is quite easy and once again opens up the game to other people.
I mean who doesn't own a smartphone these days? But if you want the full Just Dance 2015 experience, you do need a camera for modes like Showtime which is basically a lip-syncing game or if you want to share your videos.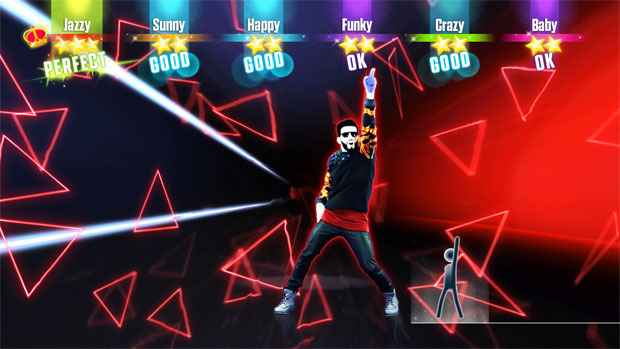 Furthermore, the developers have added a new mode called Dance Quests that is like a campaign mode and requires you to go up against AI dancers in order to unlock content by challenging them and winning. Another new mode is Dance Party that basically allows players to work in conjunction to get those legendary high schools which can be played solo as well. It's quite a fun mode in Just Dance 2015 that I highly recommend for its fun factor. So once again the developers should be commended in creating a very accessible and enjoyable title on the PlayStation 4.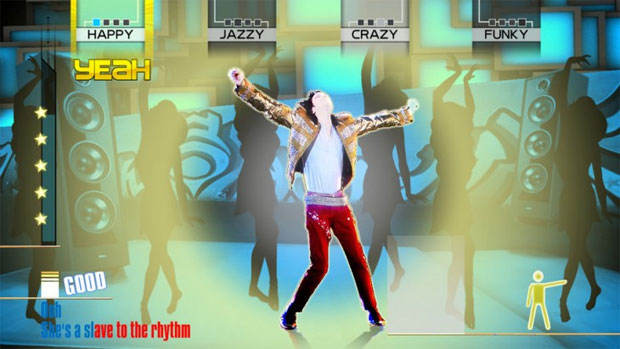 Graphics/Audio
Graphically, the game mimics the previous titles with their colourful and almost psychedelic backgrounds which feature these faceless dancers dressed in various clothes or whacky costumes. Some are dressed like backup dancers, whereas others… like the Rossini's William Tells Overture has the dancers dressed as jockeys which even requires some piggy backing.
Sure, it's not the best looking game around but these bright environments and crazy dancers somehow works very well. However the star of the game is the music itself and there's some great variety included in this release that really gets you dancing.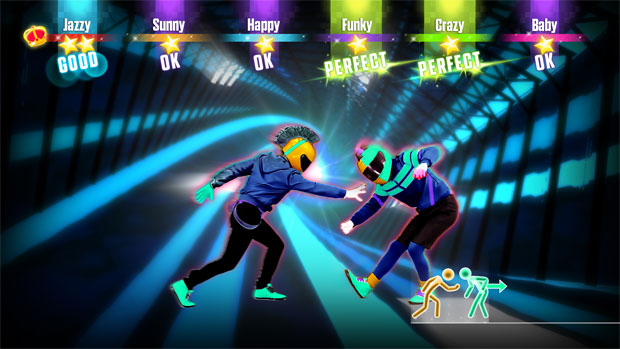 Final Thoughts?
In the end, Just Dance 2016 is a really fun party game on the PlayStation 4 that creates your own nightclub or disco experience in the comfort of your own lounge room. Sure, the gameplay isn't 100% accurate but deep down, Just Dance 2016 is a fun music experience that is filled with strange and sometimes awkward dancing that is ideal for two or more people.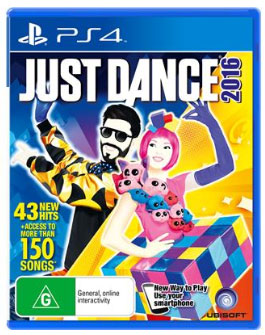 Game Details
Primary Format – Games – Playstation 4
Game Genre – Party
Rating – G
Game Developer – Ubisoft