Films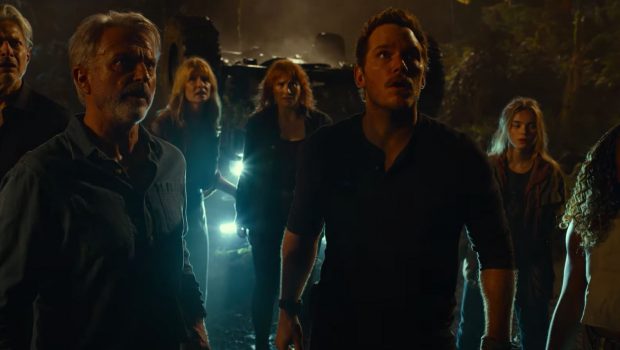 Published on June 13th, 2022 | by Curtis Mayfield
Jurassic World: Dominion – Film Review
Reviewed by Curtis Mayfield M-H on the 12th of June 2022
Universal Pictures presents a film by Colin Trevorrow
Written by Colin Trevorrow, Emily Carmichael, and Derek Connolly (story by)
Produced by Frank Marshall and Patrick Crowley
Starring: Chris Pratt, Bryce Dallas Howard, Laura Dern, Jeff Goldblum, Sam Neill, DeWanda Wise, Mamoudou Athie, BD Wong, Omar Sy, and Campbell Scott
Music by Michael Giacchino
Cinematography: John Schwartzman
Edited by Mark Sanger
Running Time: 146 minutes
Rating: M
Release Date: the 9th of June 2022
Much like the sick triceratops from the first Jurassic Park (1993), Jurassic World: Dominion is bloated, sick, dying, and needs to be put to sleep. Director Colin Trevorrow, who shot Jurassic World (2015) but skipped the second entry, returns to finish the modern trilogy. He manages to stuff as many uninteresting (human) characters into this two and a half-hour snooze-fest as possible.
Familiar faces include Chris Pratt's boringly stoic Owen who is living with the equally uninspired Claire played by the misused Bryce Dallas Howard. Since the previous film, Fallen Kingdom (2018), the two are living in a cabin in the woods with cloned teenager Maisie (Isabella Sermon). She fills the first part of the movie with much teen-angst and parent hate but without a suitable payoff. Plus, for inexplicable reasons Blue the friendly raptor is there too with a new baby. Hooray?
If the film did not already waste enough time on these dull flesh and blood humans, Universal also includes Jurassic Park's original cast, which amounts to a big pile of nothing. Jeff Goldblum is always a treasure, especially in bad sequels (see Independence Day: Resurgence, 2016, for further proof) but bringing back Laura Dern and Sam Neil as a will-they-won't-they couple in their senior years is sad and unnecessary.
Hollywood cannot leave well enough alone and it seems like the original cast cannot say no to a big dino-sized paycheck either. Seeing Alan Grant flounder as a doofy adventurer is sad to watch and undoes the very first movie's character work. The same can be said for Dern's Ellie Sattler. Do we really have to know these two have been doing nothing of interest for the last thirty years? Do we need to mix the older characters with the new ones?
There are other examples of how overstuffed the film is too. For example, a scene in Malta sees dinosaurs pursuing speeding motorbikes like a James Bond caper. Meanwhile, a Bond-esque villain named Santos (Dichen Lachman), a mysterious glamour arms dealer, is brought in and released all in one segment. False starts like this makes Dominion spin its wheels and detract from the dino-fun.
The screenwriters falsely believe the more characters and noise included the better it will be. The plot's real baddie is Lewis Dodgson. Yes, Dodgson from the very first movie. The shaving cream can smuggler character. He has been recast with Campbell Scott taking over as an evil version of Steve Jobs who speaks in monotone nothingness.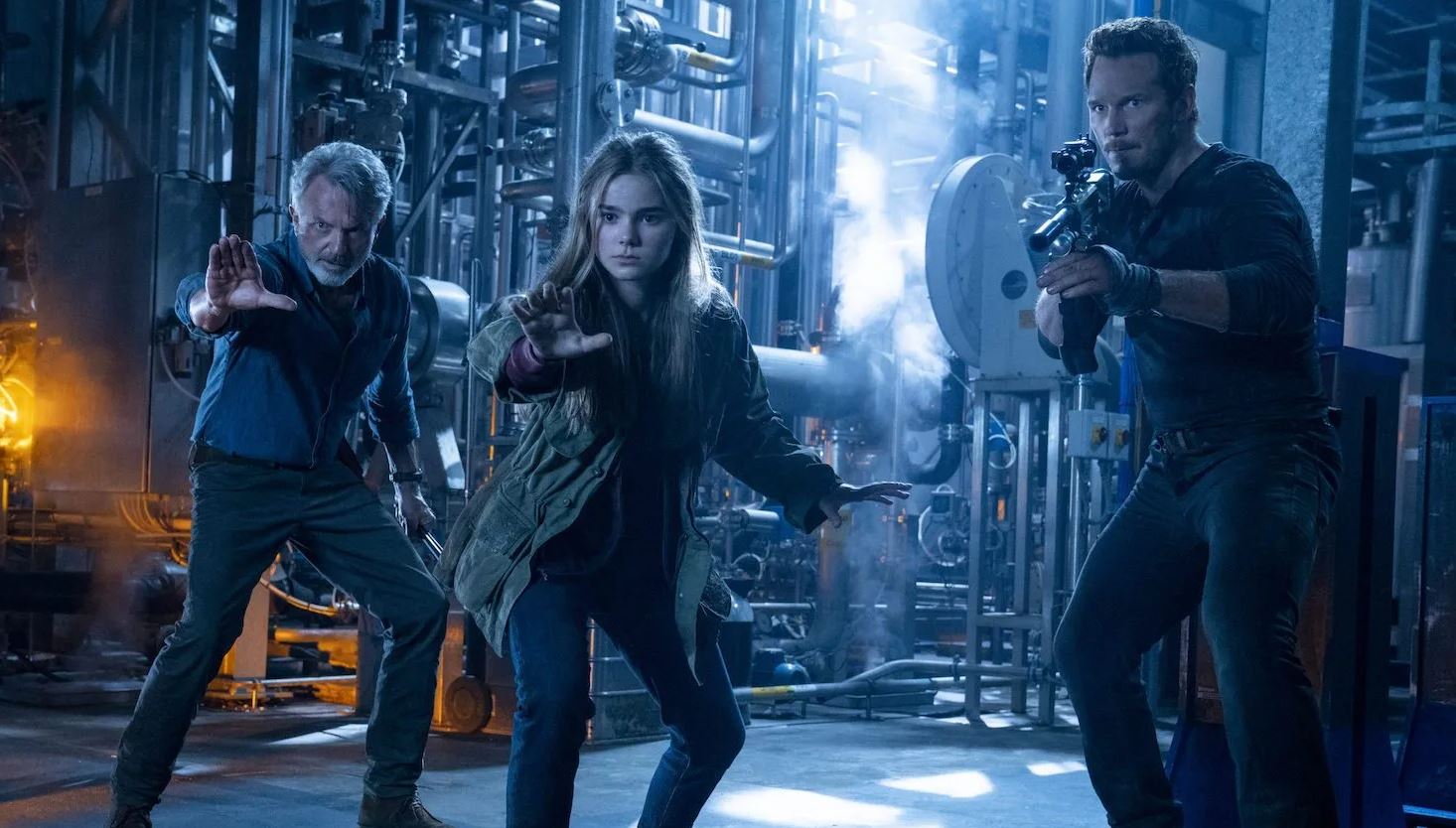 Dodgson is the head of Biosyn, an obviously evil corporation breeding giant ancient locus that eat the world's crops. Okay but where are the dinosaurs? Instead of spending enough time with either the original cast or cool epic dinosaurs we are introduced to more human characters. DeWanda Wise plays a half-baked leather jacket-wearing pilot and Mamoudou Athie is another monotone company man. Cooooool.
Was it cheaper to hire them instead of crafting more screentime for our dino-pals? Dominion's marketing promised dinosaurs out in the great wide world, causing havoc and terror in everyday life for humans. Instead, the plot results in yet another research facility where the heroes must narrowly escape attacks from cool-looking dinosaurs. Trevorrow and his co-writer, Emily Carmichael, also attempt to make this movie somewhat educational by having every on-screen dinosaur identified by humans. Are you just trying to run out the clock here? Enough chat and more splat please for this unfocussed mess.
Too many Hollywood movies lately have advertised sequels, reboots, and remakes as groundbreaking. Yet they always retread the safest path of the previous entries. If big studios want audiences to hand over their hard-earned cash, they should at the very least prove they deserve it. Evidently, if you've seen one Jurassic World movie, you've seen them all. In this instance, when the dinosaurs are finally allowed on screen it proves brief and underwhelming compared to its predecessors.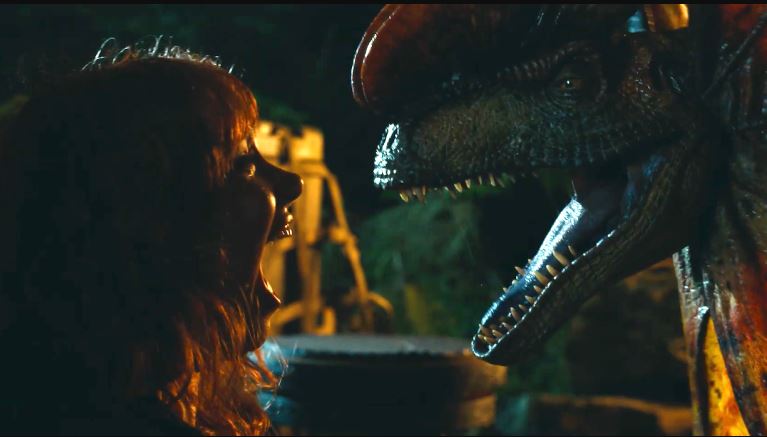 A scene with Bryce Dallas Howard hiding underwater from a sloth-like monster enhances the creepy factor but unfortunately the movie does not stick with this for long enough. It is probably too easy to make a comparison between this movie and dinosaurs' extinction. However, this latest instalment proves the franchise needs to die and make way for a new generation of storytelling. These filmmakers were so preoccupied with whether or not they could, they didn't stop to think if they should. After sitting through this unbelievable crapfest the answer is clear, let this franchise go the way of the dinosaur.
Summary: Dominion is overstuffed and uninspired. The franchise needs to go the way of the dinosaur.