Comics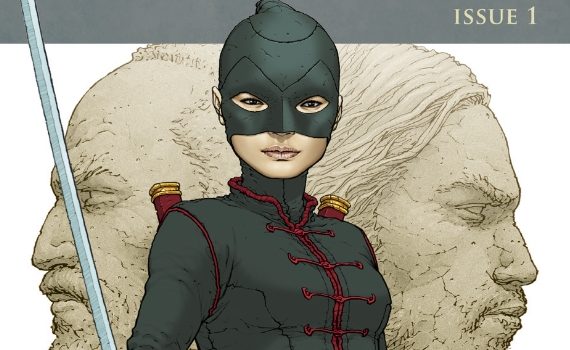 Published on July 11th, 2016 | by Chris O'Connor
Jupiter's Legacy Volume 2, Issue 1 Comic Book Review
Summary: Who can overthrow the strongest rulers of the world?
Superhero books are common, Hollywood has embraced the superhero and is churning out movie after movie with heroes galore. But what if the heroes are no longer the good guys, what if ultimate power has corrupted ultimately? Who would we turn to then, the answer is Super Villains. This is the core idea behind Jupiter's Legacy.
Volume 2 opens on a seemingly normal scene set in a family home, well normal if fathers normally wore costumes. Said father is having a heart to heart with his child, explaining that he doesn't yet share his fathers powers… but he will make him something that when he reaches the right age he can have. We then seem him grab a torch and cobble something together… the scene ends with other costumed characters descending from the skies around their front porch and him saying farewell to his son…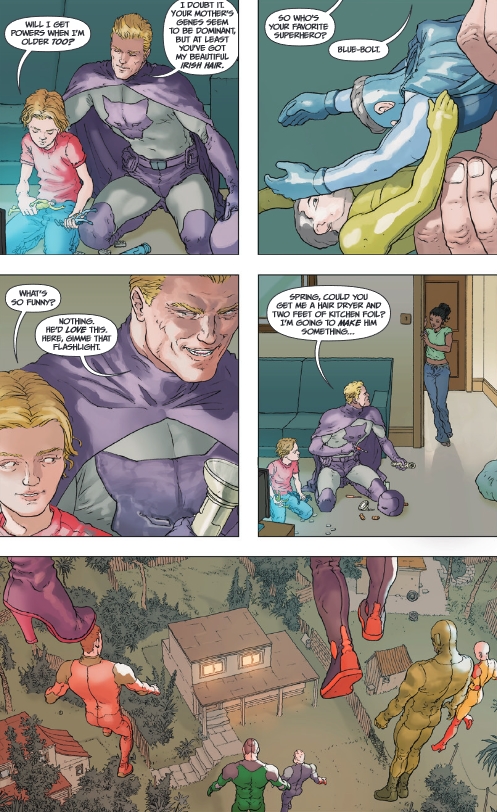 Flash forward and we are witness to a detainee in the back of a police car that is part of a group of police vehicles… that seemingly normal event is inter-cut with a flash of light and someone showing up in that police car out of nowhere… things are about to get interesting!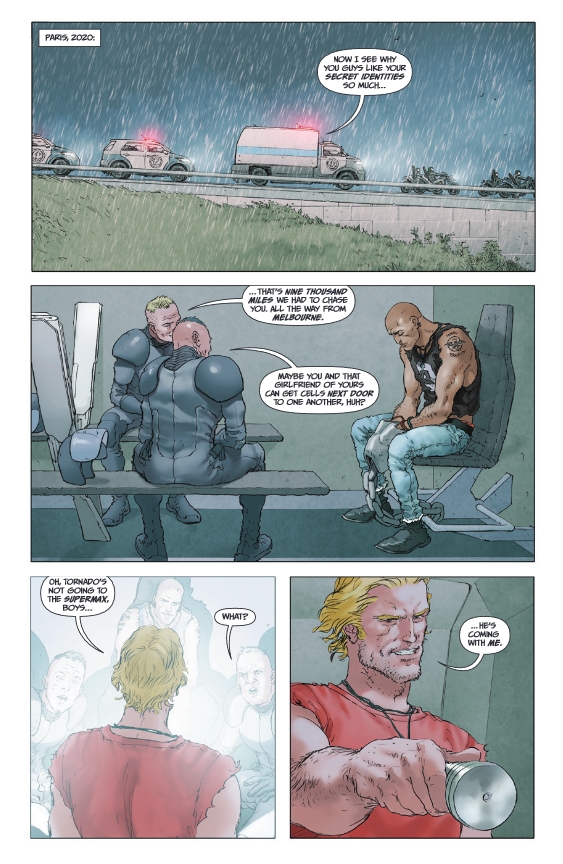 So where most comics find their heroes popping up around the globe in superhero hangouts and the like recruiting other super people… Jupiter's Legacy finds the recruitments taking place in questionable locations, recruiting questionable people… but when those who were expected to look after the masses turn against them and oppress them… who can you turn to? Volume 2 essentially sees the forming of that opposing force… collecting the people with the powers to challenge the heroes who have become dictators.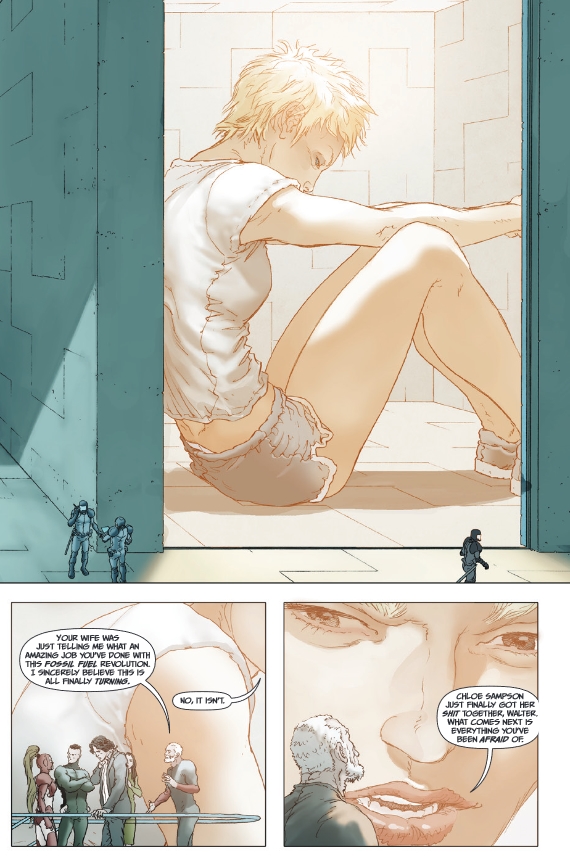 Writing: It's great to see a new twist on the standard superhero story, Mark Millar obviously has a reputation for high quality stories and he isn't taking a slack approach here at all. There are obvious parallels that can be drawn to the real world with governments overstepping power boundaries and the like (though hopefully not to the extent that we need to unleash criminals upon them). There is a lot of depth to the characters as well that gets fleshed out more over time… starting with the flashback does a great job of not only explaining where Hutch gets his "weapon" from but also shows his lineage… his father who goes peacefully with his captors showing a sense of strength and honour.
Artwork: Again I'm a big fan of comic art and the art in this books is great, a wonderful use of colour to really make scenes pop and draw attention to some key details but also lovely contrast between the flashback visuals and the future scenes. It all just helps to draw you into the world being created.
Final Thoughts: It's hard not to be drawn into the events and want to know more… to learn just how bad things are and how those formally believed to be criminals can turn the tables and make things right. The movie version will certainly be interesting to behold but will no doubt be spread over a few films… there is just too much detail in these worlds that can't be left out for fear of ruining the richness of the story.
Comic Details
Publisher: Image
Writer: Mark Millar
Artist: Frank Quietly
Colourist: Peter Doherty
Cover Artist: Frank Quietly
Genre: Sci-Fi, Superhero
Format: FC, 22 pages
Release Date: June 29 2016