Games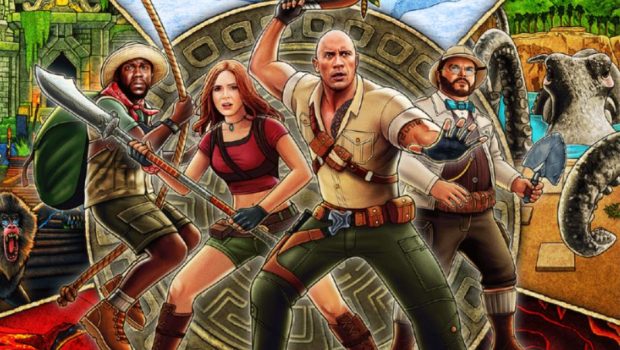 Published on November 4th, 2023 | by Andrew Bistak
'JUMANJI: WILD ADVENTURES' HAS BEEN UNLEASHED ON CONSOLES AND PC
Adventure awaits all who dare! Return to the jungle in a brand-new multiplayer, action adventure game set in the perilous world of Jumanji, available now 
"A Game For Those Who Seek To Find… A Way To Leave Their World Behind." 
Outright Games, the leading global publisher of family-friendly interactive entertainment, in collaboration with Sony Pictures Consumer Products, are delighted to launch Jumanji: Wild Adventures today on PlayStation 4®, PlayStation 5®, Nintendo Switch™, Xbox One, Xbox X|S and Steam. This brand-new action-adventure video game is set in the daring and dangerous world of the hugely popular Jumanji film franchise and is available to play right now.
Players will return to the jungle and beyond in this hilarious and exciting multiplayer adventure to recover The Jewel of Jumanji. Blazing new trails from Outright Games' 2019 hit video game, Jumanji: The Video Game, this massively leveled up title features vast locations, from deep jungles, to creepy swamps and explosive volcanoes. Each unlockable area is swarming with formidable bosses, fiendish puzzles and dangerous enemies meaning that Jumanji: Wild Adventures is played best with friends and family.
No adventure is the same in Jumanji: Wild Adventures; with each new playthrough, the player can tackle enemies and environments in a different sequence, ensuring an engaging level of replayability with a new, dangerous surprise around every corner.
Adventurers who dare to take on this mission will be able to play as the iconic characters from the multi-billion dollar film franchise, Dr. Smolder Bravestone, Ruby Roundhouse, Franklin "Mouse" Finbar and Professor Shelly Oberon. Each character has their own unlockable abilities, power-ups and special items available so players can choose the perfect style to suit their play. There are options to quest alone or work with up to 3 friends in 4-player local co-op to gather mystical treasures, unlock hidden rooms and unearth Jumanji collectables across an uncharted world.
Stephanie Malham, COO of Outright Games, says: "We are very excited to launch what we believe is the definitive Jumanji video game and are incredibly thankful to our partners at Sony Pictures Consumer Products for helping bring this exciting adventure into the real world. The Jumanji movie franchise is one of the most beloved in entertainment and has such a natural connection to video games. It's been a great privilege to create something authentic and enjoyable for fans of all ages. Our previous title 'Jumanji: The Video Game' is one of our biggest successes to date and we're so excited that 'Jumanji: Wild Adventures' is now out there in the wild for everyone to enjoy. "
Jumanji: Wild Adventures is available now on PlayStation 4®, PlayStation 5®, Nintendo Switch™, Xbox One, Xbox X|S and Steam.