Films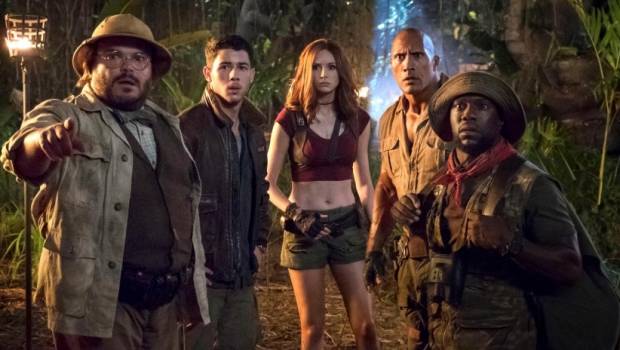 Published on December 27th, 2017 | by Tim Cooper
Jumanji: Welcome to the Jungle – Film Review
Reviewed by Tim Cooper on the 27th of December 2017
Sony presents a film by Jake Kasdan
Produced by Matt Tolmach and William Teitler
Screenplay by Jake Kasdan, Chris McKenna, Erik Sommers, Scott Rosenberg and Jeff Pinkner, based on 'Jumanji' by Chris Van Allsburg
Starring Dwayne Johnson, Jack Black, Kevin Hart, Karen Gillan, Nick Jonas and Bobby Cannavale
Music by Henry Jackman
Cinematography Gyula Pados
Edited by Mark Helfrich and Steve Edwards
Rating: PG
Running Time: 120 minutes
Release Date: the 26th of December 2017
Based on the book series by Chris Van Allsburg, the original Jumanji (1995) was a Spielberg-inspired blend of hidden-world wonder and family entertainment. Starring Robin Williams and Kirsten Dunst, the film stands the test of time and remains a modern classic for family entertainment. Directed by Joe Johnston (Captain America: The First Avenger, 2011), the ambitious effects are dated compared to modern films, but the film's heart remains intact largely through William's performance. The late actor had no problems presenting overly earnest characters on screen and his role in Jumanji remains a nostalgic standout amongst an uneven but engaging acting career.
Jumanji: Welcome to the Jungle is not a sequel to the original film. The characters, setting and story are completely new. The only familiar aspect is the world of 'Jumanji'. This is wise as the concept is taken directly from the books. Those expecting a re-tread won't get it; it's a different beast all together. Much like comparing a video game to a board game, Welcome to the Jungle is a muscled-up adventure aiming to excite and entertain with laughs along the way.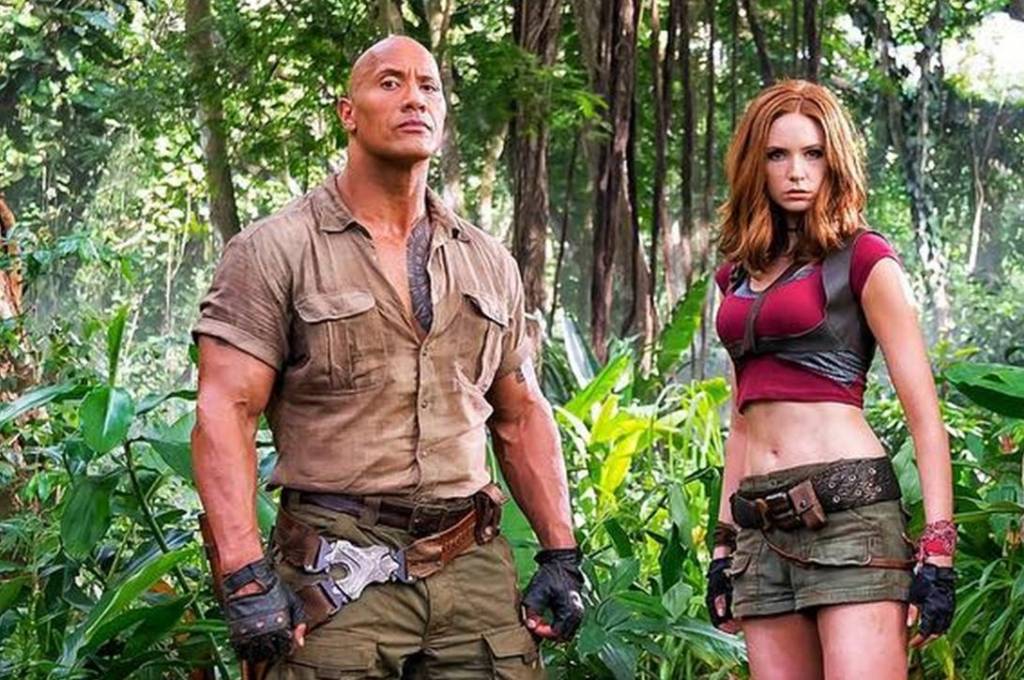 Opening in the present day, we're introduced to our "real world" cast: Spencer (Alex Wolf), Fridge (Ser'Darius Blain), Martha (Morgan Turner) and Bethany (Madison Iseman). They're high school students who are trapped in after school detention together but are transported through a mystical game to the alternate jungle world of 'Jumanji'. The troubled group of adolescents become grown-up action avatars, who must work together to escape the game and return to reality. Each cast member has their own adolescent conflicts that are synonymous with the stereotypical take on American teen archetypes. Though not completely engaging, the young cast do a decent job bookending the story, while the adult cast play their "avatars" for the bulk of the film. The adult cast brings together mostly comic actors, including Dwayne Johnson (Spencer), Karen Gillan (Martha), Kevin Hart (Fridge), and Jack Black (interestingly cast as Bethany). Rhys Darby, Bobby Cannavale and Nick Jonas turn up in supporting roles and round out the ensemble cast of this unexpected sequel/reboot.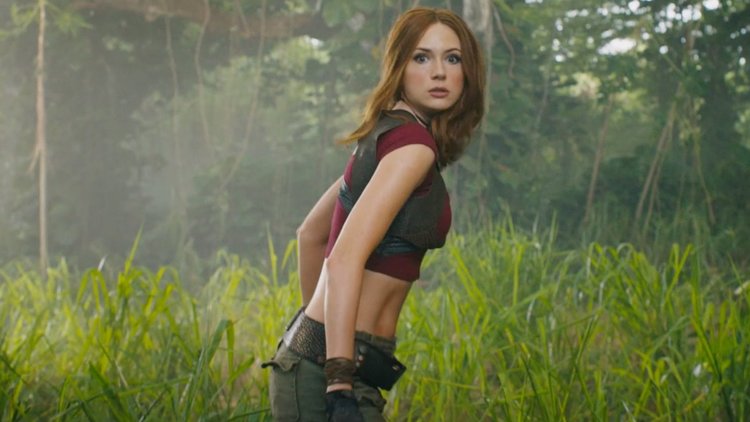 Dwayne Johnson is steadily becoming a household name, even if he's still known as his alter ego "The Rock". With a resume spanning mostly action and comedy, the bulking star isn't without a formidable on-screen presence. However, leading a film is difficult for anyone and his acting muscles aren't entirely up to the task yet. Karen Gillan embodies Martha's teenage awkwardness well despite her comedic talents being wasted during the hard to watch scenes between her and Johnson. Disappointingly, the large age gap between these two main actors is obvious—Johnson is more than old enough to be Gillan's father. Their romance doesn't work on any level and while their characters are avatars in a fake world, it remains cringeworthy to look at in the reality of our world. Given the current shifting climate in Hollywood, hopefully this type of unnecessary and inappropriate casting will soon be a thing of the past.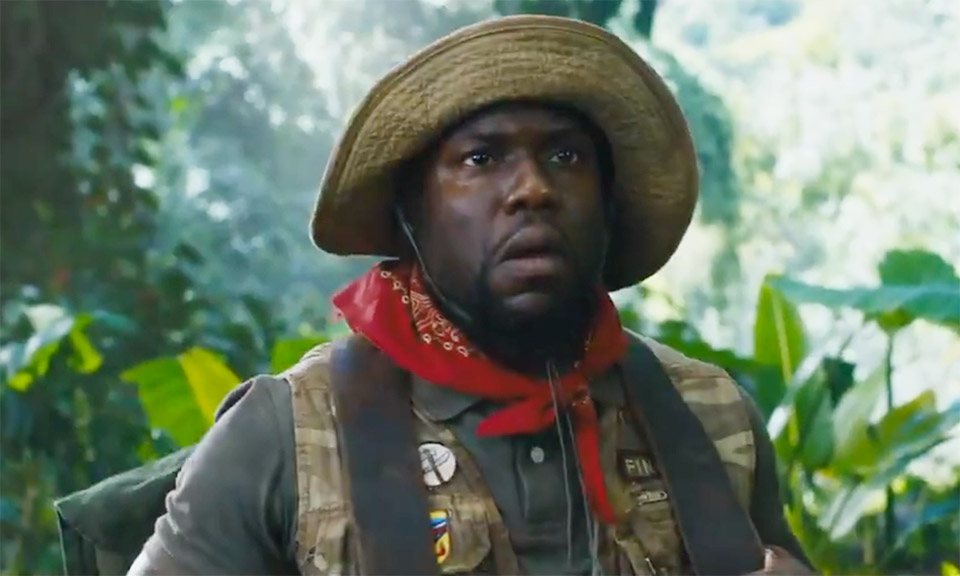 Kevin Hart turns in an energetic and quick mouthed performance as the underpowered avatar of Fridge. His role is mostly Kevin Hart doing Kevin Hart so fans will like it, but others will remain indifferent to his comedy. Body swapping comedy isn't new, but Jack Black hams it up convincingly as Bethany's male avatar. During the quiet times of his performance he produces the film's best laughs. Nick Jonas is bland on screen but plays it straight to the desired effect and Rhys Darby is well cast in his small role.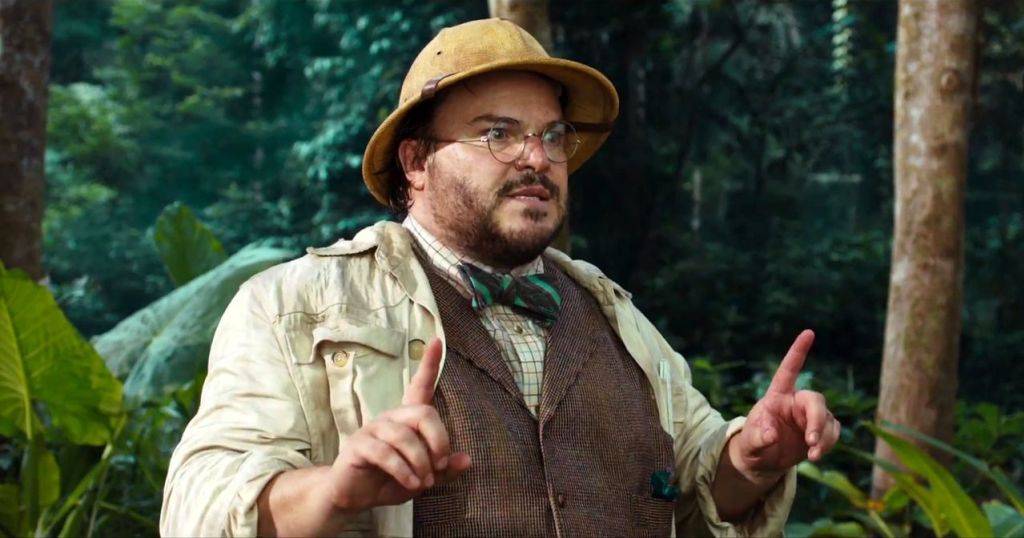 Jumanji: Welcome to the Jungle is shooting for Christmas box office numbers and aiming at the family market. Most of the film achieves this aim if only by travelling a completely predictable path; however, there are several out of place jokes hitting beyond the family realm that kids won't understand and are inappropriate for the target audience. These jokes further confuse a film already at odds with its cast and concept, thereby weakening the viewer's engagement, and making Jumanji a muddled piece of cinema.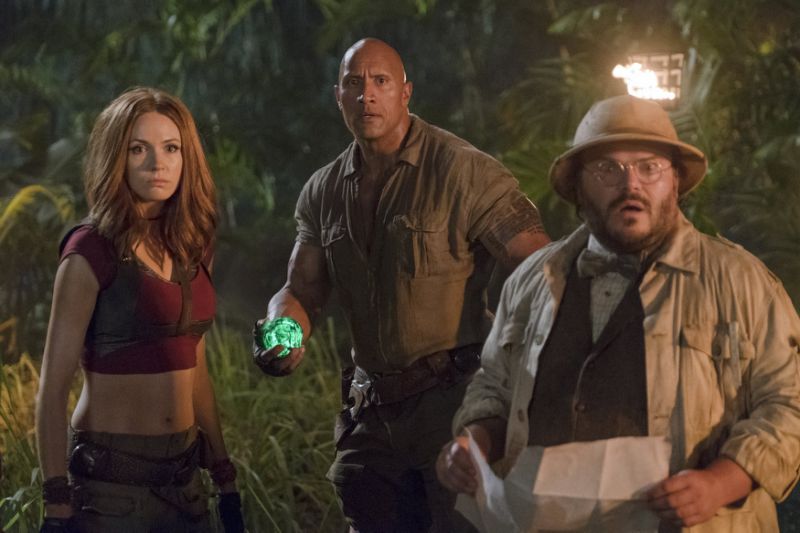 While striving to be a family driven adventure film, Jumanji is a moderately successful teen drama but too dependent on special effects to thrill at a predictable and mediocre level. There are sporadic laughs and well-acted nuances in each actors' performance, but this unasked-for follow-up won't measure up for fans of the original. Reboots and sequels often have generic and unoriginal scripts and merely use an established name to draw in crowds. Jumanji: Welcome to the Jungle is no exception and like Dwayne Johnson's previous rebooted effort, Baywatch (2017), this film feels lazy and by the numbers. It has heart but the overproduced design and ridiculous final third turn this into a standard, watered-down action adventure fare.
Summary: Jumanji has heart but the overproduced design and ridiculous final third turn this into a standard, watered-down action adventure fare.