Films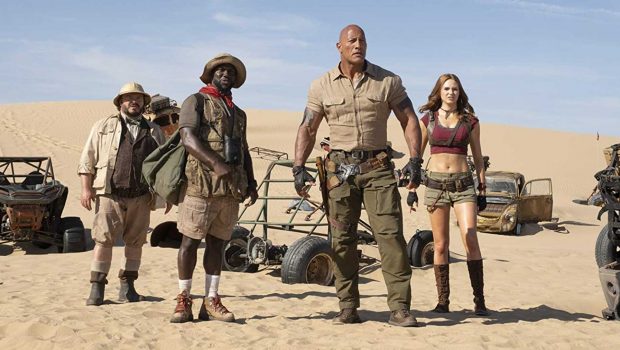 Published on December 18th, 2019 | by Carina Nilma
Jumanji: The Next Level – Film Review
Reviewed by Carina Nilma on the 16th of December 2019
Sony Pictures Releasing presents a film by Jake Kasdan
Written by Jake Kasdan, Jeff Pinkner, and Scott Rosenber
Produced by Ted Field, David B. Householter, Melvin Mar, and Chris Van Allsburg
Starring Dwayne Johnson, Kevin Hart, Karen Gillan, Awkwafina, Jack Black, Danny DeVito, Danny Glover, Alex Wolff, Morgan Turner, Madison Iseman, and Ser'Darius Blain
Music by Henry Jackman
Cinematography by Gyula Pados
Edited by Steve Edwards, Mark Helfrice, and Tara Timpone
Running Time 123 minutes
Rating PG
Release Date the 26th of December 2019
When Jumanji: Welcome To The Jungle (2017) was first announced feathers were understandably ruffled. A sequel to the Robin Williams-led Jumanji (1995) felt unnecessary and resulted in fan pushback. Thankfully, it was a fun and subversive take on the previous film's themes. There is the same feeling that Jumanji: The Next Level is another unnecessary sequel, meaning expectations are tempered. Once again though, the cast's chemistry and the inventive changes to the game's rules are fun to watch.
Spencer (Alex Wolff) has been attending college for a year and is struggling to maintain a long-distance relationship with Martha (Morgan Turner). When Bethany (Madison Iseman), Fridge (Ser'Darius Blain), Spencer, and Martha reunite nothing goes to plan. Spencer, feeling inadequate and unsatisfied with his current situation, returns to the Jumanji video game. His decision means that his friends must come to his rescue.
However, Spencer's curmudgeonly grandfather, Eddie (Danny DeVito), and his ex-business partner, Milo (Danny Glover), are sucked into the game by accident. The friendly NPC Nigel (Rhys Darby) returns to provide exposition and the group's new task involves retrieving a special jewel stolen by marauder Jurgen the Brutal (Rory McCann) and returning it to its rightful protectors.
Director Jake Kasdan and co-writers Jeff Pinkner and Scott Rosenberg return to steer our misfit characters back into the perilous action-adventure video game. The trio's work on the prequel assures their intimacy with the subject. Their biggest challenge is altering and refreshing the previous McGuffin device where each teenager was assigned a game avatar. The addition of Eddie and Milo now means certain avatars are mixed up with the characters to hilarious effect. Being 'the next level', the team are ushered out of the jungle and into the sandy desert dunes and snowy mountainous peaks. Death by misadventure seems easy.
The film also tackles the interesting topic of imposter syndrome and the anxiety driving it. Spencer feels the only way he could feel improve his life is by returning to the fictitious character of Dr Smolder Bravestone. Yet when his friends rally around him, he realises that he needn't worry. The film struggles to reveal the backstory of Eddie and Milo's quarrel. Too often it is hinted at but shrouded until being revealed after halfway. Without an explanation, their constant bickering grows tired.
The Next Level shines through the core cast of Dwayne Johnson, Kevin Hart, Karen Gillan, and Jack Black. The performances and physical comedy gags of the avatars being inhabited by their players creates many laughs. A highlight is when Eddie becomes Bravestone; watching Johnson play DeVito is uproarious with his exaggerated New York drawl and grouchy attitude. Whilst Hart slowing down to imitate Glover's cadence and pacing draws guffaws when he says, 'did I just kill Eddie by talking too slow?'. The answer, in this case, is yes. The film's wildcard is Awkwafina. She is introduced as a new playable character, Ming Fleetfoot, and allowed to act as the anxiety-ridden Spencer and the cranky Eddie. Once again, Jack Black is the movie's true MVP. He is permitted to play both sexes as Fridge and Bethany. It is unsettling how good he is at representing gender fluidity.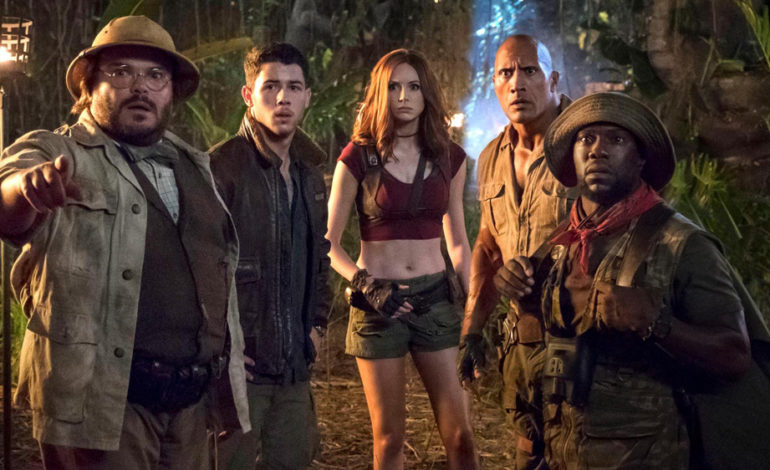 It is easy to paint Jumanji: The Next Level as an unnecessary addition to the studio's bank balance and another risk averse property. Sometimes the story and 'gameplay' are lost beneath the characters' bickering. Yet the film redeems itself by providing an inventive take on the Freaky Friday body switching trope and allowing its cast to ham up proceedings by imitating each other. It is also a bonus that it carries a warm feel-good message about friendship and the importance of those people in our lives who know us best.
Summary: The film provides an inventive take on the body switching trope and carries a warm feel-good message about friendship and the importance of those people in our lives who know us best.