Comics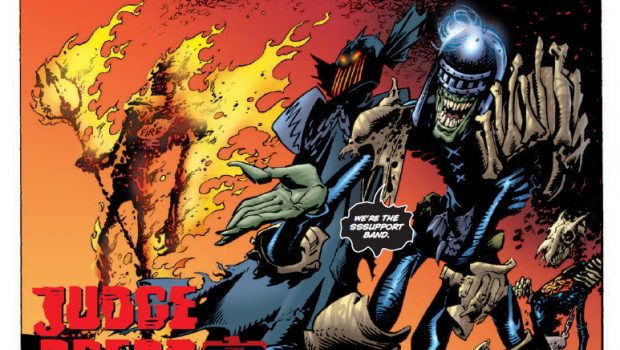 Published on April 29th, 2022 | by Tim Chuma
Judge Dredd: The Complete Case Files Vol.39 (2022) Review
Summary: A lot to take in and well worth your time even it does tend to drag out towards the end if you are trying to read it all at once. If you just pick it up and put it down it is better.
A weighty tome for fans of Judge Dredd or even if you have not read anything featuring the character before and only seen the movie or movies and want to get more into it. There is more than enough in this volume for it to be worth your while even for a casual reader of the series.
There are a lot of different writers and artists involved so if you do not like one of the stories you can easily move onto the next one and they are not really related apart from being part of the 2000AD publication.
Judge Dredd being satire is something that is lost on a lot of people but it does come up in quite a few of these like the one with Placebo and the Ozzy Osbourne parody story.
Some of the subject matter of these stories means this one is more suitable for adults but I never remember younger kids being too interested in Judge Dredd or 2000AD overall it was something for the older and cooler kids back in the day and of course banned at school.
The story I most enjoyed would be the self-aware Christmas turkeys' story who want to be eaten and pluck themselves. One of the turkeys becomes self-aware enough to not want that causing trouble for the Judges.
It only starts to drag if you try to read too much of it at once. This volume is not really meant to be read in the one sitting or for an extended period. Each of the stories is its own thing so you can pick it up and put it down when you feel like it and not feel like you have to read any more than just the one part at a time.
Well worth it if you are a fan of the Judge Dredd character and still worth a look even if you are only curious about the character. There is nothing too complex here that you will need the 2000AD Encyclopedia to work out.
Comic details:
Writers: Alan Barnes, Alan Grant, Gordon Rennie, Ian Edginton, John Wagner, Pat Mills, Simon Spurrier & Tharg The Mighty
Artists: Ben Willsher, Cam Kennedy, Chris Weston, Colin MacNeil, Dave Taylor, David Roach, D'israeli, Duke Mighten, Henry Flint, Ian Gibson, John McCrea, John Ridgway, Shaun Thomas, Simon Coleby, Simon Davis, Ron Smith & Alex Ronald
Colourers: Alan Craddock, Dylan Teague, Gary Caldwell, Len O'Grady, Fully Painted, Chris Blythe & Angus McKie
Letterers: Tom Frame & Pye Parr
Cover Artists: Dylan Teague & Len O'Grady
Format: Colour, paperback, 306 pages
Publisher: Rebellion
Published Date: 28 April 2022
2000 AD PROGS 1388 – 1407
JUDGE DREDD MEGAZINE 214 – 223
YEARS: 2125 – 2126
Stories include:
Love Hurts!
(This is not a) Mega-City Love Story #1: Callista
Last Respects
Bob Zombie – Scouse of 20,000 Horrors
Tempus Fugitive
B*w*tch*d
At home with the Snozzburns
Terror
Big Deal At Drekk City
Placebo
The Blood of Satanus
Six
Turkey Shoot
How to Succeed in Bizness
My Beautiful Career
Prodigal
Master Moves
Damned Ranger
It's your Funeral, Creep!