Comics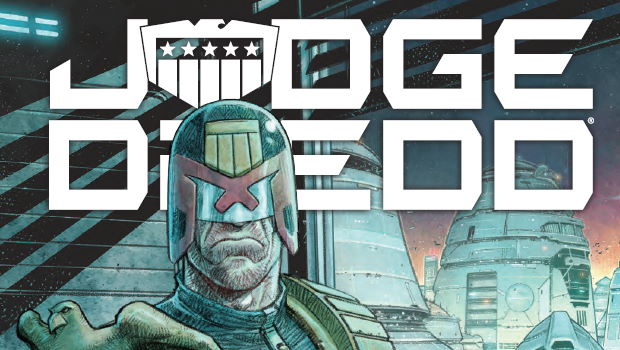 Published on July 21st, 2022 | by Chris O'Connor
Judge Dredd: The Citadel Review @2000AD
Summary: 40 Years after leading a squad of Cadet Judges into battle, Judge Dredd's actions will finally be revealed... by one of the Cadets who was there. As they are prepared for execution, they will reveal what Dredd really did and why it was covered up.
It's almost like the comic equivalent of click bait or I guess the salacious covers of gossip magazines… but the whole "the secret that Judge Dredd himself has been hiding for the past 40 years" is pretty enticing. Indeed that is what the main story here delves into… amidst the Apocalypse War Judge Dredd lead a group of Cadet Judges into battle, assaulting The Citadel to clear out the Sov forces who have set up a base there. 40 years after that assault, on the day of his execution, one of the former Cadets will divulge what really happened, what Judge Dredd did and why it was covered up.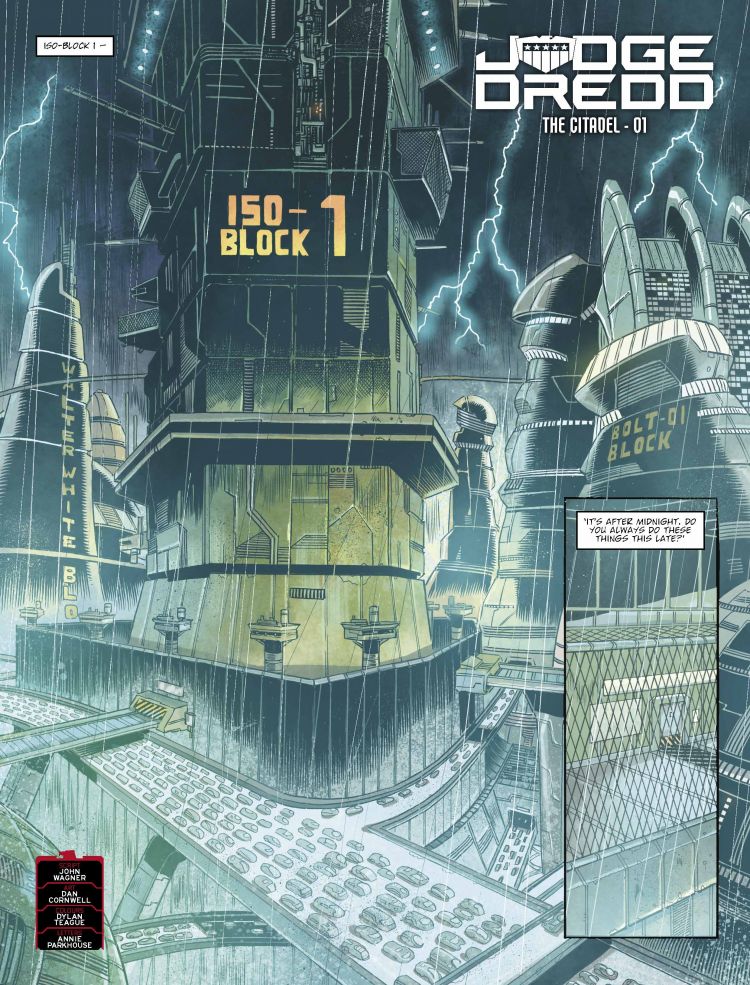 Writing
There's just the right amount of information feed here. Obviously we were all (or at least mostly) drawn in by the whole seedy notion of a secret that Dredd himself has hidden… but we are going to have to wait for it. Appropriately the condemned man keeps his listener entranced for as long as he can… luring him ever closer, drawing his attention ever deeper. The reveal and subsequent follow up explanation are worthy pay offs for our time. But that's not all we have here… there are a few extra stories to make sure you aren't left wanting more too soon. The second story is told through a criminals eyes and you can almost feel Dredd closing in on you as you make your way through the story… one clue leading to another and the Judge getting closer and closer. The final story is almost told like a game show or end of year count down "best of" clip show but also takes us from a broad view and digs deeper and deeper into the characters till we see how they are all connected.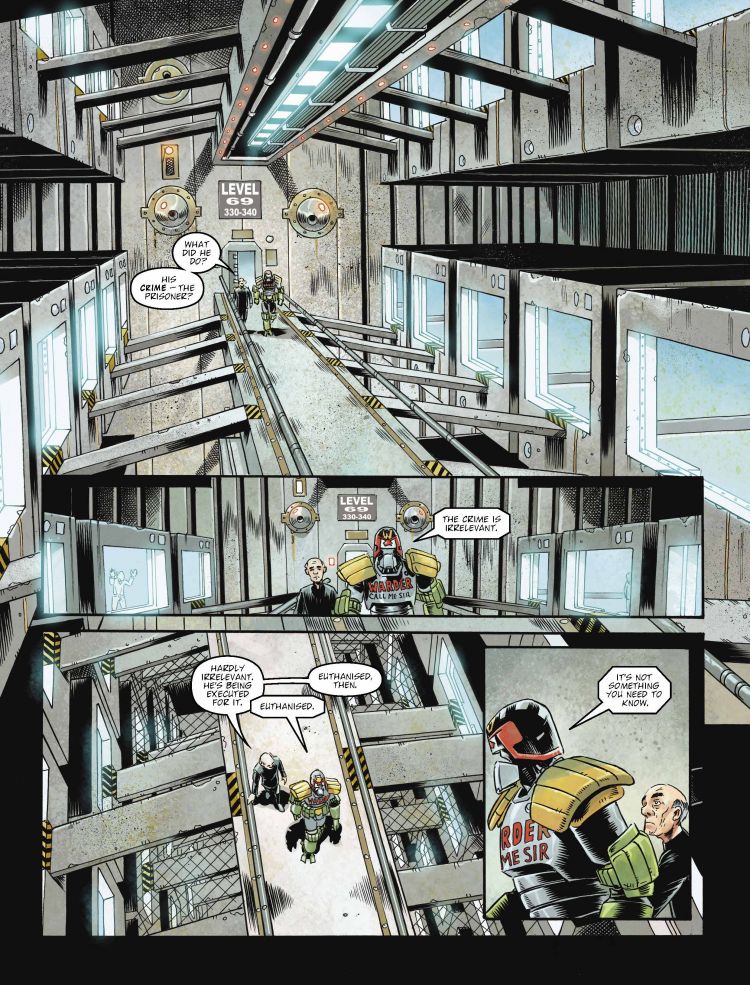 Artwork
There are three fairly distinct styles here for each of the stories. The first is full of action and detail which is brought out wonderfully with nice clean lines and distinct colouring. The second art style is more bold and cartoony, the colours are far more vibrant and the characters and scenes are somewhat simplified but it works well. The final style is the grittiest of them all. There's arguably a more "gritty" feel to the images, almost like an underlying sense of chaos. This is enhanced by the darker tones, the almost muddyish, rainy day, gutter water type tones that let you know this is a depressing environment that people don't "live" in… they just try and survive.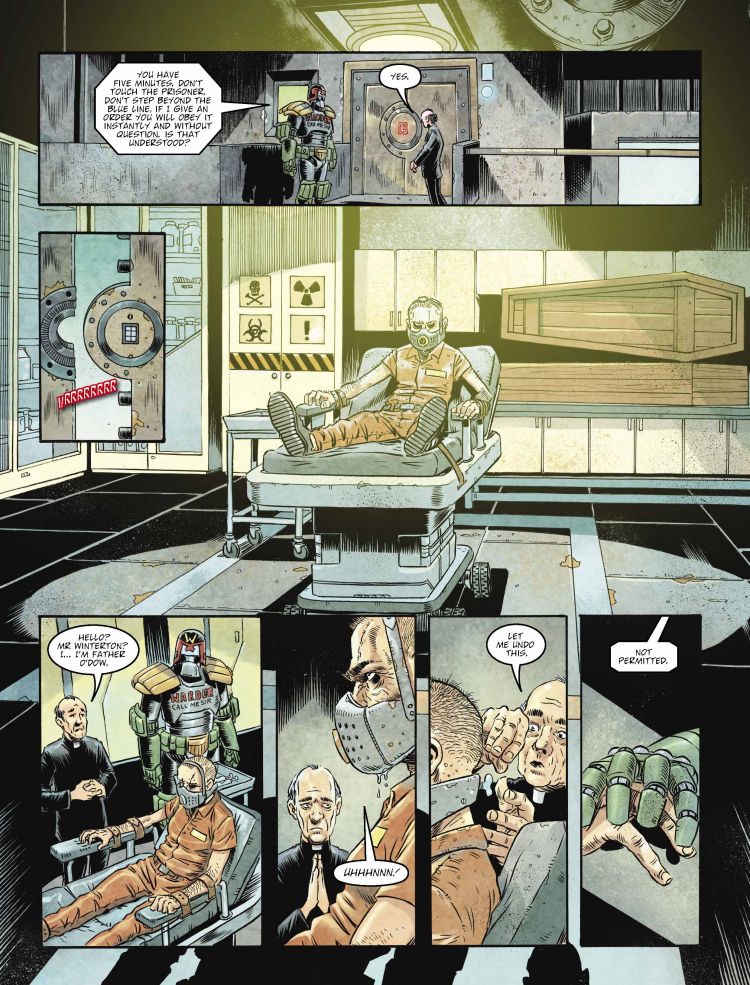 Final Thoughts
If you want a change from the normal comic fare of bright lights and good guys always doing good… grab Judge Dredd… it's dark, it's dirty, it's morally grey at the best of times and it's a great read!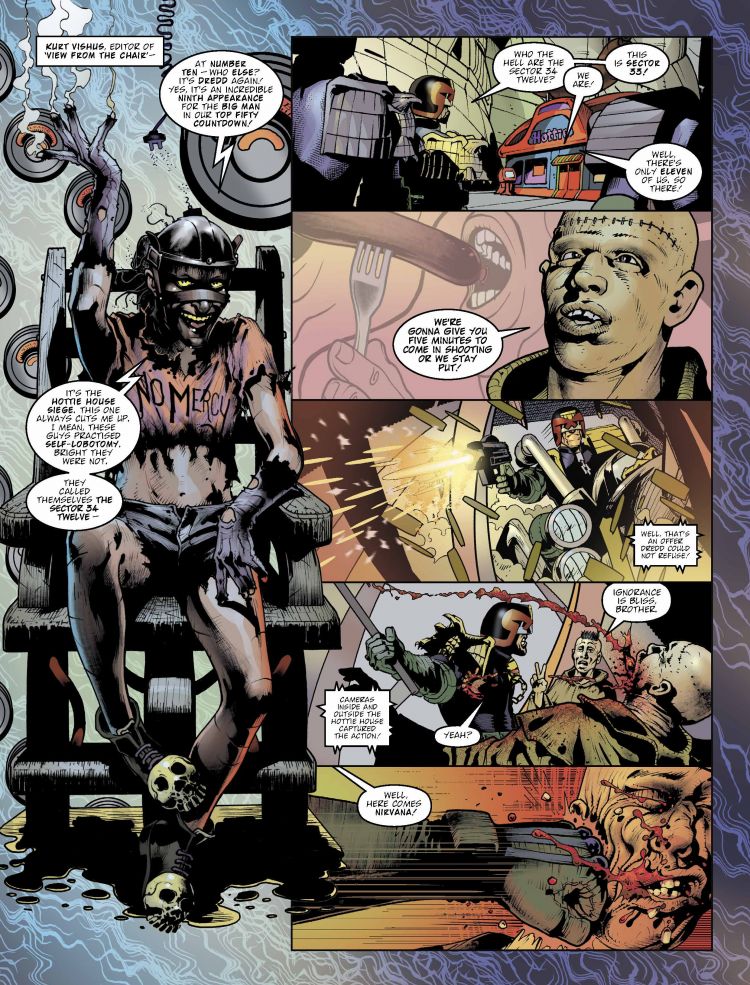 Publisher: 2000AD
Writer: John Wagner
Artist: Colin MacNeil, John Higgins, Dan Cornwell
Colourist: Dylan Teague, Chris Blythe, Sally Hurst
Cover Artist: Dylan Teague
Genre: Sci-Fi, Action, Crime
Format: 132pgs, FC, TPB
Release Date: 20th July, 2022