Comics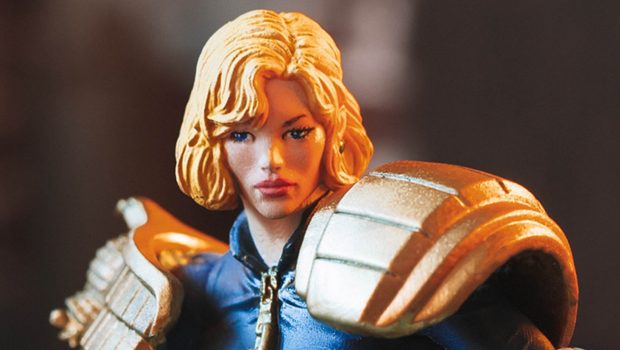 Published on April 12th, 2022 | by Andrew Bistak
Judge Anderson & fearsome Klegg unveiled as next Hiya Toys action figures!
She's the psychic future cop who's saved Mega-City One from ghosts, ghouls, and the walking undead, while the other is an alien mercenary who likes to be paid in meat – Judge Cassandra Anderson and a Klegg warrior are the next Judge Dredd figures from Hiya Toys.
Rebellion and Hiya Toys are proud to unveil the latest in the brand new range of 1:18 PVC action figures based on the world of Judge Dredd, from the pages of the bestselling comic British comic, 2000 AD!
With her powerful psychic abilities and irreverent wit, Judge Anderson is one of 2000 AD's biggest characters – the perfect foil for Judge Dredd since her debut in 1981 but so popular she soon broke out into her own series. Co-created by writer John Wagner and legendary artist Brian Bolland (Batman: The Killing Joke, Camelot 3000), and immortalised by actor Olivia Thirlby in the 2021 movie Dredd, Anderson brings her special power to patrolling the mean streets of Mega-City One.
And the fearsome Kleggs are alien mercenaries brought to Earth by the murderous tyrant Chief Judge Cal. Driven from the Kara System and available to the highest bidder, they are brutal warriors who fight for the joy of killing and take payment for their services in flesh. Created by John Wagner and Brian Bolland in 1978, they were used by Cal to maintain his despotic control of Mega-City One but were sent packing by Judge Dredd back into the uncaring cosmos!
Releasing in the fourth quarter of 2022, both figures come with sixteen points of articulation. Anderson also comes with her Lawgiver gun and 'Daystick' billy club, and the Klegg comes with a long blaster rifle. The figures will come shipped in attractive protective cardboard window boxes.
They are the next in the brand new range of fully poseable 1:18 figures announced in November 2021, drawing on more than four decades of ground-breaking comic books set in the world of the classic character created by John Wagner and Carlos Ezquerra in 1977.
Due to pressure on international shipping caused by the pandemic, the Judge Dredd and Judge Death 1:18 figures are now due to ship Q2 2022, Judge Mortis will ship in Q3 and Dredd's iconic motorbike, the Lawmaster, will be available as a set to order from Q2 2022 and hit shelves in Q4 2022.
The 1:18 line will be followed by a 1:12 (six-inch) line with Judge Dredd (available to order from Q2 2022), Judge Death (available to order from Q3 2022), Judge Fear (available to order from Q3 2022) and Judge Mortis (available to order from Q4 2022).
The 2000 AD action figures from Hiya Toys will be available to order from these retailers:
International
US and North America
For trade enquiries, the 2000 AD action figures from Hiya Toys will be available to order from these distributors:
原石創意國際有限公司 (Taiwan) www.ruten.com.tw/store/newpc666222