Books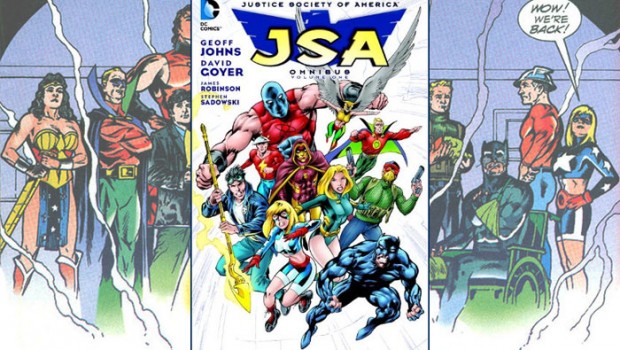 Published on May 31st, 2014 | by Admin
JSA OMNIBUS VOLUME ONE REVIEW
Summary: If you're a fan of Geoff Johns or the Justice Society of America than the JSA Omnibus is a must have book!
JSA OMNIBUS VOLUME 1
Publisher: DC Comics
Distributor: Random House Australia
URL: http://www.randomhouse.com.au/books/geoff-johns/jsa-omnibus-vol-1-9781401247614.aspx
Price: $190AUD (May 2014)
Pages: 1280
Format: Hardcover Omnibus
Before DC Comics rebooted their entire comic line, there was (and still is) a fan favourite super hero team called the Justice Society of America. These were the heroes from the Golden Age, the mystery men who would later be known as superheroes. The Justice Society of America were one of the first superhero teams and without their monumental gathering in 1940 (All-Star Comics #3), teams such as the Justice League of America or the Avengers may not exist today. With that said, the Justice Society of America or JSA have had their ups and downs in the comic world from being banished to Ragnarök (The Last Days of the Justice Society of America) to being slaughtered by the villain known as Extant (Zero Hour), being a "JSAer" was not easy.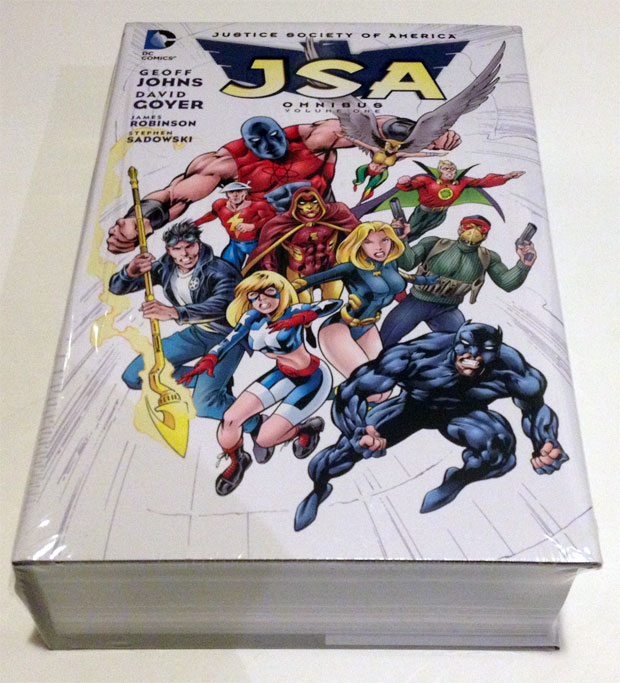 However in 1999, James Robinson (Earth 2) and David Goyer (The Dark Knight Returns) returned the world's first superhero team to greatness with their two bookends entitled All-Star Comics #1 and 2 that saw this team go against the dreaded Stalker and his disciples who wanted to end all life on Earth. This comic was also the spearhead for the all-new JSA comic that featured both original characters and their legacies that was one of the best series of this time. Apart from Robinson and Goyer on writing duties, this omnibus features a variety of other writers such as Mark Waid, Michael Chabon and Darwyn Cooke. It was definitely a great time to be a JSA fan.
So here we are 15 years later and the comic industry has changed considerably, some say for the better and some for the worst. Although the Justice Society no longer exist in an ongoing medium, DC Comics have released this massive omnibus with 1280 pages weighing 3.5kg of thoroughly entertaining comics. This omnibus features JSA #1-25, JLA/JSA: Virtue and Vice, JSA All-Stars #1-8, JSA Our Worlds at War #1, JLA/JSA Secret Files #1, JSA Secret Files #1, All-Star Comics #1-2, All-American Comics #1, Adventure Comics #1, National Comics #1, Sensation Comics #1, Smash Comics #1, Star Spangled Comics #1 and Thrilling Comics #1. Although the JSA were returned to greatness by James Robinson and David Goyer, Geoff Johns (Justice League) is another key writer featured in this omnibus who considerably shaped the modern Justice Society of America, especially when it comes to legacy.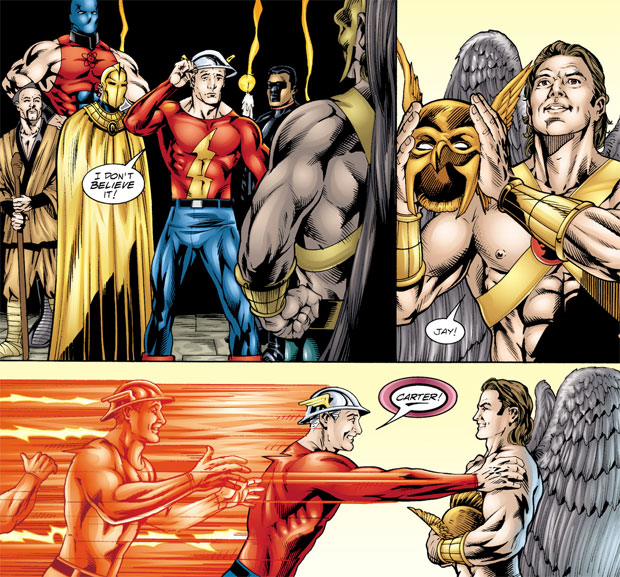 The first few issues of JSA featured a few of the original JSAers such as Sentinel (Alan Scott, the original Green Lantern), The Flash (Jay Garrick) and Wildcat (Ted Grant) who were brought together by the Sandman (Wesley Dodds) and the spirit of Kent Nelson (the original Doctor Fate) in order to help bring back a new Doctor Fate (Hector Hall). Unfortunately their mission was almost thwarted by Mordru, a powerful sorcerer who wanted to claim the artefacts of Fate for himself. Thankfully these older statesmen were helped by their legacies that included Sand, Jack Knight, the Star Spangled Kid, Hawkgirl, Hourman and the Atom Smasher which brought a new age for the Justice Society of America. Along the way they fought Obsidian, the Injustice Society, Johnny Sorrow and Onimar Synn but this society was strong and on each occasion they succeeded.

This collection also has some great moments such as the Golden Age Dr Mid-nite's pet owl Hooty on the super drug Miraclo to the return of Hector Hall as Doctor Fate and that of Carter Hall, the Golden Age Hawkman. It also features a great team-up with the Justice League of America from JLA/JSA: Virtue and Vice and some modern tales of the Golden Age.
It is also steeped in DC comics mythology which may deter some readers and it should also be noted that not all the comics are as great as JSA #1-25 as some of the stories a little lacklustre. One great aspect about the aforementioned comics is that writers Geoff Johns and David Goyer create some very lifelike characters, especially their dialogue that flows extremely well. Sure, it's a little corny at times but this is all about superheroes. I must admit that as the series progressed, both Johns and Goyer improved considerably as the stories progressed.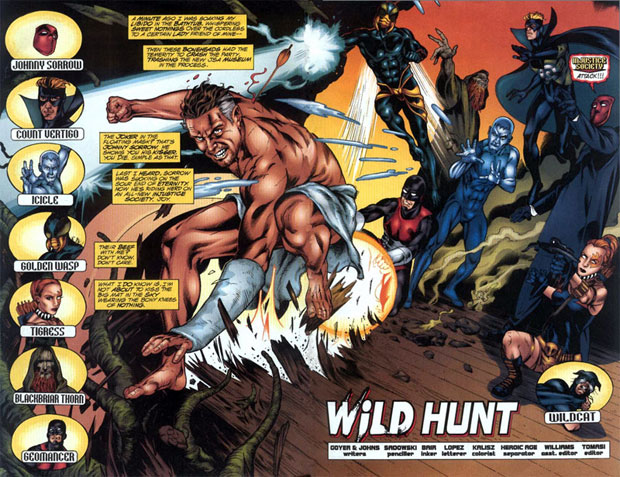 Quality / Art
In terms of quality, this omnibus is well bound and the pages feel quite sturdy within this JSA tome. The front of the omnibus has the modern JSA logo engraved into the cover plus the spine and given the content, it is quite heavy. Given that, you do need to be careful in how you read this omnibus because it only opens flat when you're about half way through the omnibus. The pages also look quite exceptional with sharp images, clear text and vibrant colours. To compliment the excellent writing in this omnibus, it features some amazing art by Stephen Sadowski, Rags Morales and Darwyn Cooke to name a few of the artists who gave their skills to help bring to life the Justice Society of America.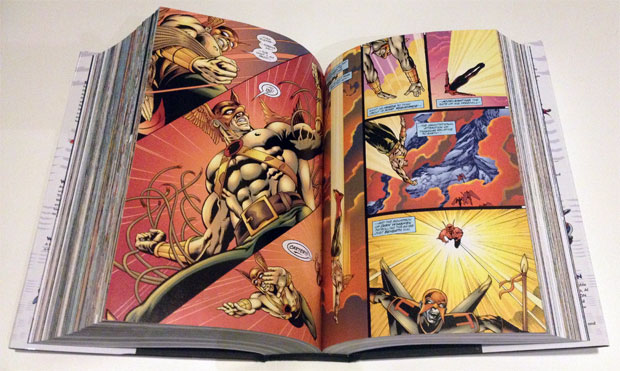 Final Thoughts?
If you're looking for an amazing collection of some of the best comics written about the legendary Justice Society of America than the JSA Omnibus Volume One is that collection. It successfully merges old with new to create some entertaining and interesting stories about villains attempting to abuse their power. Thankfully for the denizens of planet Earth, the world's first superhero team are there to stop them. With great writing, beautiful art and a legacy that most readers thought would go on forever, the JSA Omnibus Volume One is a great introduction into the Justice Society of America and if you're still reading comics today, it will make you miss this amazing team even more.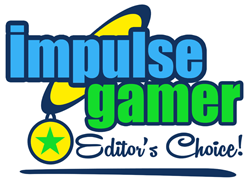 Highly Recommended and bring on Volume 2!