Comics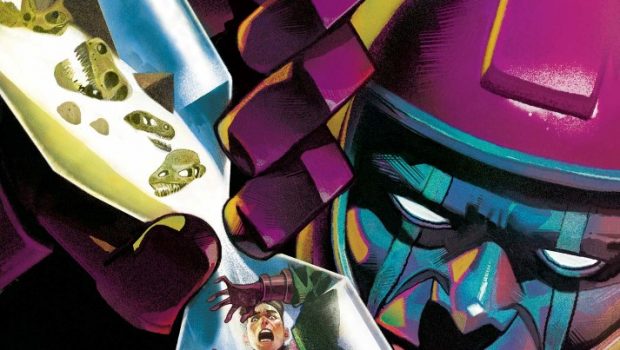 Published on July 23rd, 2021 | by Adrian Gunning
JOURNEY ACROSS THE TIMESTREAM AND BEYOND IN NEW KANG THE CONQUEROR #1 COVERS! #TVA #LOKI
On August 18th, writers Collin Kelly and Jackson Lanzing team up with artist Carlos Magno to bring readers the definitive origin of one of Marvel's most legendary villains in KANG THE CONQUEROR #1! The new series will unravel Kang's complex history, tying together all of his greatest stories and reuniting his alternative selves from across the timeline. Created by Stan Lee and Jack Kirby, Kang is set to begin his biggest era yet. To celebrate the character's first-ever solo series, some of the industry's top artists have crafted outstanding covers that showcase the past, present, and future of Kang's incredible saga. Included in this collection are covers by all eight of Marvel's Stormbreakers depicting key moments in Kang's history from his iconic first run-ins with the Fantastic Four and the Avengers to his epic showdown with the Young Avengers.
"Issue one is Kang's proper origin, and issues two through five are Kang's life story," Kelly told Nerdist in an exclusive interview and sneak peek. "We are hoping to, by the end of issue five, take you through the entirety of King's life. So that any Kang story that you have read over the course of the last several decades, you can look at it and see where it fits inside the secret history of Kang the Conqueror, and the personal story he's been through."
The man called Kang the Conqueror has been a pharaoh, a villain, a warlord of the space ways, and even—on rare occasions—a hero. Across all timelines, one fact seemed absolute: Time means nothing to Kang the Conqueror. But the truth is more complex. Kang is caught in an endless cycle of creation and destruction dictated by time and previously unseen by any but the Conqueror himself. A cycle that could finally explain the enigma that is Kang. And a cycle that begins and ends with an old and broken Kang sending his younger self down a dark path… Check out all 12 covers now and be there when Kang's final destiny is revealed in KANG THE CONQUEROR #1 on August 18th! For more information, visit Marvel.com.
GALLERY