Comics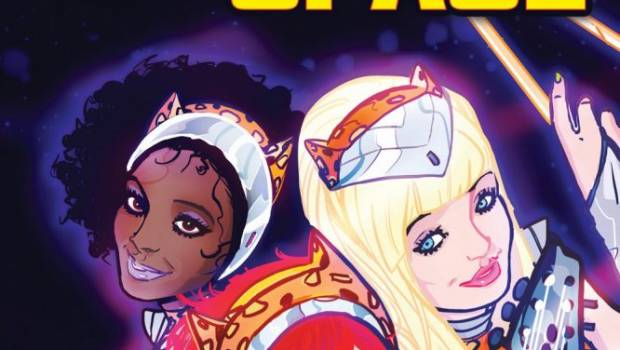 Published on May 3rd, 2020 | by Sandro Falce
Josie and the Pussycats in Space Review
Summary: A fun and unexpectedly tense sci-fi horror adventure with a band of classic characters.
Going into Josie and the Pussycats in Space, I wasn't sure what to except. Being a fan of writer Alex de Campi's previous journey into Archie Comics, that being the brilliant Archie Vs. Predator series, I knew that it would probably take a comedic horror turn at some point, but nothing prepared me for the claustrophobic and chilling nature of this story.
Out now as a Comixology Original, this title sees pop icons Josie, Valerie and Melody mid-way through an intergalactic tour. As they travel from planet to planet while asleep in their stasis pods, the starship they're onboard gets overrun by some sort of extraterrestrial life-form.
It's a pretty straight-forward sci-fi horror story, however, much like most of the recent Archie Comics titles in this vein, the fun comes from seeing these iconic, usually family-friendly characters being stuck in these graphic and tense scenarios.
The characterizations of the Pussycats are pretty spot on here. de Campi does an excellent job of catching the spirit of the older and newer comics alike and bringing them together in a way that'll satisfy fans of both. At times it does feel like characters are almost parodies of themselves but that just helps the ridiculousness of the situations. Unlike Archie Vs. Predator, this title has a much smaller cast which helps keep the story focused.
Devaki Neogi is the artist here, perhaps best known for the Boom! title Curb Stomp. The art here is mostly solid, with the character designs being a highlight. However there were moments where I don't think the layout of the ship was captured well. At times a character may turn a corner or walk through a door and the lighting completely changes, or even the size of the room changes. Obviously these are things that would happen on a starship, but unfortunately it felt a bit jarring and hard to follow here. Thankfully I only found this a problem in the first two issues.
The art also does an excellent job of capturing the horrors of space, whether that be the creatures the gang go up against of just the vast emptiness of space. You know it's a good sci-fi horror title when you can feel how claustrophobic the characters must feel!
If you ever wondered to yourself, "I wish there was a Josie and the Pussycats comic where they were stuck in space, being stalked by a dangerous alien" then this is definitely the title for you. If you prefer the classic Pussycats comics, there's still a lot here that you'll like!
Josie and the Pussycats in Space is out now on Comixology.