Interviews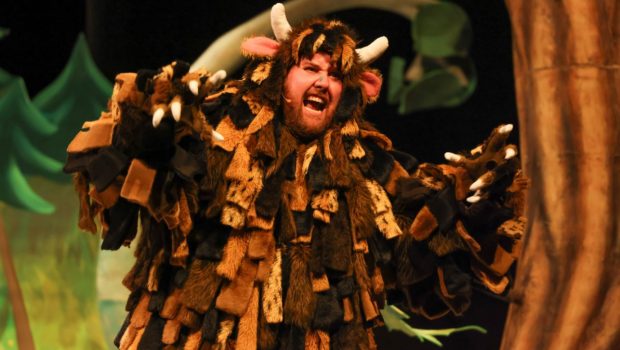 Published on July 2nd, 2022 | by Andrew Bistak
JOSHUA WHITTEN INTERVIEW – The Gruffalo
We catch-up with the Joshua Whitten who is currently playing the Gruffalo in the stage performance of The Gruffalo Live!
Welcome to Impulse Gamer Joshua, tell us a little about yourself?
I'm Josh, a local actor from Brisbane. I trained at the Queensland Conservatorium Griffith University earning a Bachelor of Musical Theatre. Away from performing I'm an avid baker, being the proud owner of a KitchenAid and am quite the fan of tennis.
How did you become involved in theatre?
I used to perform concerts in the living room as a 5 year old, using the coffee table as a stage – so I've always had the need to perform running through my veins. It wasn't until high school where I really thought I could do this as a career. And then spent my time doing community theatre until being accepted into the Con.
What drew you to The Gruffalo?
I absolutely adore Children's theatre because, as an actor, you really get to just play and have fun. You're kind of given permission to explore physicality you wouldn't normally try, explore voices that are somewhat absurd – I mean, in this show I get to be a chicken, a peacock and a penguin in the space of 30 seconds. It's pretty cool!
Also, the knowledge that for some of our audience, this is their first trip to the theatre, the first time that they are experiencing live characters on stage – being a part of that and getting to watch them be so involved in the story we're telling and their mind's being blown, it's a really special thing to be a part of.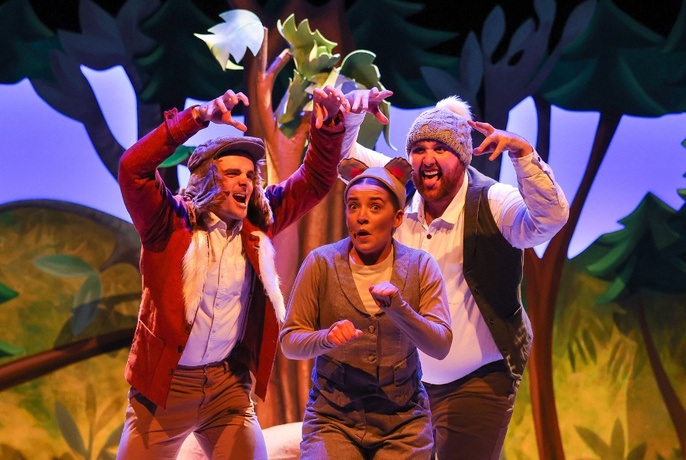 Who is your favourite character and why?
My favourite character is probably Owl. Patrick Connolly is hysterical as owl. He has really created such a wonderfully rich and nuanced character that is both hilarious and predatorial.
How does the stage production differ from the original book by Julia Donaldson and the hit short TV-film?
I think the main difference with our production is that it has original music, which is so catchy that they'll stick with you long after our show finishes. This convention really allows us to bring the characters from page to stage, they have so much more life and personality and you, as the audience, get to know them more.
Our show is also very interactive – we invite the audience to be involved in the show as much as they want to be, so I think that's really special. It provides the chance for our audience of young people to really engage in storytelling and expand their imaginations – because they're seeing this story they know come to life in front of them.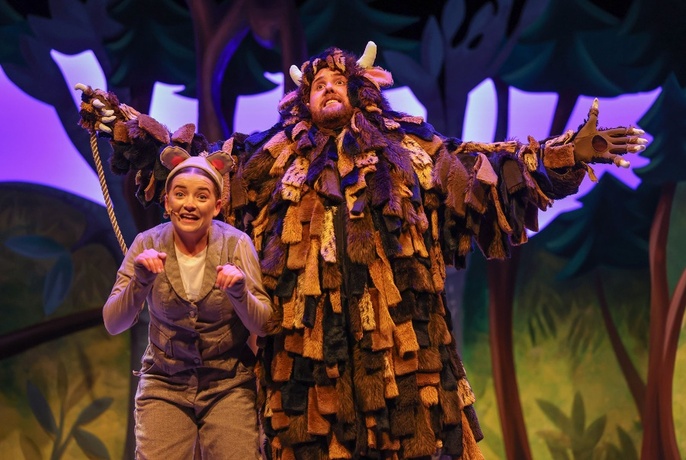 As The Gruffalo and Narrator, how did you prepare?
Physicality was a HUGE part of my preparation. As the narrator I transform into many characters, so being able to drastically change my physicality (as well as my voice) was crucial to that part of my show.
It took me a while to find a nice place to land with The Gruffalo. Obviously the suit is a huge part of the look, but learning to move within that was a lot of trial and error. There was a lot of me standing in front of the mirror and seeing what worked and what didn't; what looked "too human" and looked appropriate Gruff-like movement.
For both characters it really was a lot of play and discovery until we discovered the characters you see on stage!
Also, our show is a 55 minute sprint. I have time offstage throughout the show here and there, but all three of us are pretty much go, go, go from start to finish. So it really required us to be physically fit enough to do this show three times a day, 12 shows a week. Stretching is still a huge part of my prep,and treating my vocal chords to a lovely steam before and after the show too!
What's it like wearing that suit?
The suit is roughly 7kgs and once I'm in the full costume the only thing exposed is my face – so it is pretty hot. It was definitely a shock to the system the first few runs wearing it haha. I'm very lucky to have multiple ice vests to wear though which help me regulate my body temperature.
And as much as I thought "my goodness, how on earth am I going to get through the show wearing this?" in the beginning, it actually is incredibly helpful to the characterisation of the Gruffalo and after those first couple of days it really just became a second skin almost!
The design of it is so incredible though. The movement all the different fabrics create, the detail of the prickles and the claws – I cannot imagine the costume being anything else!
Lastly what you are most excited to about bringing this performance to Melbourne?
I genuinely love this show – I think it is so well crafted, it's 55 minutes of pure joy, laughs and Gruffalo roars! Seeing the audience, both young and old, just being so engaged and responsive to our show is absolutely magical and I cannot wait to welcome everyone to the Deep Dark Wood!
Besides avoiding the big bad mouse in Melbourne, what does the rest of 2022 hold for you?
 We'll be touring this around Australia intermittently for the rest of the year, so if any Melbournites have family interstate – tell them to keep a look out! Other than that, I'll probably try and master the art of making Macarons! Masterchef here I come haha.
For tickets, please visit https://www.athenaeumtheatre.com.au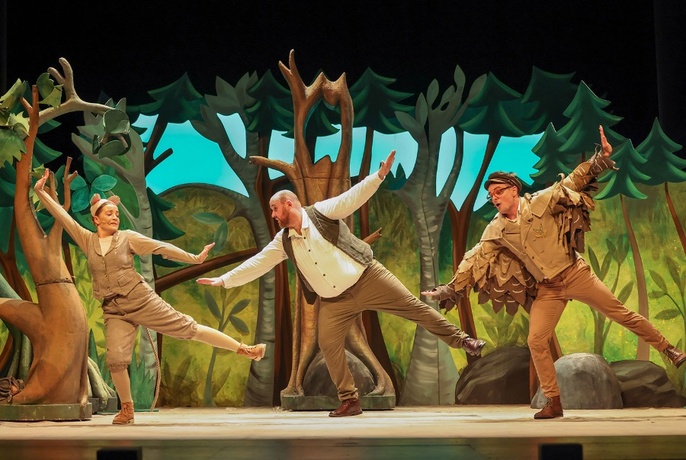 About The Gruffalo
A mouse took a stroll through the deep, dark wood…
After sell-out seasons across Australia, The Gruffalo returns to Melbourne for the July school holidays.
Join Mouse on a daring adventure through the deep, dark wood in this magical, musical adaptation of the classic picture book by Julia Donaldson and Axel Scheffler.
Searching for hazelnuts, Mouse meets the cunning Fox, the eccentric old Owl and the party mad Snake. Will the story of the terrifying Gruffalo save Mouse from ending up as dinner for these hungry woodland creatures? After all, there's no such thing as a Gruffalo – is there?
Songs, laughs and scary fun for children aged 3+ and their grown-ups.