Events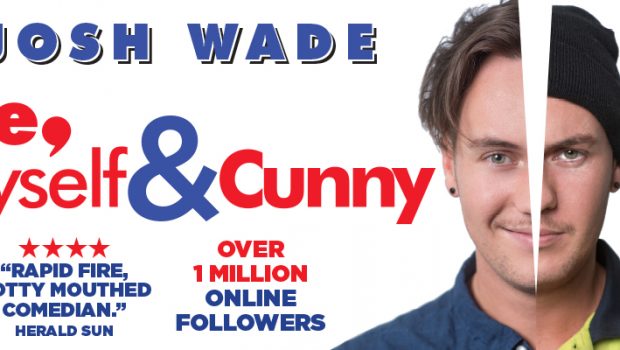 Published on July 14th, 2017 | by admin
JOSH WADE | Announces regional tour + encore shows in Adelaide and Melbourne by demand
Sharp-witted online superstar Josh Wade has been selling out stand up shows across the country since he was just 15 years old! Now in 2017 Josh is back with a brand new show Me, Myself & Cunny. In this audio-visual spectacular, Josh explores his relationship with the many masks and characters he has developed throughout his lifetime as an attempt to fit in, and his 20 year quest to find his comedic counterpart – 'Cunny'. No topic is left untouched in this show that promises to be shocking, crude, uncomfortable, but most all – honest.
Josh spent the first half of the year performing Me, Myself & Cunny across the country to sold out crowds at Perth's Fringe World, Adelaide Fringe Festival, Melbourne International Comedy Festival and Sydney Comedy Festival. Now it's regional Australia's turn to catch Josh live on stage, with a massive 15-date tour across the country, including encore shows in Adelaide and Melbourne to meet demand.
'Wade has mastered the recipe of tongue-in-cheek, razor-sharp wit, audience participation and remarkable natural talent. Needless to say, the world can't get enough of his entertaining vulgarity.' – This Is Radelaide
'An engaging storyteller.' – The Music
First creating viral online content from his Townsville home at just 13, Josh developed a passion for acting, comedy and video production. His online comedy career skyrocketed at the beginning of 2013 with the release of his sketch Shit Aussies Say and hugely popular street interviews in his series Aussie Opinion. These and various clips thrust Josh out of his hometown of Townsville into the bright lights of Los Angeles where he filmed his series Guide to America.
Josh's growing fan base and early success encouraged him to craft and adapt his online material into a one hour solo stand-up comedy show. In 2014 Josh performed his debut show I'm Josh Wade at the Melbourne International Comedy Festival and Sydney Comedy Festival, receiving rave reviews for a string of 33 sold out shows. Josh went on to sell out his entire 2016 Melbourne International Comedy Festival runs, as well as two national tours in 2015 and 2016.
'Nothing is safe in this weird and wacky one hour observation of himself and today's society.' – Beat Magazine
'Josh takes on characters, showcasing his versatile acting talent and clever audiovisual skills…we're excited to see what he dreams up next' – The Adelaidian
'Not for the easily offended…audiences are sure to be shocked by Cunny's antics but that is what his fans have come to expect.' – Weekend Notes
Most recently, in addition to touring his live show Me, Myself & Cunny, Josh is working on his debut podcast The Cunspiracy Podcast which so far has featured guests such as fellow comedians Frenchy & Neel Kolhatkar, Australian Idol and I'm a Celebrity Get Me Out of Here AU alumni Casey Donovan and journalist, public speaker and activist Phillip J Watt. The Youtube podcast has already reached over 175,000 views across its first 15 episodes. In May he released the premiere episode of a documentary series – the first episode covers Australia's largest weed protest and has reached over 10,000 views, with more episodes coming soon. Additionally, Josh's new weekly webseries Cunspiracy sees Josh tackle subjects such as Pauline Hanson, the future of the media and  Schappelle Corby, and is averaging 20,000 views per episode so far.
Josh, who is currently listed in the Top 100 Australian YouTubers, has earned himself one of the largest comedy fan bases in Australia gathering over 1 million online followers. With a constantly growing online presence garnering him thousands of new fans each day, this young comedian has cemented himself as a worldwide prospect for Australian comedy and beyond. Don't miss Josh this August and September as he takes the laughs offline for a mammoth 15-date tour across Australia!
JOSH WADE – ME, MYSELF & CUNNY TOUR DATES
Presented by Frontier Comedy
This show is recommended for ages 18+
Tickets on sale now 
Wed 16 Aug (7:30pm)
Kondari Hotel, Hervey Bay, QLD (18+)
oztix.com.au | Ph: 1300 762 545
Thu 17 Aug (8:30pm)
Harvey Road Tavern, Gladstone, QLD (18+)
oztix.com.au | Ph: 1300 762 545
Fri 18 Aug (7:30pm)
Mt Pleasant Tavern, Mackay, QLD (18+)
oztix.com.au | Ph: 1300 762 545
Sat 19 Aug (8:30pm)
The Edgehill Tavern, Cairns, QLD (18+)
oztix.com.au | Ph: 1300 762 545
Thu 24 Aug (8:30pm)
Lizotte's, Newcastle, NSW (All Ages)
newcastle.lizottes.com.au | Ph: 02 4956 2066
Sat 26 Aug (7:30pm)
UOW Unibar, Wollongong, NSW (18+)
moshtix.com.au | Ph: 1300 438 849
Fri 1 Sep (7:30pm)
Geelong Performing Arts Centre, Geelong, VIC (All Ages)
gpac.org.au | Ph: 03 5225 1200
Sat 2 Sep (7:00pm)
Rhino Room, Adelaide, SA (All Ages)
adelaidecomedy.com
Thu 7 Sep (7:30pm)
Capitol Theatre, Tamworth, NSW (All Ages)
capitoltheatretamworth.com.au | Ph: 02 6766 2028
Fri 8Sep (7:30pm)
Jetty Memorial Theatre, Coffs Harbour, NSW (All Ages)
jettytheatre.com
Sat 9 Sep (7:30pm)
The Street Theatre, Canberra, ACT (All Ages)
thestreet.org.au | Ph: 02 6247 1223
Wed 13 Sep (7:30pm)
The Toff In Town, Melbourne, VIC (18+)
moshtix.com.au | Ph: 1300 438 849
Wed 13 Sep (9:30pm)
The Toff In Town, Melbourne, VIC (18+)
moshtix.com.au | Ph: 1300 438 849
Thu 14 Sep (7:30pm)
The Toff In Town, Melbourne, VIC (18+)
moshtix.com.au | Ph: 1300 438 849
Thu 14 Sep (9:30pm)
The Toff In Town, Melbourne, VIC (18+)
moshtix.com.au | Ph: 1300 438 849
Fri 15 Sep (7:30pm)
Riverway Arts Centre, Townsville, QLD (All Ages)
whatson.townsville.qld.gov.au/categories/ticketshop
Sat 16 Sep (7:30pm)
Lismore City Hall, Lismore, NSW (All Ages)
lismorecityhall.com.au