Comics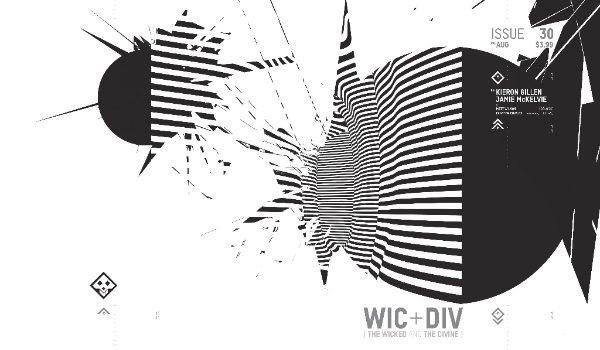 Published on July 8th, 2017 | by Dana Folkard
JONATHAN HICKMAN DESIGNED VARIANT COVERS!
Image Comics is pleased to reveal two of ten variants planned for August's 25th anniversary theme—a month of Jonathan Hickman cover designs. The bestselling co-creator of EAST OF WEST and THE BLACK MONDAY MURDERS, Hickman is also known for his high-concept cover design and will have full creative reign in interpreting a range of ongoing creator-owned series with these special variants.
Each month of Image's 25th year will boast a theme for special anniversary variants.
Available in stores on Wednesday, August 2nd (Final order cutoff deadline Monday, July 10th):
EAST OF WEST #34 by Jonathan Hickman & Nick Dragotta (Diamond Code MAY178633)
ELSEWHERE #1 by Jay Faerber & Sumeyye Kesgin (Diamond Code MAY178629)
Available in stores on Wednesday, August 9th (Final order cutoff deadline Monday, July 17th):
THE WICKED + THE DIVINE #30 by Kieron Gillen & Jamie McKelvie (Diamond Code MAY178625)
Rob Liefeld's YOUNGBLOOD #4 by Chad Bowers & Jim Towe (Diamond Code MAY178631)
Available in stores on Wednesday, August 16th (Final order cutoff deadline Monday, July 24th):
GENIUS: CARTEL #1 by Adam Freeman & Marc Bernardin (Diamond Code MAY178630)
RAT QUEENS #5 by Kurtis J. Wiebe & Owen Gieni (Diamond Code MAY178624)
Available in stores on Wednesday, August 23rd (Final order cutoff deadline Monday, July 31st):
GENERATION GONE #2 by Aleš Kot & André Lima Araújo (Diamond Code MAY178626)
THE HARD PLACE #1 by Doug Wagner & Nic Rummel (Diamond Code MAY178627)
Available in stores on Wednesday, August 30th (Final order cutoff deadline Monday, August 7th):
RINGSIDE #11 by Joe Keatinge & Nick Barber (Diamond Code MAY178628)
SPAWN #277 by Todd McFarlane (Diamond Code MAY178632)