Comics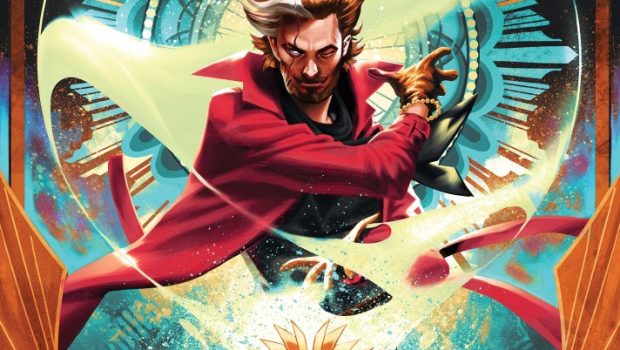 Published on August 25th, 2023 | by Adrian Gunning
JONATHAN HICKMAN AND VALERIO SCHITI SHARE SECRETS BEHIND THEIR NEW MARVEL MYTHOLOGY IN A SPECIAL G.O.D.S. FIRST LOOK
This afternoon, comic shops from the world were invited to a special video conference where writer Jonathan Hickman, artist Valerio Schiti, Marvel Comics Editor-in-Chief C.B. Cebulski, and Marvel Comics VP Executive Editor Tom Brevoort revealed startling details about G.O.D.S., the mysterious new Marvel series launching on October 4. Teased all year long, G.O.D.S. will be a once-in-a-generation title where Hickman and Schiti completely redefine the Marvel Comics cosmology.
Over the last decade, Hickman has masterfully transformed the worlds of the Fantastic Four, the Avengers, and the X-Men. Now he sets out on his most ambitious undertaking to date! Witness one of the industry's most brilliant minds dramatically tear down Marvel's pantheon of cosmic beings, only to build them back with fantastic new purpose! Joining him on this venture is the artist who's brought Marvel's biggest modern epics like Empyre and A.X.E.: Judgement Day to life, Valerio Schiti. With his bold character design work and breathtaking action sequences, Schiti is the perfect artist to capture the chaos, mystery, and beauty that exists at the crossroads of science and magic!
The highly anticipated saga will bring to light a eons-old conflict between THE-POWERS-THAT-BE and THE-NATURAL-ORDER-OF-THINGS, two opposite factions that serve the familiar omnipotent forces of the Marvel Universe such as Eternity, Infinity, and the Living Tribunal. Throughout the summer in special bonus pages in select titles, readers have been introduced to some of the major players that fight in this reality-shattering war including magic expert Wyn, scientist Aiko Maki, and more. From the Hellfire Gala to the streets of New York City, these agents are stepping out of the shadows to share forbidden knowledge with your favorite heroes—or in some cases, issue dire warnings! This dangerous game between the very building blocks of creation can no longer be played in secret, and you're about to find out why!
Behold the moment G.O.D.S. overtakes the Marvel Universe in a brand-new trailer featuring never-before-seen artwork from the debut issue. Fans can also check out acclaimed artist Mateus Manhanini's first four G.O.D.S. covers and read the cryptic clues that serve as Hickman's official plot synopses for each issue:
G.O.D.S. #1
The infinite détente between THE-NATURAL-ORDER-OF-THINGS and THE-POWERS-THAT-BE nears an end. Old acquaintances are reunited during a Babylon Event. The Lion of Wolves throws the worst parties. Don't look under the table. There's a John Wilkes Booth penny on the ground.
G.O.D.S. #2
The Centum normally has twenty-five Primes, now only three remain. College isn't worth the time or the money. There's a hidden book in the hidden library that hides a hidden door. Cubisk Core is from Georgia, like that matters. 
G.O.D.S. #3
Cassandra is cursed with knowing the future, but no one believes her. There are Black Swans in the bar. Oblivion wants to drink alone, but kids these days don't respect authority figures. Most of the ingredients are illegal outside of Hell's Kitchen. 
G.O.D.S. #4
That guy in the Beekeeper suit is holding a thing that's freaking everyone out. A Skinner box is bigger on the inside than the outside. The Avatar makes an enemy on the Axis of Power. If you save the universe and no one remembers, is it worth it? Maybe.
"We don't get a lot of opportunities to try out brand-new properties in the current market," Hickman said. "And I think that this represents not just a solid effort by the company but a real swinging for the fence by Valerio, Marte, and I, and everybody involved in the production of the book, to really put something new out there.
"The most important thing is that it is us putting all of our energy and weight into doing something brand-new but is done by a creative team that understands the Marvel Universe and understands the complexity, the continuity, and what it usually takes to make a book like this resonate along with all of the stuff that's been around for a very long time. We're just super excited about it. I think Valerio has done amazing work and I feel like I have certainly put my back into it. I'm proud of it."
"You can lose yourself in these places and these locations," Schiti shared about his world design. "It's entertaining, and I'm always surprised by how much time I've spent on the pages after I finish. This world must seem real. You have to feel like it's a real place with real people. I love to draw this kind of stuff, this magic and science stuff all thrown together."
Stay tuned in the days ahead for more G.O.D.S. reveals including new interior artwork, more covers, character designs, and more. Take your first steps into this daring new side of the Marvel Universe by picking up G.O.D.S. #1 when it hits stands on October 5. Preorder it at your local comic shop or digitally today! For more information, visit Marvel.com.
Keep track of everything revealed about G.O.D.S. thus far by visiting Marvel.com/GODS.