Comics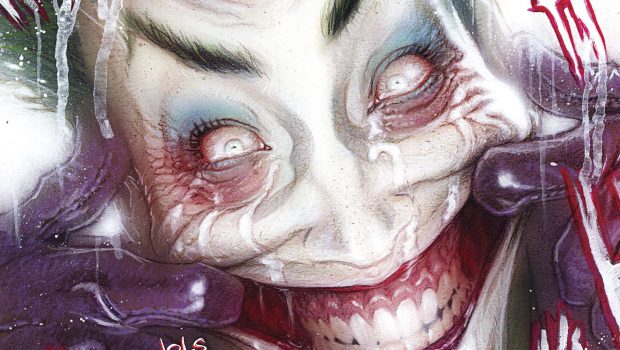 Published on October 31st, 2019 | by Tim Chuma
Joker: Killer Smile – Review
Summary: The Joker finally gets the treatment he needs, but who is treating who in this scenario?
With the success of the recent Joker stand-alone movie and it being more of a character study than a straight franchise movie, it was inevitable the comics would go down the same route. While this story does feature a cameo from Batman it is more about the physiological warfare between the Joker and his treating psychiatrist in Arkham Asylum.
In the classic Dr Lecter vs Clarise setup we learn that the Joker's latest therapist is on a time limit due  to the other attempts at treating the patient leading to the doctors involved becoming mentally ill themselves due to the stress of dealing with the patient.
We see the doctor's home life and the sudden appearance of the creepy Mr Smiles children's book. The doctor thinks he has it under control, but is troubled by disturbing dreams and visual disturbances that you can't work out if they are real or just PTSD from dealing with the Joker all day.
A more realistic take on the classic Joker story as much as you can be in a comic book. In real life the Joker would be strapped to a gurney and drugged up with anti-psychotics 24/7 and the review scenes would be to a panel of doctors.
Great realistic art style that seems almost to be based on photos of the scenes in question with some flashes of the Heath Ledger's Joker in Dark Knight in the close-ups.
It is only a short volume but they pack a lot into the story and it feels like there is a lot to come if you wanted to follow the rest of the series.
I would recommend this if you wanted to see a different take on the Joker other than more famous stories such as the Killing Joke or more of a character study.
Gallery
Creative Team
Writer: Jeff Lemire
Artist: Andrea Sorrentino
Cover Art: Kaare Andrews