Games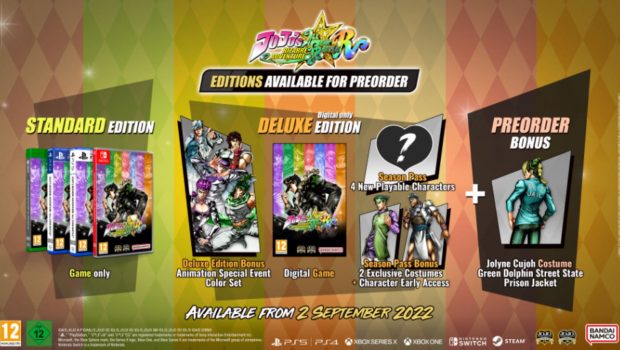 Published on May 27th, 2022 | by Admin
JOJO'S BIZARRE ADVENTURE: ALL-STAR BATTLE R SET TO LAUNCH SEPTEMBER 2, EARLY ACCESS DEMO COMING SOON
JoJo's Bizarre Adventure: All-Star Battle R™, the stylistic anime-based fighting game with a massive and memorable roster of characters, is launching for Windows PC on Sept. 1, 2022 and PlayStation®5, PlayStation®4, Xbox Series X|S, Xbox One, Nintendo Switch on Sept. 2, 2022. A new trailer presents four new characters from the JoJo's Bizarre Adventure franchise – Robert E. O. Speedwagon, Mariah, Pet Shop, and Diego Brando – who can be seen in-game for the first time.
Pre-orders for the game are now opened for all platforms, except for the Nintendo eShop for Nintendo Switch store. Details on digital pre-orders for Nintendo Switch will be announced at a later date. All pre-orders will receive a bonus Green Dolphin Street State Prison Jacket costume for Jolyne Cujoh. Pre-order editions include, in addition to the Standard Edition of the game:
Digital Deluxe Edition: This includes Jojo's Bizarre Adventure: All-Star Battle R, an Animation Special Event Colour Set for the following characters, Jonathan Joestar, Joseph Joestar, Jotaro Kujo, Josuke Higashikata, Giorno Giovanna, and the Season Pass. The Season Pass grants four new playable characters, two exclusive costumes for Rohan Kishibe & Mohammed Avdol's Father?, as well as two days of early access to all Season Pass characters.
Collector's Edition This includes JoJo's Bizarre Adventure: All-Star Battle R as well as all the content from the Digital Deluxe Edition, an exclusive Grandista series Jolyne Cujoh – Special Colour Ver. statue as well as a reproduction of Jolyne's prison plate. (available from BNE store only)
JoJo's Bizarre Adventure: All-Star Battle R will also receive an "Early Access Demo" that is coming soon to PlayStation 4 and PlayStation 5. The demo gives players hands-on time with two modes with online PvP and practice mode. For fans who wish to learn about specific characters and their move sets, get early reveals of the game's roster of fighters,  and see when the Early Access Demo will launch, please follow the game's official Twitter (https://twitter.com/jojo_games) for regular updates, videos, and news from now until launch.
For more information about JoJo's Bizarre Adventure: All-Star Battle R and other products from Bandai Namco Europe. Please visit: www.bandainamcoent.eu. Follow us on Twitter at: https://twitter.com/jojo_games.