Films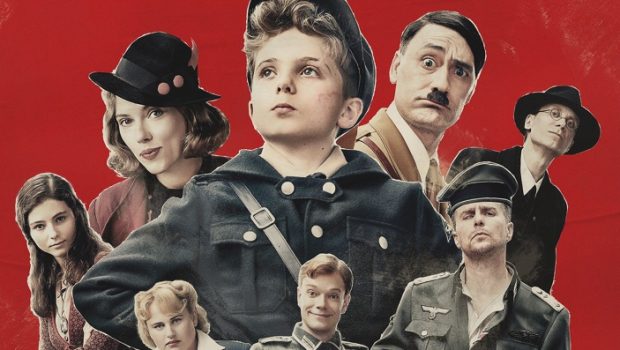 Published on December 23rd, 2019 | by Curtis Mayfield
Jojo Rabbit – Film Review
Reviewed by Curtis Mayfield M-H on the 23rd of December 2019
20th Century Fox presents a film by Taika Waititi
Written by Taika Waititi, based on the novel 'Caging Skies' by Christine Leuenes
Produced by Carthew Neal, Taika Waititi, and Chelsea Winstanley
Starring Roman Griffith Davis, Scarlett Johansson, Thomasin McKenzie, Taika Waititi, Rebel Wilson, Sam Rockwell, Archie Yates, and Alfie Allen
Music by Michael Giacchino
Cinematography by Mihai Mălaimare Jr.
Edited by Tom Eagles
Running Time: 108 minutes
Rating: M
Release Date: the 26th of December 2019
Jojo Rabbit is both an oddball comedy and a war film that has gathered plenty of attention due to its delicate subject matter. The film's director, and god's imaginative gift to us, is New Zealand filmmaker Taika Waititi (Hunt for the Wilderpeople; Thor Ragnarok). He tells the story of a young boy growing up in Nazi Germany during the Second World War.
Jojo (Roman Griffin Davis) is a ten-year-old with a powerful imagination and great hunger to serve his country. However, he is an outcast within his Hitler Youth group and ridiculed for not sharing the same enthusiasm for evil as his peers. In his isolation, Jojo undertakes what most young children would do and invents an imaginary friend. Jojo worships every aspect of the Nazi Party, including the goals of the oppressive regime. Consequently, his imaginary friend formulates as Hitler himself (played by Waititi). As Jojo, Roman Griffin Davis' film debut impressively stands against more established actors.
Scarlett Johansson is delightful playing Jojo's mother, Rosie. She is unmoved by Hitler's plans for Germany but hides her true ideology from her son. That is until Jojo discovers a Jewish girl named Elsa (Thomasina McKenzie) hiding in their house in a secret room. Thomasina McKenzie's portrayal of Elsa is wonderous. Initially, she intimidates Jojo but then delivers important life lessons during their budding friendship. As a result, the imaginary Hitler berates Jojo for his waning loyalty.
The banter between a preteen Nazi and a sassy Jewish girl would make any film producer nervous. Do not be deterred by comedy being embedded into this context though. Waititi is respectful to the seriousness of the period. He creates a perfect balance between the hilariously absurd (for example, Hitler eating a unicorn for dinner) and the sad, tragic facts of this historical event.
By creating an outright farce of the Führer, he spins Jojo into an anti-hate narrative. He and the cast tackle the delicate situation directly. The film's clear message ensures blind hatred and bias are heavily scrutinised and parodied by Waititi's superb, hilarious writing skills, which adapt Christine Lumens' novel, Caging Skies.
Further, Waititi undercuts the tone of the historical tragedy by portraying the Nazis as complete buffoons. His lanky, goofy impression of Hitler underlines the film's conceptual idea that portraying hateful characters as complete idiots is the only way the comedy can be successfully woven into the story.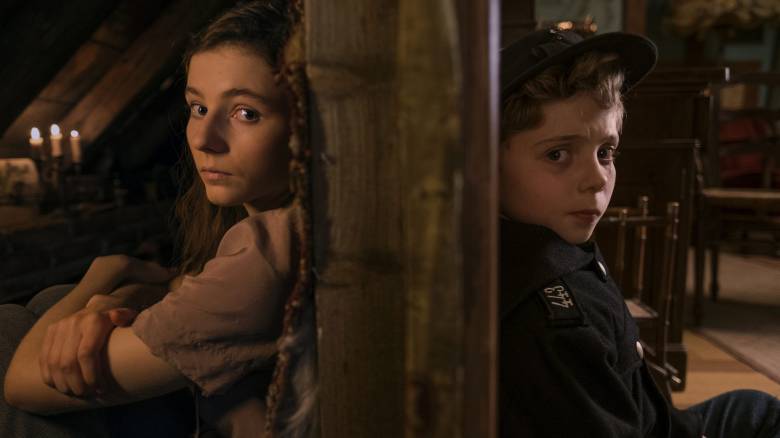 The humour is also enhanced by strong supporting performances from the adults. Sam Rockwell is hilarious as Captain Klenzendorf who has been decommissioned due to a missing eye and is sympathetic to Jojo. Rebel Wilson follows suit as a completely ridiculous camp councillor who mentors the 'Aryan' youth. The most intense but funniest scenes belong to Stephen Merchant. He plays an SS officer who investigates Germans suspected of rallying against Hitler.
Rosie is one of Scarlett Johansson's best roles. She tries gently guiding Jojo towards  tolerance and love without alerting her Nazi-loving son to her intentions. Watching Rosie steer Jojo towards a path that embraces differences and love is magical. Archie Yates, a young scene-stealing actor, deserves credit for playing Jojo's friend, Yorki. As a chubby, spectacled Hitler Youth child, he is too lovable to be a full-blown Nazi. His character provides Jojo with one of many touchstone moments of sweetness. Yates, McKenzie, and Davis can each look forward to incredibly bright acting futures.
The film is comparable to how Mel Brooks' comedy Western Blazing Saddles (1974) probed serious racial issues. Jojo Rabbit takes one of the ugliest chapters of modern history and examines it in a different light to show how awful hate is while simultaneously proving that love always wins. Fans of Waititi will be instantly drawn to this ridiculous world that he has realised. Newcomers might be confused but the film's good intentions will be clear to all.
Summary: Fans of Waititi will be instantly drawn to this ridiculous world that he has realised. Newcomers might be confused but the film's good intentions will be clear to all.