Movies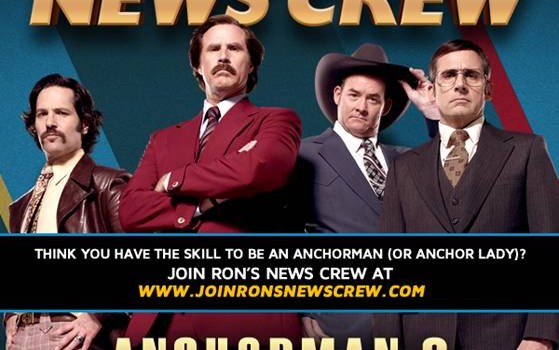 Published on November 18th, 2013 | by admin
Join Ron's News Crew | Anchorman 2: The Legend Continues
Hello, friend. Do you enjoy leather-bound books and rich mahogany? Perhaps the nightly glass of robust, inspired Scotch? Have you been put on Earth to have salon-quality hair and read the news? If so, then you're going to want to read this BREAKING NEWS:
Ron Burgundy is thrilled to announce the launch of an exciting online opportunity – the chance to Join Ron's News Crew. By visiting www.joinronsnewscrew.com you, yes you, can submit an audition tape to be viewed by Ron, Brian, Champ & Brick. You'll get feedback from the team, giving you the chance to receive priceless advice from the best News Crew this side of everywhere. Share your audition across your own networks and keep your eyes peeled! You may just appear in our weekly recap, featuring the best auditions from the last 7 days.
Not the "on camera" type? Understandable – it's natural to feel threatened by these Burgundy good looks? Share your own brand of news crew love by using the meme generator.
Do you have what it takes to Join Ron's News Crew? Imagine the fame, amigo… Imagine the fame.