Games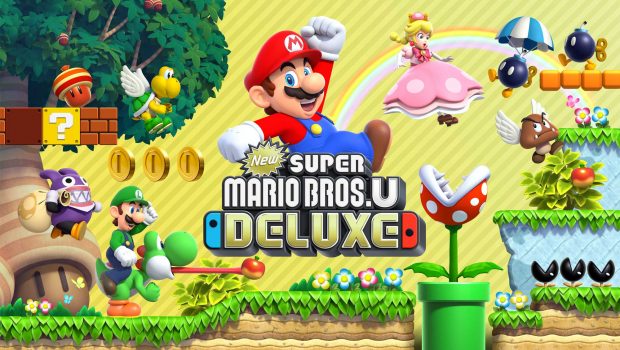 Published on January 11th, 2019 | by Admin
JOIN MARIO AND LUIGI ON A FUN-FILLED PLATFORMING ADVENTURE IN NEW SUPER MARIO BROS. U DELUXE, OUT NOW ON NINTENDO SWITCH
Includes 164 courses which can be enjoyed by up to four players of all skill levels, while newcomer-friendly character Toadette makes her first appearance
11th January, 2019 –Run, leap and stomp through 164 2D side-scrolling courses in traditional Super Mario style in New Super Mario Bros. U Deluxe, out now for Nintendo Switch. Using a single Joy-Con each, up to four players* can work together to grab coins and topple enemies on their way to the Goal Pole, while in challenge mode, players must compete to see who can nab the most gold in frantic, friendly – and above all, fun – competition.
New Super Mario Bros. U Deluxe contains both New Super Mario Bros. U and the more challenging New Super Luigi U. While seasoned players can play as iconic characters Mario, Luigi and Toad, two new characters also join the mix – Toadette and Nabbit. Younger or less-experienced players can choose to play with these new characters, as they offer extra assistance during play. When Toadette picks up a Super Crown, she turns into Peachette and can double jump, float slowly during freefall and boost back up when she falls in a pit. When playing as Nabbit, players won't be hurt by enemies and can earn extra 1UPs at the end of stages.
On top of both adventures, New Super Mario Bros. U Deluxe features a variety of game modes to entertain players of all skill levels, either alone or together. Players can test their skills in dozens of varied and crafty trials designed for players of any ability. Race to the goal as fast as you can in Time Attack, grab all the coins in Coin Collection, or do your best to stay airborne by jumping on multiple enemies in 1-Up Rally. In Special, players will need to complete very particular conditions to advance, such as taking on a course without touching any enemies, coins, or cannonballs. Players can watch a series of over 200 online videos** from the game's development team, showcasing some nifty tricks you can use to topple those tricky tests – useful for when players are stuck on a level or challenge.
New Super Mario Bros. U Deluxe is the latest title joining the wide range of software anyone can enjoy on Nintendo Switch, the unique home console from Nintendo that can be taken on the go. Nintendo Switch includes two Joy-Con controllers for multiplayer fun right out of the box, making it perfect for playing games anytime, anywhere, with anyone. The Nintendo Switch  software library includes more than a thousand titles for all tastes and experience levels, including Pokémon: Let's Go, Pikachu! and Pokémon: Let's Go, Eevee!, Mario Kart 8 Deluxe, and the unique make, play and discover experience of Nintendo Labo.
Join Mario and Luigi and take on 164 courses in New Super Mario Bros. U Deluxe, available now on Nintendo Switch. Using a single Joy-Con each, up to four players can enjoy a variety of game modes, anytime, anywhere.