Films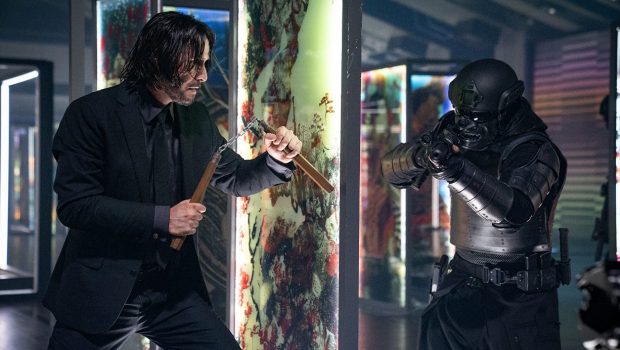 Published on March 23rd, 2023 | by Tim Chuma
John Wick: Chapter 4 Review (2023)
Summary: Seems to want to show you too much what happened in the previous movies, you can go see the movies themselves for that. Needed some serious trimming but still OK
The end of this series finally arrives in the manner that it was always going to end. I will try to refrain from spoilers as it has already been a problem with people commenting under reviews on YouTube. There was a special introduction before the movie dedicated to Lance Reddick and an on-screen dedication due to him passing just before the movie came out.
John Wick (Keanu Reeves) is still being hunted by the High Table and has very few friends left except for the Bowery King (Laurence Fishburne) when Winston (Ian McShane) shot him thinking he had killed him.
The Marquis (Bill Skarsgård) is laying down the law for the high table and Winston and his concierge have to face the consequences. Meanwhile John Wick is back in Japan to call in on one of his own remaining friends not knowing that his former partner Cain (Donnie Yen) and the Tracker/Nobody (Shamier Anderson) with cute puppy (who likes to bite men in the crotch) are also on his tail. It is not long before he realises he can't kill everyone in the world so a duel is proposed following the old ways, he just has to get to it.
While I recognise that this movie is rather resistant to reviews due to people being committed to seeing it I have a few things to say regardless. This movie would be twice as good if it was half as long for a start. It suffers the same as the Raid 2 did compared to the original Raid movie where they got to do everything they wanted to in the first one and it turned out to be too much.
The movie that still shocks me is the Night Comes For Us that I have to watch most of it through my fingers. Apart from one scene with a knife there was nothing really that shocking in this one.
Also due to them writing themselves into a narrative corner, John Wick spends most of the time awkwardly covering his face with his jacket as surprise! They have bullet proof suits now, which is bullshit and I didn't hear squat about that in the three movies before. Plot armour is more like it.
Donnie Yen must have had a powerful contract rider for having even more than a "knockdown clause" but it may also be that Keanu Reeves is such a cool guy he didn't want to beat him on screen.
The movie seems to want to show you again all the cool stuff that happened in previous movies, if you wanted that just watch the previous movie. Due to the amount of people killed by gunshot all impact is lost. There are no squibs visible on screen it is all digital blood.
Could have easily lost half an hour of flab easily by cutting the stupid stuff like the stair fight and the pointless waves of attackers that don't really contribute anything to the story. I would say the top-down view sequence is impressive though. Must have been something they have wanted to do for a while.
I could really tell it was dragging on from the amount of people running out to go to the toilet especially in the later part of the movie. For all the hype John Woo movies get it is really only the last 10 minutes of A Better Tomorrow II that people remember. Maybe John Wick should have screamed at people about rice or gotten PTSD and cried when he couldn't peel an orange. A Bullet in the Head did the over the top thing as did the Killer, this at least seems to tone down the histrionics of those movies.
The stunt team is very large as you would expect and I did clock that they have different people in separate teams in each location. Not quite the level of "Drug lab guard #35" in the Raid but getting there but certainly not like seeing Jackie Chan five times on screen in Enter the Dragon.
Scott Adkins gets his moment in the sun as the big German Killa and an appropriate fight scene in a dance club and punishing demise on screen. He is getting some decent roles even as bad guys and it did remind me of his role in IP Man 4 somewhat. He should take Bruce Campbell's advice and take more of these roles as they get the better lines.
Some fancy stuff with the subtitles that I enjoyed like the subtitles with special effects on them that I have not seen since Night Watch did that back in the day. Most likely that will not make it to the streaming or media versions unless they have a special edition.
Overall there is nothing really that wrong with it just goes on and on and I would recommend going to the toilet before the stair fight sequence as it does drag on by that point and you just want to get to the fireworks factory at that point.
Film details:
Director: Chad Stahelski
Writer: Shay Hatten, Michael Finch
Based on characters by Derek Kolstad
Starring: Keanu Reeves, Laurence Fishburne, George Georgiou, Lance Reddick, Clancy Brown, Ian McShane, Marko Zaror, Bill Skarsgård, Donnie Yen, Aimée Kwan, Hiroyuki Sanada, Shamier Anderson, Rina Sawayama, Yoshinori Tashiro, Hiroki Sumi, Daiki Suzuki, Julia Asuka Riedl, Milena Rendón, Ivy Quainoo, Irina Trifanov, Iryna Fedorova, Andrej Kaminsky, Natalia Tena, Sven Marquardt, Scott Adkins, Raicho Vasilev, Marie Pierra Kakoma
Genre: Action
Length: 169 min
Trailer: